Any computer geek knows that a clean computer will perform so much better than a dusty one. Your computer will inevitably build up some dust, and this will be a problem for you. 
For starters, it could clog up most of the components. The moving parts like the fan could get clogged up and start making noises or get damaged. 
If not this, the dust will limit heat transfer from your components, and it will hurt your PC's performance. 
Having said this, you need a way of getting rid of all the dust on your PC. You could open it up and brush off the dust, but this is risky and time-consuming. 
The best thing to do is use a compressed air can or blower to push the air out. Compressed air will push all the dust out without you having to dismantle your PC. 
There are many options you could go with, in this regard, depending on your budget and needs. Let us look at some of the best products to give you a choice that will work well.
| | | | | |
| --- | --- | --- | --- | --- |
| | Dust-Off DPSXLRCP Disposable Duster | | INNOVERA 10014 Compressed Air Duster | Falcon Dust Disposable Cleaning Duster |
| | | | | |
| | | | | |
| | | | | |
| | | | | |
| | | | | |
| | | | | |
Best Compressed Air For PC
1. Dust-Off DPSXLRCP Disposable Duster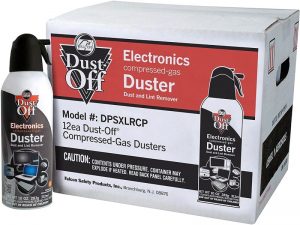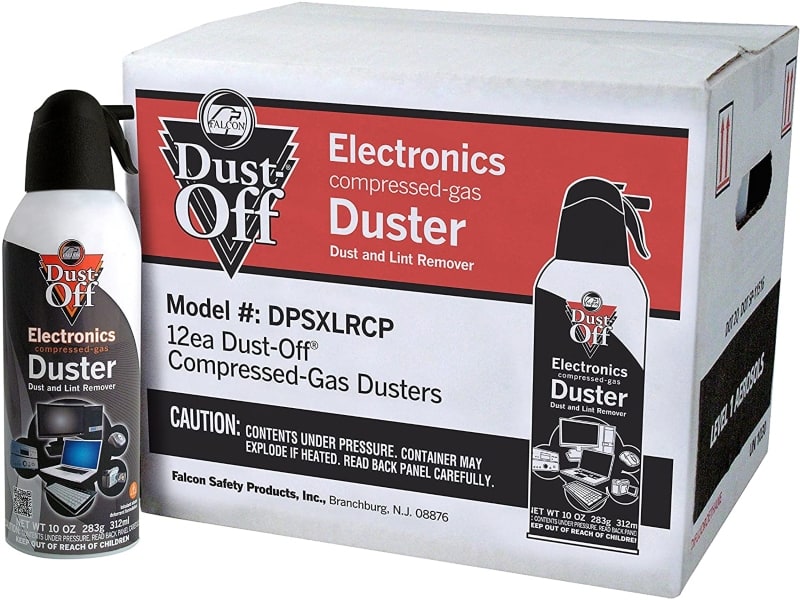 This is a compressed air can that will give you great value for your money, and it is ideal for many practical uses around the house, in the car, and most importantly, on your PC or laptop.
Specifications
Dimensions: 10.7" x 8.2" x 8.75"
Manufacturer: Falcon Safety
Features
The can is large-sized, which means it has a greater air volume; therefore, you can use it longer than others. 
After use, the cans are disposable, and there are many environmentally safe ways of getting rid of them.
You can use this option for compressed air for many purposes in many environments. You can use it on repair benches to clean equipment, in the house to dust off surfaces, in labs to clean surfaces and equipment, or in photography.
The compressed air comes out of the can with high pressure, giving the air current more power. This will allow it to dislodge dust particles from all the crevices in your PC and leave it clean as new.
It comes with an extension tube that you can attach to the nozzle. This tube will give you access to smaller compartments to make the cleaning thorough.
A bitterant is included in the compressed air. This will irritate the user, so it should help deter children from playing with the air and wasting it.
2. Blow Off Air Duster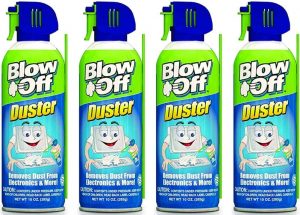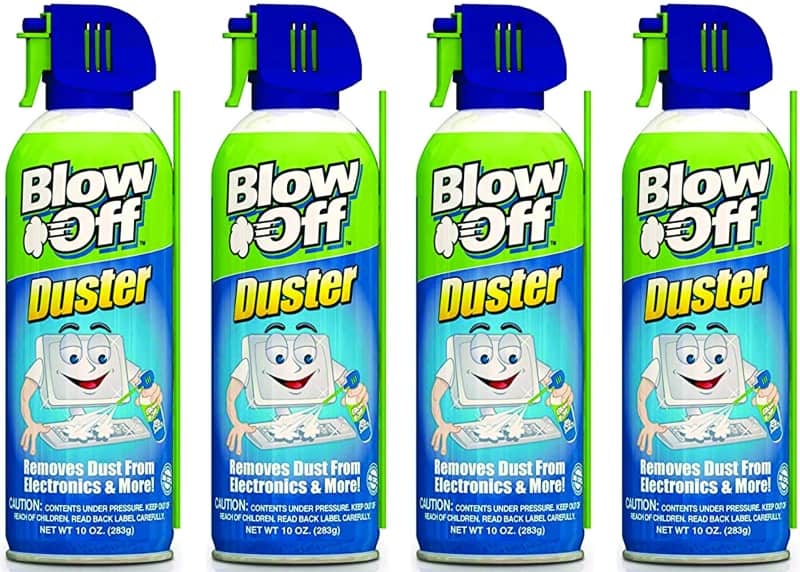 This duster is a product from a brand that you can trust to clean your electronics, especially computers, without risking damage.
Specifications
Features
This product is Ozone safe since it does not contain any Chlorofluorocarbons. You can therefore use it as often as you need without posing any danger to the environment. 
The container used on this product is recyclable, so you can keep the environment safe after using it.
The contents of this compressed air are non-toxic, and they contain no bitterant. This will ensure that they don't harm you or leave a scent on your computer or in the house, which makes it a good choice for someone with infants in the place.
It is designed with a nozzle that will deliver precise blasts of air, so it is easy for you to clean dust without aiming too much. 
In addition, it has an extension tube so you can get to deep parts of your PC and pump out the dust.
This compressed-air canister has sterilized air, so you can use it on sensitive components or lab equipment without risking contamination that could cause malfunctions.
The nozzle of this can makes it usable for a wide range of uses from your PC, Laptop, vehicle, and any other small surface that needs dusting.
3. INNOVERA 10014 Compressed Air Duster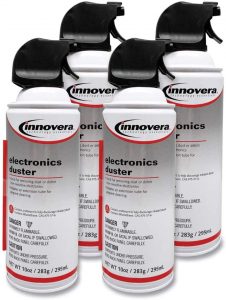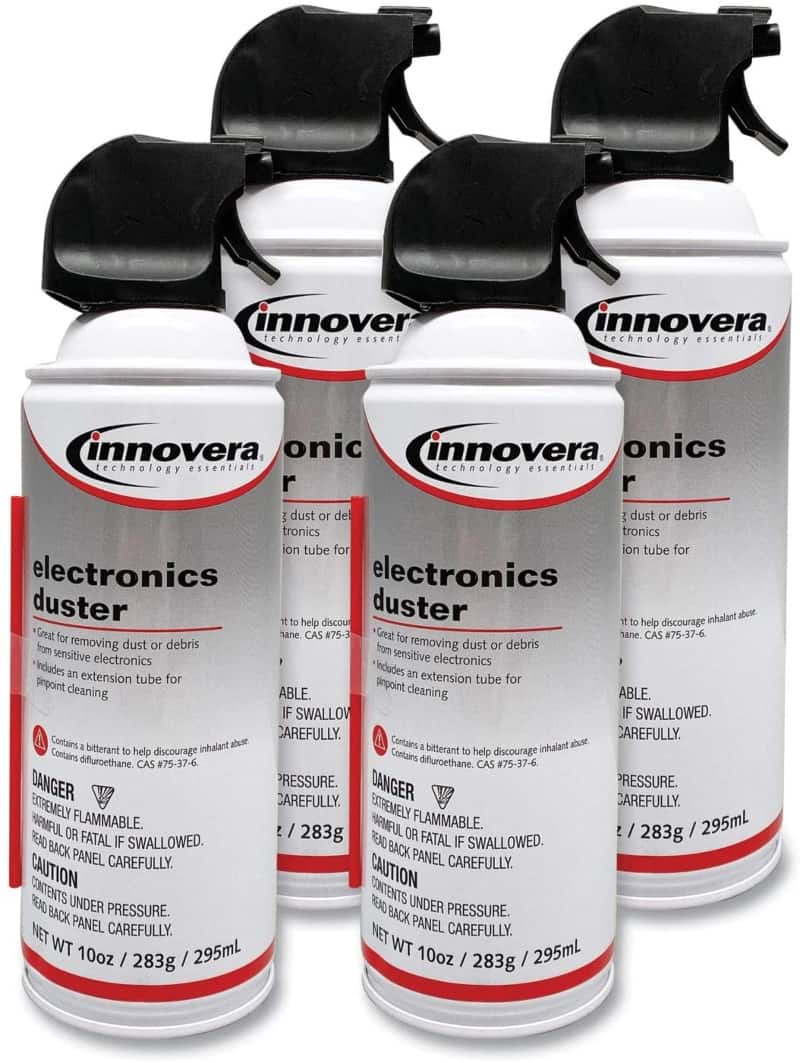 This is the duster for a user who needs to clean hard-to-reach places, especially in sensitive electronics. 
Specifications 
Weight: 3.5 Pounds

Dimensions: 10.4 x 2.6 x 8.5

Brands: Innovera 

Manufacturer: Essendant.Inc 
Features 
This pressurized can contains ozone-safe air to make sure you dint destroy the environment by using the can often. 
It is a lightweight product to make it easy for you to carry and work with, even in awkward positions, without hurting your wrists.
The air in this can is moisture-free. This makes it a product you can use on sensitive computer components like the motherboard without risking a short circuit.
It comes with a removable straw, making it more practical to clean small electronics or get to hidden parts and would otherwise be difficult to get to. 
The compressed air comes with a bitterant to discourage abuse and wastage of the air, thus saving you a few bucks. 
One purchase comes with four-packs, so you can use one and store the rest appropriately to use at a later date when the dust becomes an issue again.
4. Falcon Dust Disposable Cleaning Duster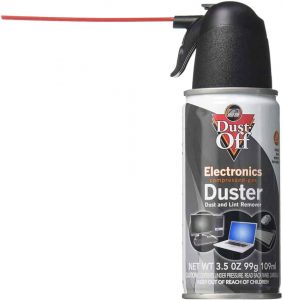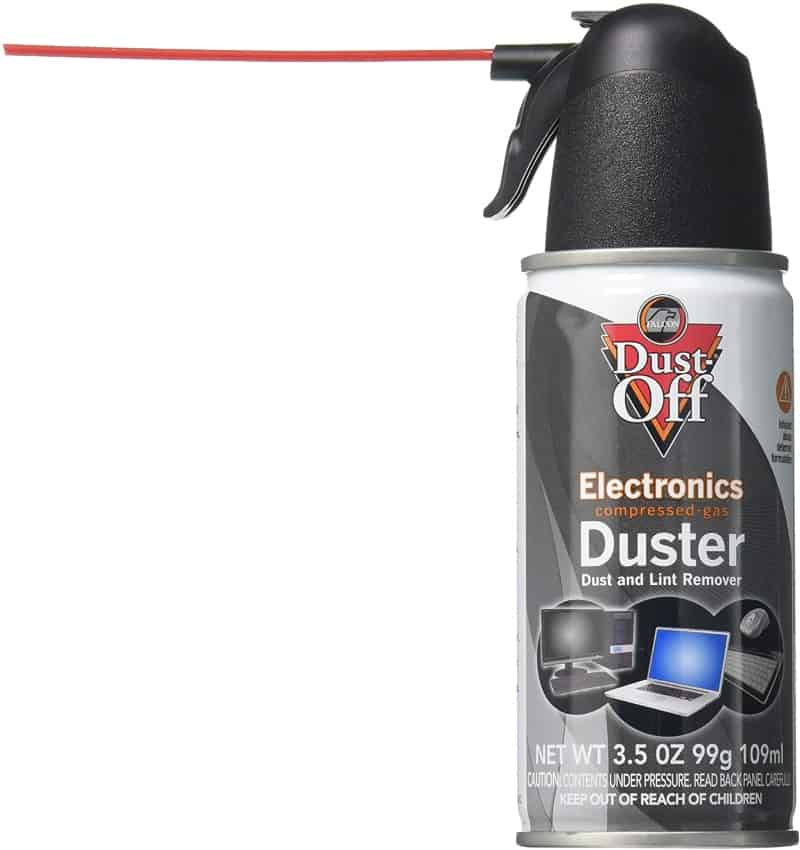 This duster is a compact and efficient option for a wide range of uses both in housekeeping and cleaning electronics.
Specifications
Weight: 3.5 Pounds

Dimensions: 2.13" x 2.13" x 6" 

Brand: Falcon 

Manufacturer: Falcon Dust Off
Features 
It is CFC free which makes it safe to use regularly without damaging the Ozone layer.
This product is compact, which makes it easier to use. With its size, you could squeeze it into the chassis of your PC and do a thorough cleaning. You will be able to dust-tight spaces because of this size.
Its size also makes it light, so you won't feel any strain on your wrists even if you use it for long.
It is designed with a nozzle that ensures blasting efficiency. Each volume of air that shoots out of the can will be well targeted to dislodge and blow the dirt out of your PC components.
This product was specifically designed for computers to be a good option for someone looking for a compressed air duster for electronics. 
It is versatile and portable. This makes it usable for a wide range of environments, from cleaning electronics to dusting your curtains, blinds, or anything else you might need to clean.
5. EasyGo Product CompuCleaner 2.0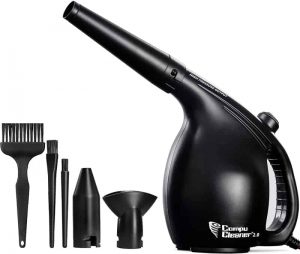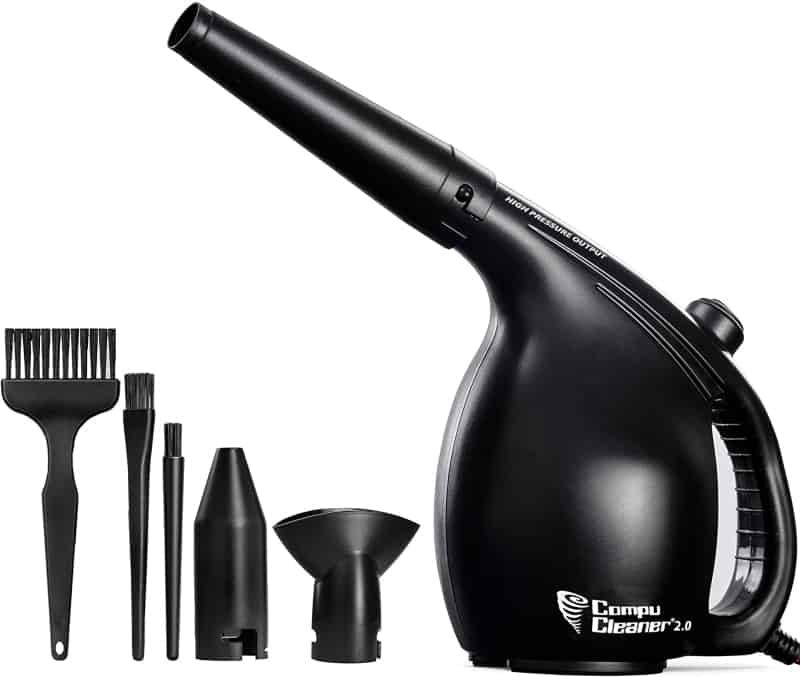 This reusable electric option is specifically designed to clean computers, but you can use it for numerous other applications.
Specifications 
Weight: 1.8 Pounds

Dimensions: 8.98 x 8.54 x 4.96 inches

Brand: EasyGo Products

Manufacturer: EasyGo Products
Features 
The EasyGo CompuCleaner will run to produce a high-pressure, continuous and robust stream of air. 
This will help push all the dust out of your PC, including any foreign material that a compressed air canister can't deal with.
This product is flexible, and you can use it in a wide range of situations, from cleaning your PC to dusting the blinds or any other part of your house. 
This product might be just what you need to make your PC perform better and reduce your repair costs.
It is lightweight and easy to use. You could carry it for long and work it in awkward wrist positions without feeling a strain on your wrist.
It has a long cord to give you some form of freedom since you need it, especially when cleaning the house. For PC cleaning, the cable will be enough.
It is a reliable product that you can buy once and use for years without replacing it. Even if it breaks, you could get it fixed, and you will be back in action.
This choice is also safe for the environment since you don't throw it away after use. You keep it and plug it in next time you need it, which limits environmental pollution.
6. Air Duster Computer Electronics Cleaner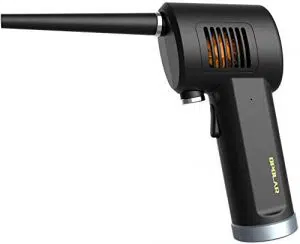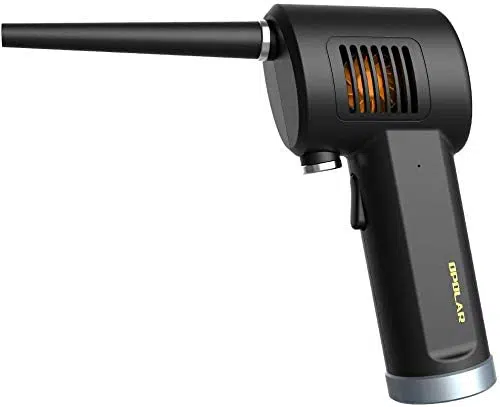 This compressed-air duster is a solid choice for anyone looking for high performance and complete mobility in one package. 
Specifications
Weight: 10.6 Ounces

Dimensions: 3 x 2 x 7 Inches 

Brand: Wincooll 

Manufacturer: Wincooll
Features
This duster's fans can rotate at 33,000 RPM to produce a powerful thrust of air current. This will make it even easier for you to clean intense amounts of dust from your PC without opening it up. 
It comes with a rechargeable battery. This will give you the freedom to move with the blower and use it in any position for up to 30 minutes before you need to charge it again.
It has an ergonomic handle and a comfortable design that makes it easy to hold and carry around. In addition to this, it is light to make it easier for you to move and use even with the battery installed.
This product has a fast-charging feature, using a 2A adapter; you can charge this device in about 3 hours, and you will be ready to go back to work. 
This compressed-air cleaner is energy efficient and eco-friendly. This makes sure it saves on your electric bill while protecting the environment from pollution; thus, it is a product you should look into. 
7. SIN SHINE Compressed Air 3.0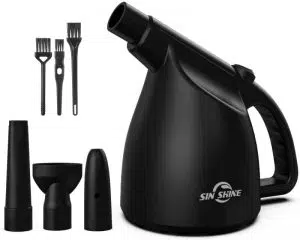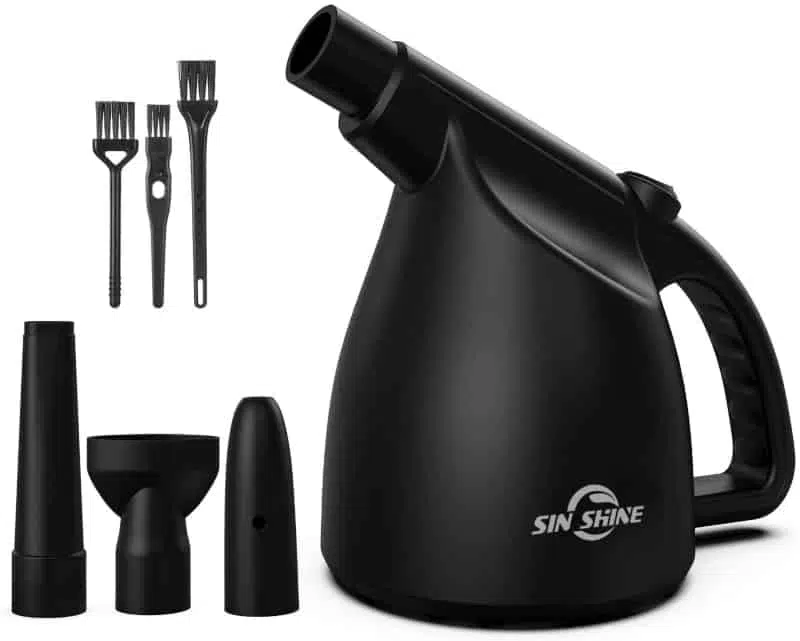 This is the best heavy-duty compressed air option for someone who needs to get the dust out of a large PC or eliminate small grains, crumbs, or hair.
Specifications
Weight: 2.28 Pounds

Dimensions: 6.9 x 5 x 7.8 inches

Brand: SIN SHINE

Manufacture: Sin Shine 
Features 
This is a unique compressed air duster since it comes with in-built lighting. This will allow you to see inside your PC or when cleaning in dark places, so you do a better job of it. 
This pump pushes air out faster, which means that the air is non-toxic to the user and the environment. 
The Sin Shine Compressed Air duster is affordable and reusable. You will spend a few bucks once, and you won't ever need to buy another compressed air solution if you use it correctly.
It has a simple and ergonomic design. The handle makes it easy to carry and move, while the controls make it easy to use, which will save your time. 
It comes with several nozzles. This will allow you to change the head and go with one that best suits your current task. 
This will make the blower more efficient since you won't need to force one nozzle to do things it is not equipped to do.
It is adaptable, and its high power capabilities make it usable in a wide range of scenarios. You can use it for general cleaning of house surfaces or clean your electronics.
8. ULTRA Duster Canned Air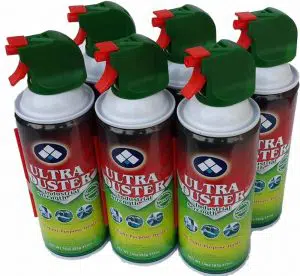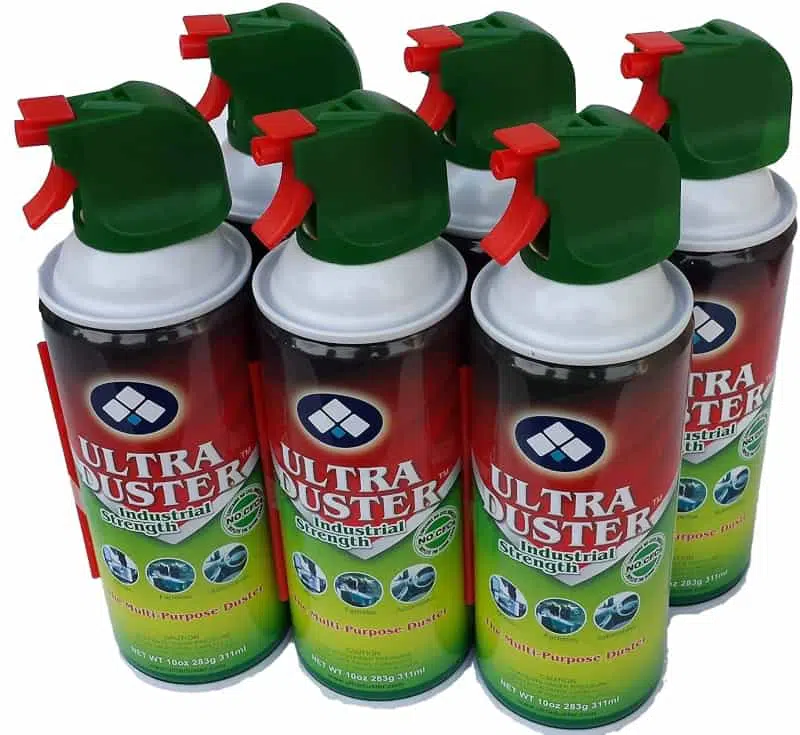 This canned air duster is a good choice for users looking for a powerful yet safe tool for dusting at home or in the office.
Specifications
Weight: 6 Pounds

Dimensions: 2.64 x 2.64 x 8.51 Inches

Brands: Electronics More

Manufacturer: ULTRA Duster
Features
It is designed to generate a powerful blast that can dislodge any dust particles from your PC and blow them out to leave the PC squeaky clean. 
It has no CFCs, which means that it is 100% Ozone safe, and using it does not pose any threat to the environment, whether living or nonliving. 
However, you have to be keen on disposal to ensure you don't pollute the environment with the empty can.
In partnership with ULTRA Duster, Amazon ensures the product is delivered to you within one business day. 
This means that you can fix your dust problems as soon as you start experiencing them so you can continue with your work peacefully.
The compressed air comes with a bitterant to ensure your compressed gas is not wasted, especially by children. 
It comes with a straw so you can fit it in and blow the air more accurately, and get deeper into the hard-to-reach crevices of your PC chassis.
9. Dust-Off Disposable Compressed Gas Duster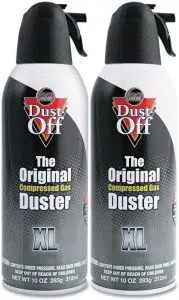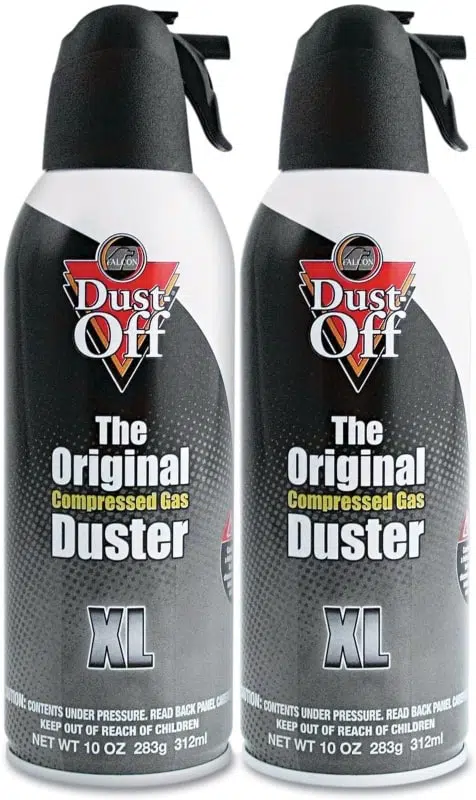 This duster is of great value; it will serve you well and won't give you a headache when it's time to dispose of it.
Specifications
Weight: 1.7 Pounds

Dimensions: 15 x 12 x 6 inches

Brands: Dust- Off

Manufacturer: Dust- Off 
Features 
It is enormous and has a big air capacity, making it possible to use it for an extended period and on multiple surfaces before you have to replace it.
This compressed-air canister releases the gas at high pressure, especially when it is new and full. This pressure allows the air to dislodge all the dust particles from your PC even if it's been long; thus, it is an asset for all users.
It is usable in many situations due to its size. It can perform heavier tasks that smaller compressed air cans cannot, especially in cleaning the house. 
It has a bitterant which helps you save money by preventing children from playing with the compressed air.
When you buy it for the first time, it has a plastic blocker on the trigger. This plastic holds the trigger in place and prevents accidental firing of the compressed air. You, therefore, have to remove this safety feature before using the can.
10. Impact Select Air Duster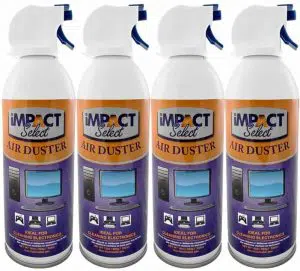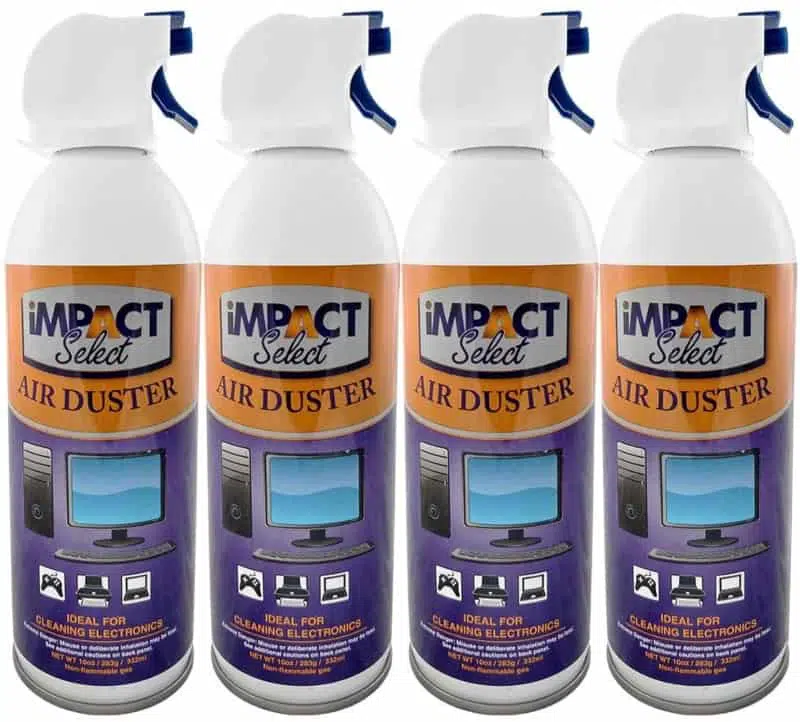 This is an ideal air duster for small tasks such as dusting a mouse or keyboard and heavy tasks like cleaning entire PCs and motherboards. 
Specifications
Weight: 1 Pound

Dimensions: 9 x 12 x 13 inches

Brand: IMPACT

Manufacturer: Impact Canopies
Features 
This compressed-air canister has no moisture, so it won't put your components at risk of getting a short circuit even if you use it abundantly.
It is usable in many components, from simple jobs like computer mice to more delicate ones such as motherboards. 
It works efficiently regardless of the size of the dusting surface. This compressed air does not have Butane, Propane, CFCs, or HCFCs. 
The lack of these chemicals makes it safe for both the user and the environment.  Such chemicals would otherwise seep into the Ozone and damage it, causing global warming.
The can and its contents are light, and you will almost fail to notice the weight in your hand. This will become an advantage since you will be able to carry it around and use it for a long time without breaking a sweat.
The compressed air has a bitterant to discourage abuse of the air; thus, one container can last a little longer.
11. XPower A-2 Airrow Pro Computer Duster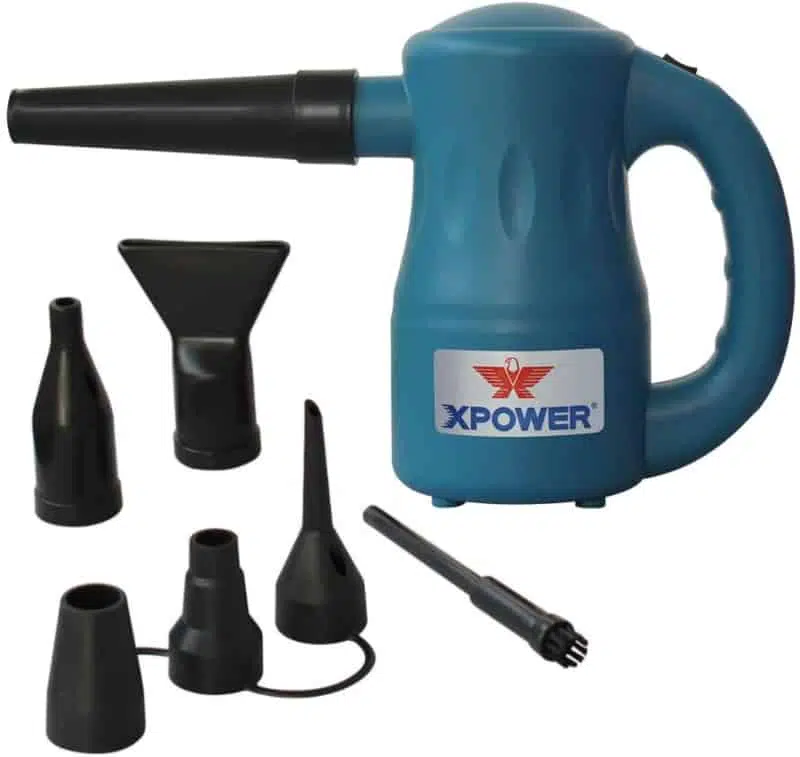 The final product on our list is a dry air pump blower that you can use in cars, blinds, equipment, curtains, and even electronic components.
Specifications
Weight: 2.3 Pounds

Dimension: 6.75 x 7.22 x 3.82 inches

Brand: XPower

Manufacturer: XPower
Features
This is a powerful computer duster that makes it usable for many other tasks. You could use it to inflate small floats, an air bed, or clean other places around the house or car. It can dislodge dust even from a distance away; thus, it makes cleaning much easier for you.
It is energy efficient. Despite giving you good service and dusting virtually everything in your house, this duster will not bring you a huge electricity bill at the end of the month since it has components that consume as little power as it can.
It is relatively light, which makes it easy to carry around as you dust off your PC. 
The design is ergonomic and simple in usage and handling. You can turn it on without thinking about it, and the design will ensure you get a tight grip on it, so you don't drop it even when it's working at full power.
This dusting tool is reusable; therefore, you will limit the amount of pollution caused by cans of used compressed air, which is good for the environment.
Its design also gives this duster superb airflow. This is an advantage that will make it work better while using less power, and it will also reduce the noise made by the air as it rushes out of the nozzle.
In addition to all these features, this product is built to be durable and safe for the user. You will use this duster to clean your PC for years if you take good care of it. Their one-year warranty emphasizes this. 
Factors To Consider When Choosing Compressed Air For PC
You are getting compressed air for dusting your PC; it seems straightforward, doesn't it? It is not; there are some factors you need to consider before you settle on a product. When it comes to selecting compressed air, it's more about efficiency than performance. 
Any compressed air you buy will push air out and dust your PC; the right one will do an excellent job without inconveniencing you in any way. Let us break it down and see what you should look for in compressed air:
1. Weight and Dimensions
Compressed air cans come in a wide range of sizes that weigh differently. Your intended use for the compressed air will determine the size of the compressed air canister you get, determining the volume of air you have to work with. 
If you want to clean a small laptop, you can choose a smaller can that will serve your needs without costing you too much money. 
If you need to clean a larger PC, you can select a bigger can that will give you space to do a thorough job.
The weight is not a significant issue, but it's something you should consider. If you work in awkward positions, it would be better to get several small cans that are easy to hold and carry rather than getting larger ones that will strain your fingers and wrist.
2. Operation and Reusability
You can choose between an electric computer duster and a compressed air duster. You can buy the canned compressed air and use it a few times before you have to buy another can. 
This would be a good choice if the problem is temporary and you need a quick, inexpensive fix. If you are looking for a more permanent solution, you should look for an electric compressed air duster. 
This way, you will have a reliable tool in your house, and you can use it whenever you need to without worrying about emptying the container.
For electric options, some have batteries, so you can charge them and move around freely as you clean. This will be convenient if you don't have enough outlets or cleaning in a large room.
If you have a small room or use the duster only on your PC, you can get a corded option that will be cheaper. 
Provided you take good care of it; an electric compressed air duster will serve you for years better than a compressed air can.
You will also get a more powerful and consistent thrust of air with an electric compressed air duster. With the cans, air pressure will reduce as you use up the air in the container. 
3. Build Quality
This factor deals mainly with the brand and how consistent they are with producing quality products. 
Whether you are buying a can or a blower, you have to ensure the setup mechanisms are built to give the best performance.
Concerning compressed air cans, you need to understand that these cans contain highly pressurized gas, so a poor build means that the can will be unable to contain the gas. 
This might cause the cap to pop off, and it will be frustrating to use. Most electric compressed air dusters are plastic, so you have to avoid dropping them. 
The most important thing here is getting a design that makes it easy to use. The handle should be ergonomic, so you don't strain your wrist while cleaning.
The design of the nozzle and barrel are also important. A good design will ensure streamlined airflow in the blower, which will reduce the power needed for it to work. 
This will also reduce the noise made by the air as it rushes out, giving you a more comfortable cleaning experience.
4. Environmental Safety
We live on a planet that is plagued by pollution and global warming, with each year getting worse than the last. 
We have to step up and start making choices that are supportive of the environment and the planet.
When looking for a compressed air can, you need to get either a reusable or disposable one. A reusable can means that you won't throw it away after use, so you don't pollute the environment with it.
Make sure you dispose of all your cans correctly and recycle as much as you can. Garbage is a big problem for our planet, and it is up to each of us to make the situation better.
The contents of your compressed air are also important, and they should have some effect on your final choice. 
The air should not have any CFCs or compounds that are not ozone-safe. Using such compounds will damage the ozone layer and increase the penetration of UV rays.
Energy efficiency is also vital in environmental conservation, so you need to choose a duster that uses power correctly. 
Reducing the power we consume will reduce the strain we put on the environment to generate electricity.
5. User Safety
Safety is essential both in electric dusters and canned compressed air dusters. Some compressed air dusters have additional chemicals in them, either a bitterant or some compounds to help with killing bacteria. 
These chemicals could make compressed air perform better and discourage misuse since they are irritating. 
The problem with them is they pose a health risk to the user, and excessive exposure could lead to diseases such as cancer. 
The bitterant that is added could be a distraction for you even when using the compressed air correctly.
The best option is to settle for something pure with no additives, so it doesn't leave any smells on your equipment. 
For electric compressed air dusters, all the electrical safety features should be added to keep you safe. 
The compressed air duster should be well insulated, and the fans should be kept away from the user to prevent accidents. 
Installation of components to avoid overloading and short circuits is compulsory to protect the user and other equipment from power surges.
Tips On How To Properly Dust Off Your PC
Getting the right option for compressed air is the first part of the solution; you now have to know how to use the duster to clean your PC. 
If you do it the wrong way, you might end up damaging the PC, so here are some tips you can use to stay safe:
Try to use the cans in an upright position to maximize the usage of the air in them. Slanting might cause the container to feel like it's empty, yet it still has some air in it.
Turn off the PC and unplug it before you start dusting. This is especially important when you use an electric duster that pumps the air in more effectively. The fan in your PC is also spinning. 
The current from your compressed air blower could inhibit the rotation of your fans, and they could develop problems later on. Even if you don't damage the fan, it is risky to clean a PC connected to power since you could get an electric shock. 
Make sure your hands are clean and dry before you go into the PC. You might end up dripping some water into the PC then spreading it across the components with the air current, which will cause a short circuit once you turn it on.
Make sure you take the PC outside before you begin dusting it. Outside there is free air movement, and it will give you more space to work, and there are no surfaces that the dust will mess with. 
The dust you get out of your PC will not settle on any other surface; thus, working outside will save you the stress of additional chores.
Always have on some protective clothing before you start dusting. Cover your nose and mouth since there is more dust in your PC than you think. This dust could get into your nose and become harmful to you.
Don't be shy about opening up your PC during cleaning. If you have a powerful duster, you could take off only one panel to give you unrestricted access to your PC's interior. The side panels will be a good choice for maximum reach. 
You can then use an extension tube to get into the hard disk and others hard-to-reach places. It would be wise to aim for overkill when it comes to dusting; make sure you clean every inch of the PC and pass over them as much as you can.
Remove the dust filters before you start dusting. Most PCs come with some filters to trap the dust particles to keep the PC clean. Over time, these filters will be full of dust, and you have to remove them and clean them separately. 
Blasting the dust in them will only worsen your problem since it will push some of the dust into your PC. If the filter is plastic, remove it and wash it off, then wipe it dry before putting it back. Otherwise, use the compressed air to dust it clean, then reinstall it.
When dusting using an electrical, compressed air option, always put one hand on the chassis of your PC to prevent the buildup of electrostatic charges. You could use an electrostatic wrist band to make your movement easier.
For sensitive components such as the graphics card, it's safer to use compressed air. A compressed air pump could have a significant electrostatic charge that can damage the electrical components in your Graphics card or the motherboard.
If you are doing a thorough cleaning, it is wise to take off the fans at the radiators since dust could get into such places and limit performance when it builds up. Make sure you keep track of the screws for the fans and chassis as you work.
It could also help to look into your power supply with a torch and dust it. Don't ever open your power supply for cleaning since you could end up getting an electric shock or damaging it. Dust it through the ventilations and get as much of the dust as you can.
Conclusion
Compressed air is an excellent option for dusting, and you could use it exclusively or alongside a brush to get a better outcome. 
A brush could help in dislodging the dust, but you would still need a compressed air can to blow the dust out of your PC and enhance its performance.
There are several compressed air options; some are canned while others are electrical options. It would be a good idea to use an electric duster since it is safer for the environment and more reliable. 
You can use it whenever you need to without worrying about using all of it. It is a one-time investment that will work for years rather than buying a can that you would have to replace regularly.