You want the best single earbud. Isn't that so? Well, as you may have already discovered, the market is awash with tons of options. Hence, it's easier for an audiophile to get confused and make the wrong choice. 
Now, here's the good news. Having tons of earbuds in the market means features such as noise cancellation, longer battery life, fitness, and comfort will receive priority. There'll be fierce competition among brands, as they strive to meet these needs. 
For a potential buyer, the most critical thing is finding a well-made single earbud that sounds good. But then, it has to be an earbud that meets your expectation. So, do you want an earbud with a balanced sound or one with rattling bass? 
After reading this comprehensive buying guide and review, you'll be able to identify the single earbud that's best for you.  
So, are you ready? Let's dive in. 
However, if you don't have the luxury of time to read through our earbud review, you can make your decision by visiting our best pick table below. But if you care to know more about earbuds before making your decision, keep reading. 
| | | | |
| --- | --- | --- | --- |
| | New bee Bluetooth Earpiece V5.0 | NENRENT S570 Bluetooth Earbud | Sunffice Ear Hook Bluetooth Wireless Headphone |
| | | | |
| | | | |
| | | | |
| | | | |
| | | | |
| | | | |
| | | | |
| | | | |
| | | | |
Top 12 Best Single Bluetooth Earbuds Review
Product#1: New Bee Bluetooth Earpiece V5.0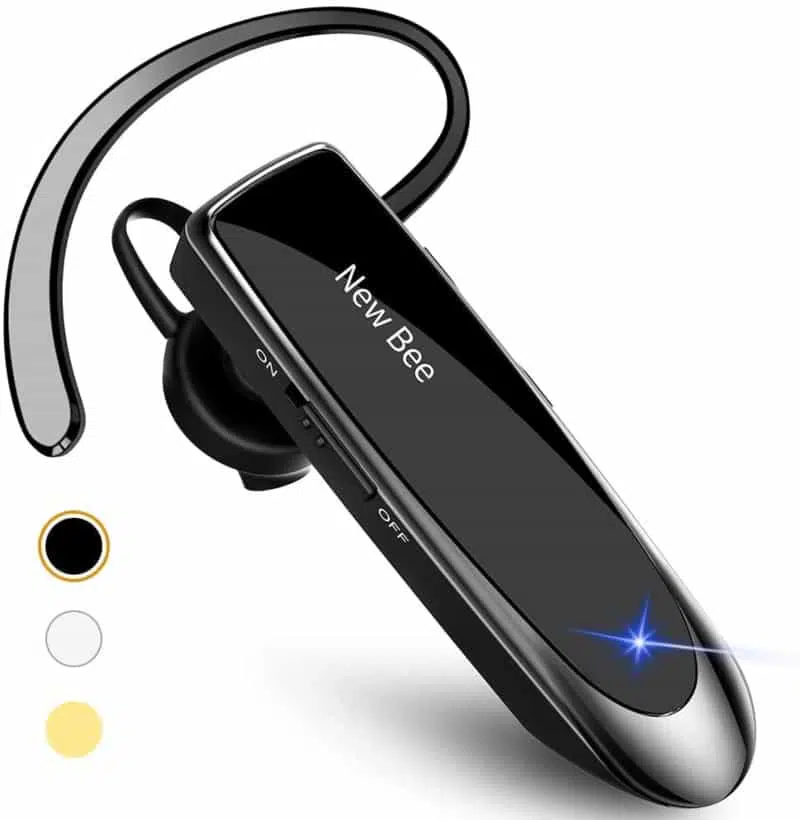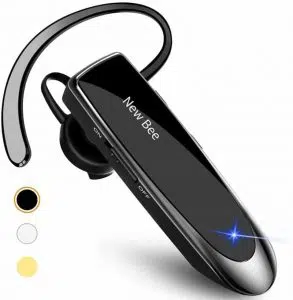 Despite having a low price point, New Bee Bluetooth Earpiece comes packed with specs that rival many expensive competitors on the market. And besides the low price tag, it doesn't compromise on quality. The battery life and background noise filters are only a handful of the tons of features that sets the device apart. 
Specifications:
15-meter range

Sturdy carrying case

Lightweight – 12grams

24 hours talk time

22 hours music time

Hands-free specification technology

360 degrees adjustable ear hook

Connects to two devices simultaneously 

Cutting edge Qualcomm CVC (clear voice capture) technology 

Compatible with a wide range of Bluetooth-enabled devices

Compatible with Android, iOS, iPhones, tablets, and laptops 
Features: 
New Bee Earbud doesn't only spot a premium look. It's a minimally designed and sleek device, which is compact enough to fit any ear. The 360 degrees adjustable earbud is also a clear indication that this device will suit your active and non-active lifestyle. 
This single Bluetooth earbud is a breeze to adjust. You can even adjust it to fit any ear shape or size, whether it's the left or right ear. Additionally, there are optional ear tips available in three different sizes. These include small, medium, and large sizes. All these features indicate that the manufacturer built the device with the comfort of users in mind. 
Long battery life is another highlighted feature of this single Bluetooth earbud. With 2 to 3 hours of charging, you can enjoy 24 hours of talk time and 22 hours of music time.
Despite being compact and portable, this earbud also packs a punch with its sound. It boasts Clear Voice Capture (CVC 6.0) technology, and cancels out background noises, so you and the person you're calling can have smooth conversations.
Product#2: NENRENT S570 Bluetooth Earbud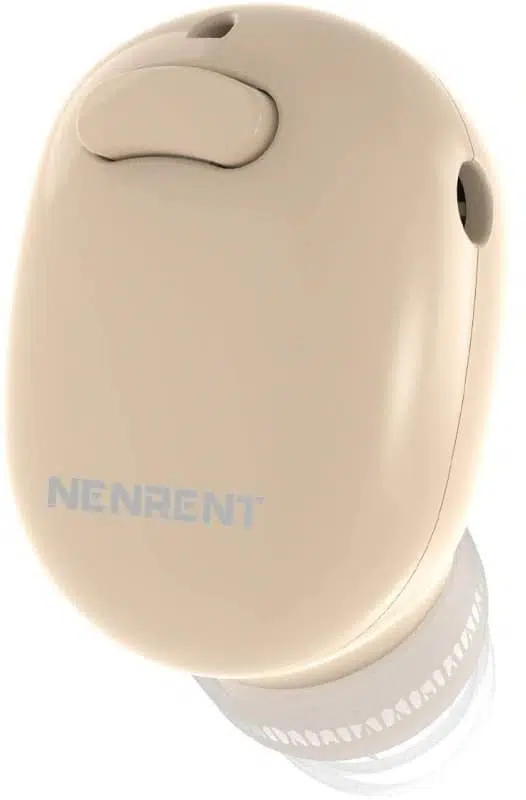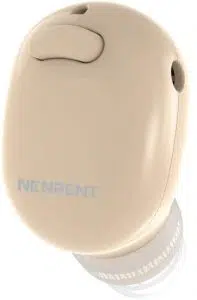 With 10 meter range, the ability to connect to two devices simultaneously, and clear HD audio, the NENRENT S570 Bluetooth Earbud is a wise choice. The S570's design and lightweight (0.13 oz) make it comfortable to wear for long periods. 
Specifications:
Clear HD audio

10 meter ( 33 feet) Range 

USB 5V charging input

Weight is 0.13 oz

60mAH rechargeable lithium-poly battery

One button control to power on and off

Compatible with a wide range of devices: Android, iOS, laptop, and tablet.

Supports multi-point technology – ability to connect two devices
Features:
The S570 earbud isn't just among the smallest earbuds in the world. It comes designed with performance and users' comfort in mind. 
This device's minimal shape and lightweight doesn't only create a desirable fit. But it's so discreet and light that you'll hardly even notice that you're wearing something in your ear. 
Another noteworthy feature of the S570 is its battery life. It boasts a tested and trusted lithium-poly battery that can offer you 5 to 6 hours during the day. So, even if you're a heavy user, the S570 can match your lifestyle. 
However, keep in mind that audio playtime depends on the volume. With 40 to 50 per cent volume, you can get 5 to 6 hours out of this earbud. The higher volume will result in lower audio playtime. 
Product#3: Sunffice Ear Hook Bluetooth Wireless Headphone: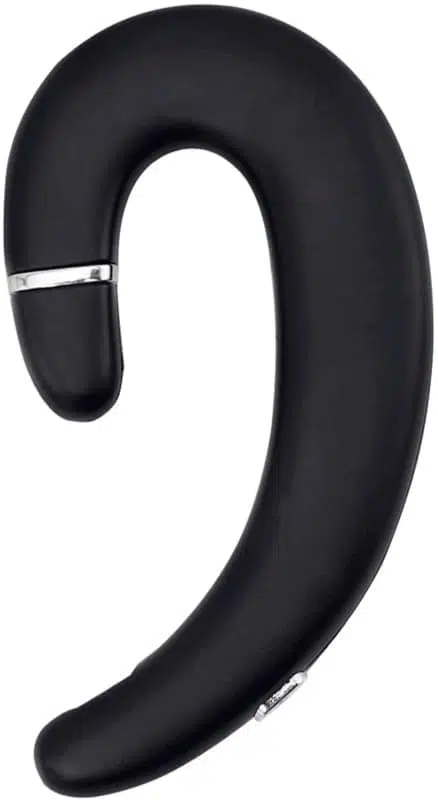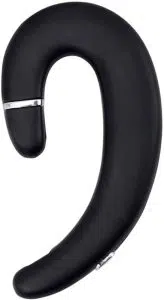 This Sunffice Ear Hook Wireless Headphone's lightweight and painless wearing set it apart. It won't irritate your ear or cause discomfort when worn for extended periods. Additionally, it has a range of 10 meters and tends to connect automatically to any Bluetooth-enabled device. 
Specifications:
Carrying case

10-meter range

Ear hook design

9gram single earbud

1 to 2 hours fast charging

High-performance lithium battery

Boasts a multifunctional Home button

Headphone battery status displays on the mobile device
Features:
Do other headphones irritate your ear? If so, then this Sunffice Ear Hook Bluetooth Headphone will make a wise choice. In addition to the no ear irritation, you'll experience zero ear damage or pain, thanks to the device's ergonomic design and lightweight.
The built-in lithium battery lets you make phone calls for 5 to 6 hours in a stretch. Enjoy your favorite songs for a straight 6 hours once the device is fully charged. 
This headphone's fast charging feature is one of the highlighted features you'll notice about the device. In 1 to 2 hours, you'll have a fully charged battery to let you make long phone calls or listen to your favorite jams.
And what's more, you'll find the headphone's battery status displayed on your device to keep you in the know regarding battery status. 
Product#4: PDP Gaming LVL30 Wireless Chat Headphone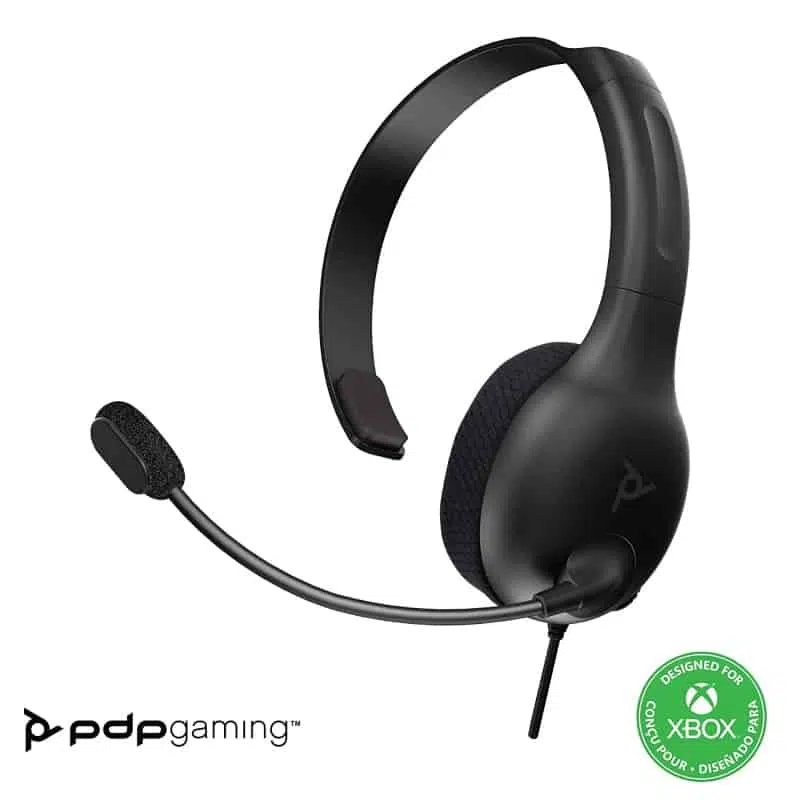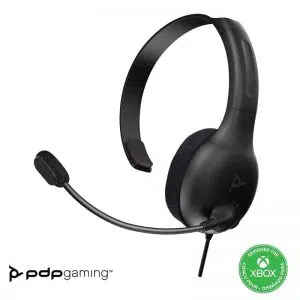 The PDP Gaming LVL30 Wireless Headphone comes built to take avid gamers' gaming experience to the next level. The device's lightweight makes it a joy to use during extended gaming sessions. And what's more, you can wear the headphone on both ears. 
Specifications:
Noise-canceling mic

Flip-to-mute feature

Easy-to-access volume dial

One-ear volume control option

30mm high-definition mono driver

Suitable for use on the left and right ear

Compatible with Xbox series X and S, including windows 10 PCS and Xbox One. 
Features:
The PDP LVL30 wireless Headphone is a decent budget headphone and one of the must-haves at this price point. The device's lightweight and unique design makes it suitable for long chats and gaming sessions. You won't even notice that you have something on.
This headphone's sound is decent. Additionally, being flexible and easy to adjust, make wearing it on both ears possible. It also features a 30mm high-definition mono driver to let you hear your chats loud and clear. 
The on-ear volume control lets you initiate fast audio adjustments between games, and even so, you won't miss a target. But then, there's one drawback this device have, which many won't consider a deal-breaker. It doesn't have a mute button. You have to flip the mic upward to mute it. 
Product#5: ICOMTOFIT Bluetooth V5.0 Hands-free Earphone: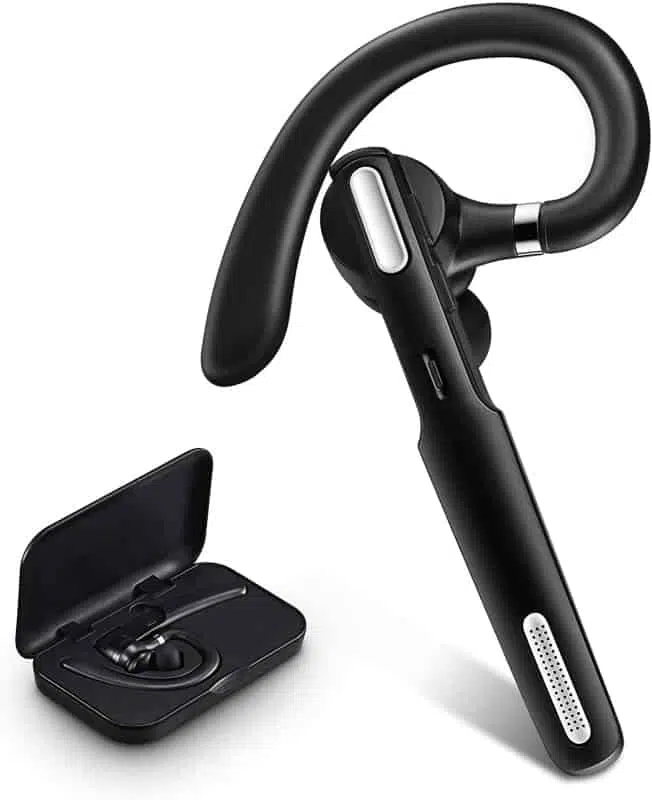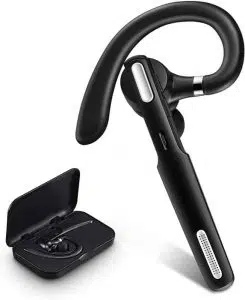 This professional-looking hands-free earphone is suitable for business, driving, and office use. You can have it paired with to your Android, iOS, tablets, laptop, and even MP3 Players. It features multipoint technology and pairing is a breeze. 
Specifications:
10 meter (33 feet) range

Battery level voice alert 

180 hours standby time

Fast charging – about 1.5 hours

Advanced 6.0 CVC noise cancellation technology 

Boasts three comfortable ear gels in different sizes

Supports Siri and Google voice assistant

Features Bluetooth 5.0 technology

Pairs with two Bluetooth devices simultaneously 
Features:
This ICOMTOFIT headset boasts a decent battery life, making it a wise choice for heavy users. When fully charged, you can enjoy 8.5 hours of playtime and 10 hours of talk time with this device. Plus, you can have the battery fully charged in about 1.5 hours. 
The Bluetooth 5.0 technology is a plus to this device. It can pair with two Bluetooth devices simultaneously from a distance of 33 feet. And what's more, pairing is super stable and fast. 
This ICOMTOFIT headset weighs only 0.5 oz and boasts a solid construction, an idea that comes built to last. Lightweight is also an indication that you won't feel pain or discomfort in your ear after extensive usage. 
Product#6: NVAHVA Bluetooth Earbud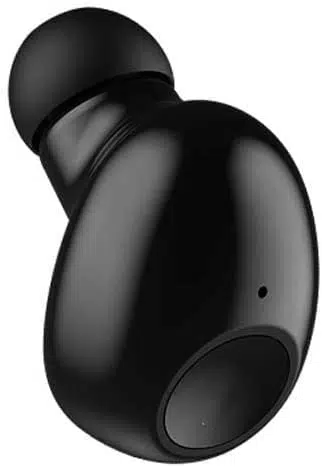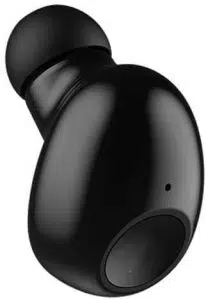 This earbud doesn't only charge fast. Once fully charged, you can enjoy about 10 hours of music and call time. The NVAHVA is also a custom-fit earbud designed to make the use of earbuds enjoyable. 
Specifications:
L-shape design

0.15 oz weight

Wide compatibility

Multi-point connection

About 10 hours battery life

Charging time – less than 2 hours

Approximately 250 hours standby time
Features:
The NVAHVA Bluetooth Earbud is a highly-rated device and one of the finest at this price point. It doesn't only boast a decent sound quality but has impressive battery life. 
This device's music and talk time are 10 and 12 hours, respectively. It also features a micro USB port for charging, unlike some earbuds out there that require an adapter. 
However, there's one drawback this device has. It features only one button, whose functions include song switch, on/off, language change, including receiving calls. Furthermore, if you don't hold the button long enough, it might send your phone a "dial last number" request. 
But then, the button isn't so difficult to hold down, so this shouldn't be a deal-breaker.
Product#7: AMINY Bluetooth Headset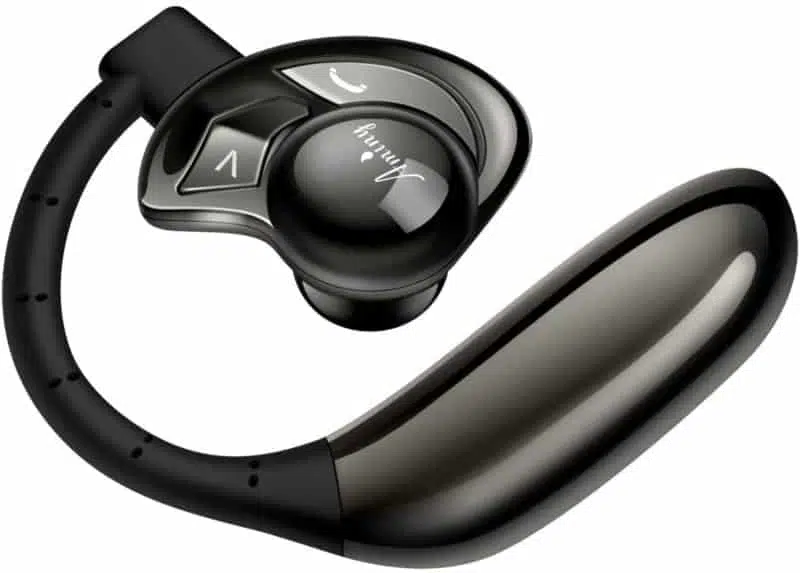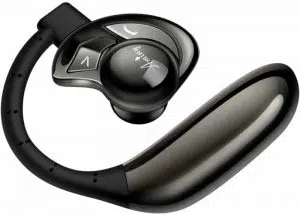 This AMINY Headset boasts a solid construction and sleek design that would compliment any outfit. V5.2 Bluetooth technology is also a huge addition to this device. It makes pairing seamless, and it's among the reasons the headset's voice is exceptionally clear. 
Specifications:
14 hours talk time

1 to 2 hours charging time

Features Bluetooth 5.2 technology

3-point supported principle design

Inner nano-coating material

Compatible with a wide range of devices
Features:
The AMINY Bluetooth Headset is designed to deliver impressive performance and comfort. It features a 5.2 Bluetooth technology and offers stable connectivity. 
Thanks to the 3-pointed supported principle, this headset would fit any ear snugly. And what's more, it comes built with lightweight material to ensure you don't experience any discomfort or pain during extensive use. 
You can connect this device to your Windows Smartphone, Android, iOS, and other Bluetooth devices. Connect your laptop and tablets seamlessly. 
Being sweatproof also makes this beast a wise choice for your active lifestyle. It makes it a wise choice for outdoor physical activities such as jogging, running, hiking, cycling, mountain climbing, and more. 
Product#8: Kissral Wireless Sport Earbud: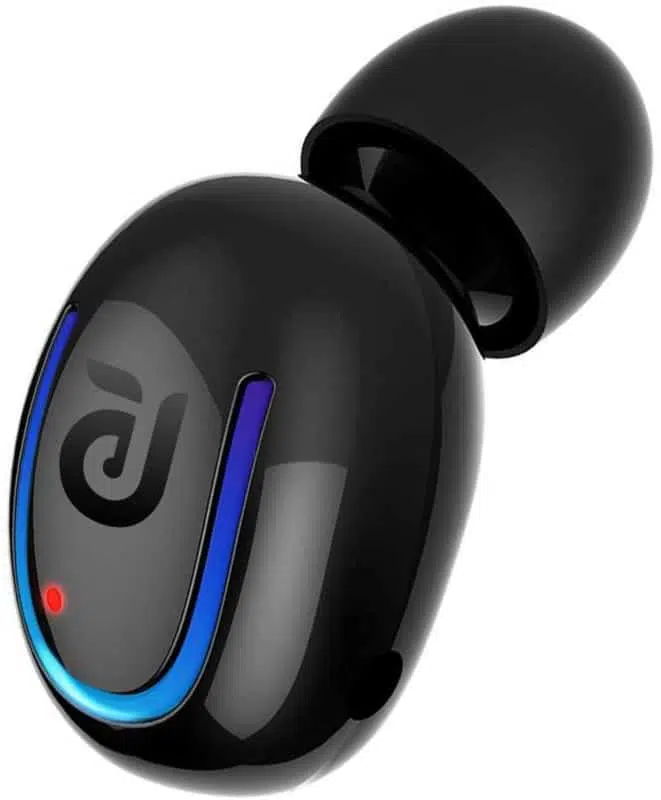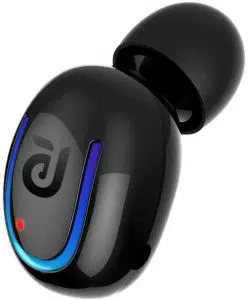 The features packed in this Kissral Wireless Earbud make it one of the top-rated earbuds at this price point. It features a CVC 6.0 noise cancellation technology that helps to shut out background noise. Battery life is also quite impressive. 
Specification:
Weighs 3.5g

One button control

65mAh lithium battery

6 hours music time

8 hours talk time

Built-in HD microphone

120 hours standby time

10-meter range transmission

CVC 6.0 noise reduction technology

Bluetooth 4.1 audio decode technology
Features:
If the long battery life of this device doesn't impress you, the stable connectivity, snug fit, and lightweight should. Kissral did a fantastic job on this tiny but powerful earbud. 
This device's CVC 6.0 noise reduction technology is a noteworthy feature. It helps reduce background noise to encourage smooth interactions whenever you initiate a call or receive one.
The 65mAh lithium battery offers about 8 hours of talk time and 6 hours of music time. And what's more, it can fit both ears. 
Product#9: GoNovate G8 Bluetooth Headphone: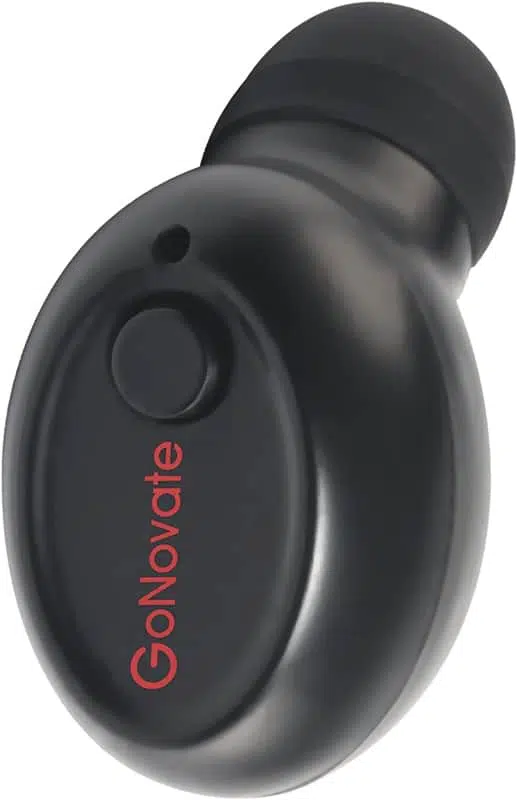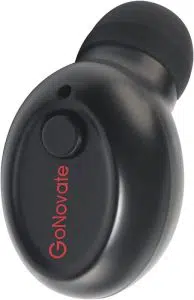 The magnetic USB charger is one of the things that'll impress you about this minuscule earbud. And actually, it comes with two chargers. The sound quality is quite decent. Additionally, the Bluetooth signal is stronger than many earbuds at this price point and size. 
Specification:
33 feet range

Fits both ears

Ergonomic design

Magnetic USB charger

Multipoint connection

Built-in 55±5 mAh Lithium-ion battery
Features:
The GoNovate G8 Bluetooth Earbud is a bit bigger than the G10. But you'll still find it comfortable and secure in your ear. It features three ear tip sizes – smaller, medium, and large. And what's more, you can wear it in both ears. 
This device's 55 +/- 5mAh battery can offer you 5 to 6 hours of audio playtime. However, ensure you don't use a charger greater than 5v output to charge the battery. In doing so, you might condemn the battery. 
The G8 boasts a decent range. It can pair with your Bluetooth device from 33 feet away. It can also connect to two devices simultaneously and still deliver the same decent audio quality. 
Product#10: KIYEDAM Single Ear Wireless Earbud: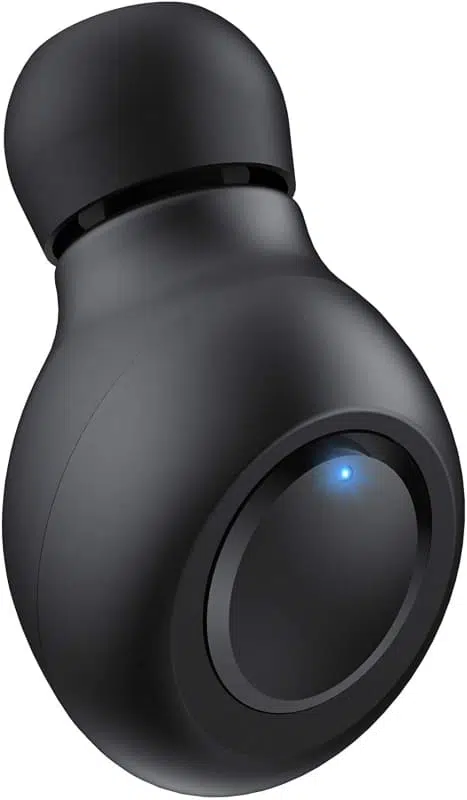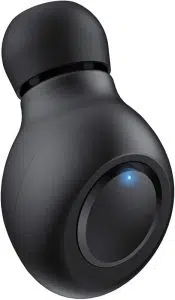 The KIYEDAM is not only easy to conceal in the ear. It is lightweight, and that means a lot to heavy users. You won't even notice that you're carrying something in your ear while performing your regular duties at the office or home. 
Specification:
iOS battery display

One button control

Universal compatibility

Weight is 0.13 ounce

Charging time is 2 hours

60mAh battery capacity

1.5 hours charging time

Magnetic USB charging base

33 feet transmission distance

4 to 6 hours play and talk time
Features:
This mini earbud from KIYEDAM would rival many highly-priced Bluetooth earbuds on the market. And surprisingly, it's budget-friendly and comes built to offer high-end performance. Additionally, it's small and discreet.
The earbud is sweatproof, making it a wise choice for active people. The iOS battery display keeps you informed about battery status. Battery capacity at medium volume is 5 to 6 hours, enough to carry you through the day. 
Product#11: Valear Bluetooth Headset: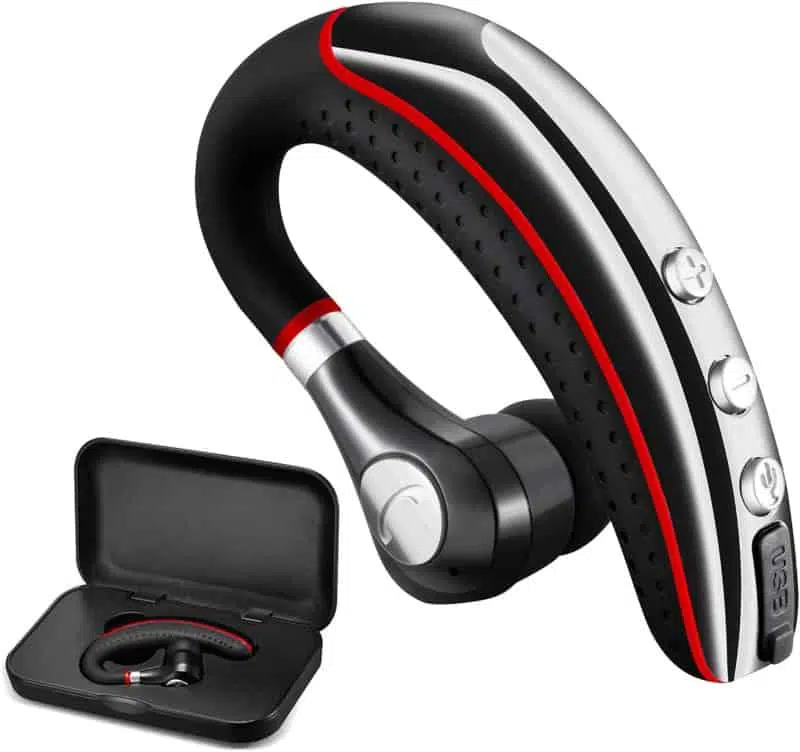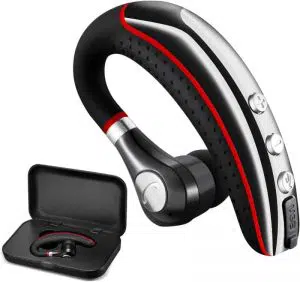 This wireless headset from Valear boasts a V5.0 Bluetooth technology, which offers stable connectivity. It also features a retractable ear hook to hold the device firmly to your ear. 
Another thing that sets this device apart is the 1.5 to 2 hours fast charging time and 7 to 9 hours listening and talk time, respectively.
Specification:
Retractable ear hook

180 hours standby time

Multi-user connectivity

V5.0 Bluetooth technology

1.5 to 2 hours charging time

10 meters Bluetooth connection signal

10 meters Bluetooth connection signal

7 to 9 hours talk and listening time

180-degree flip adjustment angle

HD noise-canceling microphone boasts EDR X audio decoding technology
Features:
This Valear Bluetooth Headset comes packed with tons of features. The device's 180-degree flip adjustment angle makes it possible to wear on both ears. 
Unlike other earbuds that use one button to control media, calls, and other functions, the Valear Bluetooth Headset boasts more buttons. It boasts mute buttons and a volume button. And what's more, the device's volume is relatively high.
The CSR noise reduction chips are another feature that justifies this Bluetooth headset's slightly higher price point. It ensures the sound quality isn't compromised. 
Product#12: SZHTFX Single Ear Bluetooth Headset: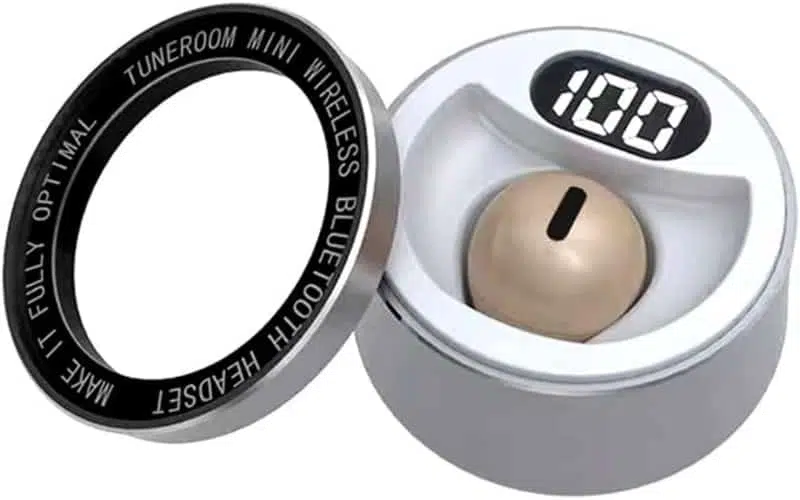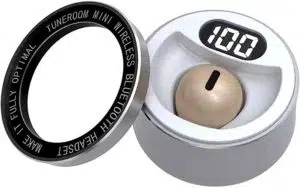 The SZHTFX Bluetooth headset features a 260mAh battery to let you enjoy extensive talk and music time. Being sweatproof also makes it a wise choice for active individuals. 
Specification
sweatproof

260 mAh battery

Anti-drop proof

Built-in mic

Fits both ears

Wide compatibility

V5.1 Bluetooth technology

360 hours standby time 

High sensitivity antenna enabled

33 feet (10 meters) transmission range
Features
The SZHTFX wireless headset is quite attractive, as it boasts a sleek and shiny finish. One obvious drawback with this finish is that it makes the device slippery. So, if you aren't careful, you could easily drop it. 
On the other hand, this wireless headset connects to any Bluetooth-enabled device. It also features a V5.1 Bluetooth technology and offers a stable connection. 
Sweatproof makes this wireless headset an ideal option for active individuals. You can explore the great outdoors with this discreet earbud in your ear. 
How To Choose The Best Single Bluetooth Earbuds For You
The single Bluetooth earbud is quite an invention worth considering. Being wireless makes it convenient to use. You won't experience issues with tangled cords at any point. Nonetheless, you have to be extremely careful when choosing single earbuds.
Remember, the market is awash with tons of earbuds, with each boasting varied features. To enable you to make the right call when choosing single Bluetooth earbuds, we have put together factors you need to consider. 
It doesn't matter whether it's your first time buying earbuds or you have had a couple. Information from this buying guide will guide you to make the right decision. 
1: Consider price point:
What exactly is your budget? Well, the thing is, if you haven't researched to know what varied earbuds on the market cost, you wouldn't know the exact figure to pin your budget. 
Anyway, the price of products tends to change from time to time. And the market is awash with tons of earbuds, which boast different features. But then, your focus should be to buy cheap or reasonably priced earbuds. 
Choose a cheap single earbud that boasts the features you seek. But don't compromise on quality. 
On the other hand, don't fall for claims that the best single earbuds have higher price points. You can find a cheap one that has the features you seek. 
A Pro Tip: Unless you're buying from Amazon, consider the return policy when purchasing single earbuds from any company. 
2: Consider battery life:
How long do you want your single Bluetooth earbud's battery to last? Here's another crucial question you need to consider before choosing a single earbud. 
If you consider yourself a light user, the earbud's battery life won't be such a crucial factor for you. But if you plan to use your earbud during the day and for an extended period, then battery life should matter a great deal. 
It would be best to get an earbud whose battery can last long during extended use. With this, you won't be without your earbud because of low battery. And what's more, earbud manufacturing companies have started making charging cases. 
So, when you store your earbud in the charging case, you're not only securing but charging it. Thus, your earbud would always be ready and well-charged whenever you need it. 
3: Consider the brand:
What earbud brand do you prefer? Most people be thinking about Apple earbuds, and you can't blame them. Apple products are quite popular, so it's expected that their earbud would be top-notch. 
Apple makes great devices, but their prices are on the high side. Excitingly, many top earbud brands are springing up and giving audiophiles a chance to own top-quality earbuds without breaking the bank. 
Some of the brands that have made this possible are New Bee, NENRENT, Sunffice, and others. You would love the appeal and quality these earbuds have to offer. 
4: Consider control options available:
An earbud's control features can make a difference in how convenient the wireless device would be. The controls involve increasing or lowering the volume, answering calls, mute, unmute and changing tracks. 
You can perform all these functions on any earbud. But keep in mind that earbud controls differ from one earbud to another. But then, you don't need to bring out your phone before you can reduce/increase volume, or change the tracks. Just a push of a button or voice command should get the job done.
So, when choosing earbuds, go for brands that have easy controls. Whether it's a button or voice command, simplicity should be the focus.   
5: Consider the comfort:
New inventions on earbuds keep popping up now and then. The changes made aren't only on the control features. They cut across the wireless earbud's appeal, design and comfortability. 
So, why is comfort important? How can you determine if an earbud is comfortable to wear in or on the ear for an extended period? Here's what you need to know. 
For the first question, comfort is crucial because the ear's tissue is soft. Thus, if you're a heavy user and plan to carry your earbud for an extensive period, ensure you get a comfortable one.
By comfortable, we mean the earbud should fit snugly on or in your ear. Even when you walk, dance, jog or participate in sports that require you to move your head, a comfortable earbud shouldn't fall off or cause pain. 
Now, how can you determine if a single Bluetooth earbud is comfortable and suitable to wear for an extended period? Well, it's simple. You can only determine this from reviews or by using the product. 
6: Consider sound quality:
What makes an earbud rank high among the best single Bluetooth earbuds out there, if not the sound quality? So, literarily, this should be the first or one of the first factors to consider before splashing the cash on an earbud. 
Furthermore, you need to be sure about what you want. Do you want an earbud with a balanced sound or one with a loud bass? Reconsider your options.
Noise cancellation technology is another factor to consider. You can be in a noisy place and an urgent call could come in. With noise cancellation technology, your device won't pick any background noise that will make your caller uncomfortable. 
5 Hacks To Make Your Single Earbud Last Longer
Do you want your brand new earbud to last longer? The response to this question from any user should be yes. However, most people have questioned if they can make their earbud last longer, and the answer is, you can. 
The little things you do daily to keep your earbud in shape can go a long way to increase its lifespan. And with that, you won't have any reason to splash the cash on a new earbud so soon. 
Alright, what are those things you have to do to extend your earbud's lifespan? Here are five things you should consider doing now and then. 
Hack#1: Find the best earbud from a reliable brand:
There's no denying that single Bluetooth earbuds would break down if handled carelessly. But if you buy from a brand with a questionable reputation, you have to depend on sheer luck for your earbud to last long. 
So, hack number 1 is to buy your earbud from a brand with a good reputation. And how do you know which brand is trustworthy if you have not even had the chance to use their product? Well, that's where reviews come into play. 
With a review, such as this one, you can splash the cash on an earbud knowing that you have struck gold. If you purchase your single Bluetooth earbud from a reputable brand, chances are it will last for a considerable period with proper care. 
Hack#2: Ensure battery is fully charged before first use:
A lot of people make this mistake. Immediately they unboxed their new earbud, they'll start using it. Now, this isn't a good practice. If you care about the battery life, don't use it until you're sure that it's fully charged. 
Now, here's what many don't know. The single earbud you just acquired might be brand new, but it's not fully charged. The companies don't charge the battery fully before sending out the devices.
So, what should you do after buying a Bluetooth earbud? Please, ensure it is fully charged before you start using the earbud. Charge for 6 to 8 hours for the first three times, charges fully in roughly 2 to 3 hours each time you charge the device. 
Watch the indicator light when charging, and please don't overcharge your single earbud. Once the indicator light turns off, there's no reason for you to continue charging the device. 
Furthermore, if you have an old single earbud you haven't used for long, consider charging it the same way before you start making use of it again. 
Pro Tip: Charging time for a single earbud is 3 hours. But please, don't exceed 4 hours. Overcharging a lithium battery can be terrible. It can damage the battery over time. 
Hack#3: Ensure good earbud hygiene:
You need to focus on cleaning your earbud as often as possible. Do it for your ear's health and boosting the device's lifespan. 
It's also essential to clean the case, most especially the area close to the speaker. Dust, dirt, and lint can damage the device. They can reduce the sound quality and appeal of the earbud.
Hack#4: Use the right USB charging cable:
When it comes to charging your Single earbud, please don't cut corners. Use the correct cable. Not using a compatible cable can be detrimental to your battery and device's life. 
Hack#5: Don't move around with your earbud in your pocket:
Many people make the mistake of carrying their single earbuds in their pocket. It's not advisable to do so. We are humans, and thus, we can easily forget things. What would happen if you sat on your earbud by mistake? Chances are you'll end up crushing them. 
So, it's better not to keep your earbuds in your pocket. Remember to store them in the case and put the case in the bag. 
Benefits Of Buying The Best Single Bluetooth Earbud
Only a handful of things in life are as frustrating as untangling a headphone's wire. It takes time. And if you're not careful enough, you could damage the wire, and then you're in the market looking for the next headphone to buy. 
The Bluetooth earbud is a great innovation that gives users a wide range of opportunities to listen to music, make or receive calls hands-free. 
Now, let's discuss reasons people should consider getting the best single Bluetooth earbuds.
Reason#1: Opportunity to enjoy your music whenever and wherever:
Let's face it; the freedom Bluetooth earbuds offer is out of this world. Once connected to your device, you can listen to your favorite jam or answer phone calls with ease. 
You can even listen to music during a lecture that has refused to end and become quite boring. With the earbud well-positioned in your ear discreetly, all you need to do is turn on your device, hit your favorite jam, and catch some positive vibes. 
You can also listen to music while working out or watch scary movies. The latest top-quality earbuds just fit into your ears snugly and give you the freedom to move your head without worrying about your single earbuds coming off your ear. 
Reason#2: Ergonomic design:
The single Bluetooth earbud's design is one aspect of the device that sets it apart. The best single earbuds come designed to fit either ear and boast a retractable ear hook that keeps the earbud in place. This gives you the freedom to move at any speed or pattern you like. Your Bluetooth earbud won't fall off. 
Reason#3: Connects to a wide range of devices:
The latest single earbuds on the market will give you plenty of options regarding device choice. You can connect them to Android, iOS devices, MP3 players, laptops, and even tablets. 
Additionally, you can connect your earbud to any devices mentioned above from 33 inches or more. Some even can pair with two Bluetooth devices at the same time. 
Reason#4: Noise cancellation feature:
Imagine if you were asked to prepare for a phone interview or interact with a client, and when the time comes, you found yourself in a very busy and noisy. Should you ignore the calls? No way!
With the best single earbud, all you have to worry about is to know what to say when the caller calls. The top-quality earbuds boast a Built-in HD microphone, including high-end noise reduction technology that helps blocks background noises. 
So, whether you're in traffic, crowded, windy, or busy place, you can have clear conversations with your top-rated single earbud device. 
Reason#5: Lightweight and portable:
If you're a light user, the weight won't be a priority when choosing single earbuds. After all, you're only going to be wearing it for a couple of hours. But if you were a heavy user, the weight would be a priority. 
You can wear a lightweight and portable single Bluetooth earbud for hours without worrying. 
A Pro Tip: Ear sizes differ from person to person. Thus, it would be better to choose a single earbud that comes with various ear gels. Some earbuds have up to 3 different ultimate comfort ear gel sizes, causing them to fit into any ear. 
Reason#6: Eliminates the hassles that come with wires:
If you have had the privilege to use wired earphones, you already know how stressful it can be. Adjusting or untangling wires can be so frustrating. And if you're not careful, you can damage the unit. 
As the name implies, the single Bluetooth earbuds are wireless. And this makes them a breeze to use and manage. Storing the single earbuds in the case is also a breeze since they're wireless. 
Ideally, these single earbuds are designed for people who lead active lives. If you exercise a lot, you'll find using a Bluetooth earbud a wise option, given the freedom you'll get. 
Can You Find The Best Single Ear Bluetooth Headphones?
Yes, you can. You'll also find a long list of top-rated single earbuds on this post, including their features, specifications, pros, and cons. We did this to enable you to make an informed decision without wasting precious time. 
As for quality, yes, you can find the best single earbud for the money. You can also find a cheap top-rated single earbud that will offer the features you're looking for in an earbud. It's just a matter of finding the correct information and expert views, which we have shared here.
However, remember that having an outstanding appeal or design doesn't equate to quality. We have discussed severe factors to consider when buying single earbuds. You can look them up too. 
Conclusion
Identifying the best single earbud shouldn't be a challenge after going through the long list of top-rated reviewed devices and buying guides. You should be able to pick the ideal earbud that suits your needs. 
Again, some things to consider before choosing a headphone are battery life, comfort, and sound quality, among others. And the best single-ear Bluetooth headphones should have these features.