There are many benefits or reasons you should consider a PS vita case for your Play Station console and accessories like memory cards, charging cable and cartridges. These cases keep everything in place, and will ensure they are protected from scratches, bumps and dents. With this main benefit, you can carry your gaming platform everywhere you go. Some of these cases are built to work as free-standing support for your gaming console and you can be multi-tasking while watching your gaming screen easily. To choose the best PlayStation vita cases, you need to read product reviews, guides and even watch tutorials before you make your final choice. 
| | | | |
| --- | --- | --- | --- |
| | Sisma 80 Game Cartridge Holders Storage Case | Hard Game Holders Storage Case | |
| | | | |
| | PS vita 1000, 2000, Nintendo Switch and many more | PS Vita , Nintendo switch and more | |
| | | | |
| | | | |
| | | | |
| | Anti-shock outer body EVA material | Double zipper metal puller (internal) | Tempered glass screen protector. |
| | | | |
Review Of The Best PlayStation Vita Cases- What Makes Them Superior To The Rest
1. IVoler Carrying Storage Case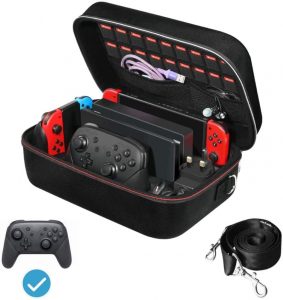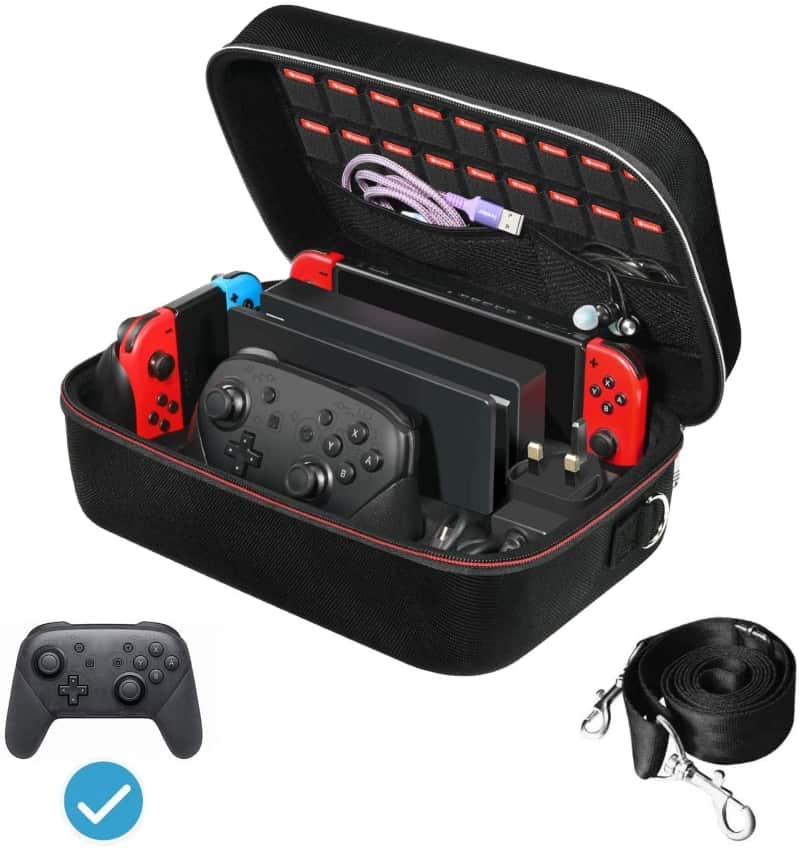 This unique storage case is designed for PlayStations and Nintendo Switch. It is a super portable device with hard outer material and softer internal lining.
Specifications
Black color

Made with Ethylene Vinyl Acetate

Handle strap for carrying

Multiple storages

Hard EVA shell case on the outer part

Internal anti-scratch groove design.

It measures 12 x 9 x 4.25 inches in length, width, and height, respectively. 
Description
This product is a deluxe carrying case to make your PlayStation and Nintendo Switch system travel-friendly. The ample storage ensures that your gaming consoles, controller, switch dock, charging grip, AC adapter, and other accessories are snugly kept. There is also an interior mesh pocket for keeping HDMI cable and straps, making the carrying case a great outdoor companion.
The Hard EVA shell case is highly protective. It is capable of protecting your PlayStation from drops, bumps, scratches, splash, and dust. The soft liner will protect your PlayStation console from scratches. There are grooves designed to keep items inside separate so they don't scratch each other. 
There is a handle strap that offers extra convenience. There is also an all-around zipper that is easier to open and close. Everything you put inside this case can be done securely without difficulty. The manufacturer offers a full refund within the money-back guaranty period. The package comes with a user manual.
2. PlayStation Vita Carrying Case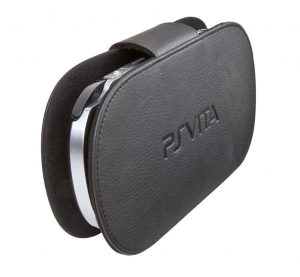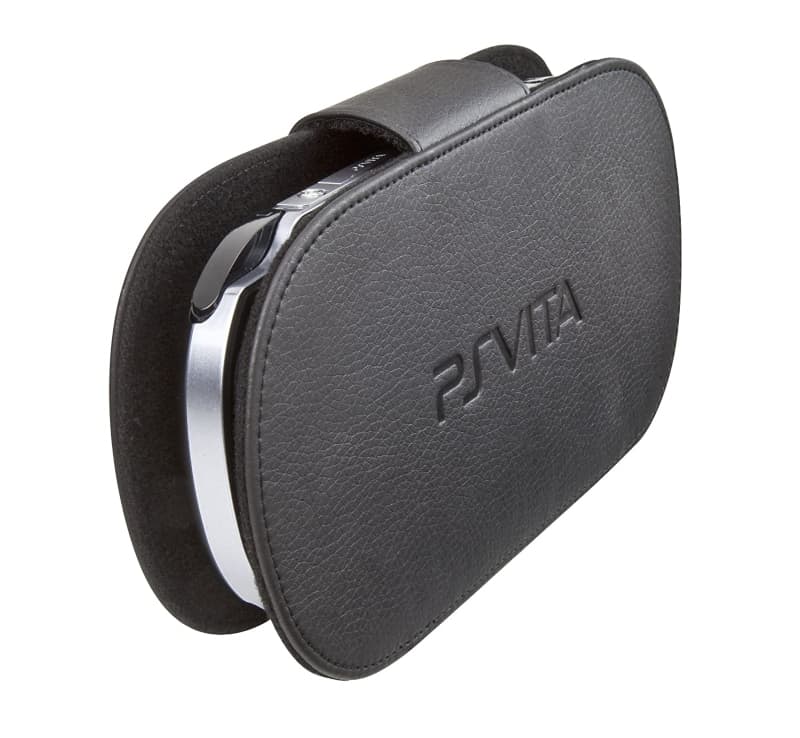 This product is a synthetic Vita case for PlayStation, and it is pretty simple in design. It is referred to as the official PlayStation vita case.
Specifications
Made from synthetic body material.

Grey-black color

It measures 4 x 2 x 3 inches in length, width, and height, respectively.

It weighs 0.35 lb.

It transforms into simple stand

inner non-abrasive padding.

Angular display of PlayStation 
Description
This device has not been named as an official PlayStation Vita case for nothing; it adds great aesthetic appeal to its functionality. One Of the most excellent features of this device is that it can transform into a single stand; hence it can be a protective case at one point or a viewing perspective in another situation. 
The rugged and synthetic outer shell offers maximum protection against bumps, scratches, and dents, making your PlayStation secured under any circumstance. It comes with a soft-felt inner liner that provides non-abrasive padding or cushion for your PlayStation. The inner liner will further protect your device even if it is shifting position inside. 
The case will display your PS vita at the right viewing angle. With this feature, you can view your PlayStation screen in different ways while playing your game. This will give you the convenience of doing other things while you look at your screen. 
It is built with a synthetic and rugged leather material that can withstand adverse weather conditions, but you still have to keep it away from moisture.
3. Skywin Kit for PS Vita – PS Vita Carry Case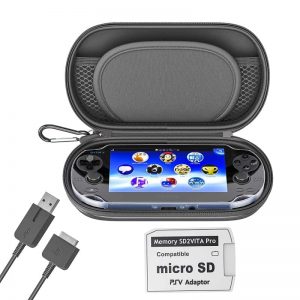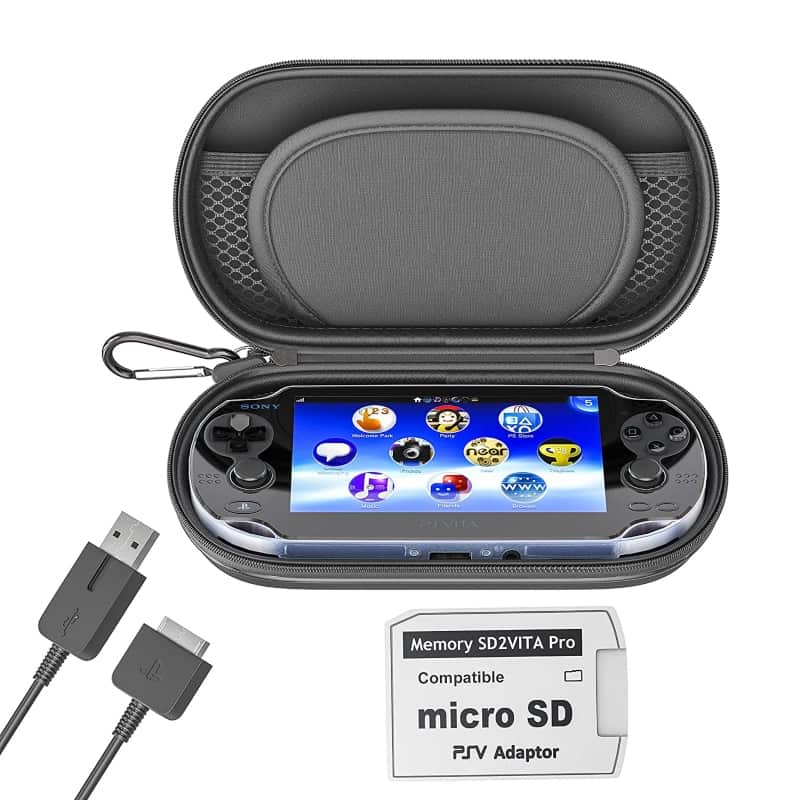 You will love this Vita case for PlayStation because it comes with several accessories that can be very useful.
Specifications
It comes with a charging cable.

It comes with a micro–SD Memory card adapter.

Compatible with PS Vita 1000, 2000, 3.6 and Henkaku System

USB hardware interface

Dull black color
Description
This device is a very lightweight PlayStation vita case with a difference. It simplifies your everyday use of your PlayStation carry case. It will protect and organize your PS game console, accessories, including cables and make sure they don't get scratch.
The case itself is made of tough and durable material. The included USB cable will allow data transfer syncing, while the USB charger port will allow you to charge your game console just the same time you are using it. 
You can use the MicroSD memory card on your PS, but this accessory is sold separately. The case itself is compatible with several versions of PlayStations, making it highly versatile than many of its rivals. 
4. Fosa Protective Hard Carrying Case Cover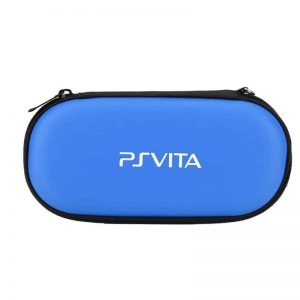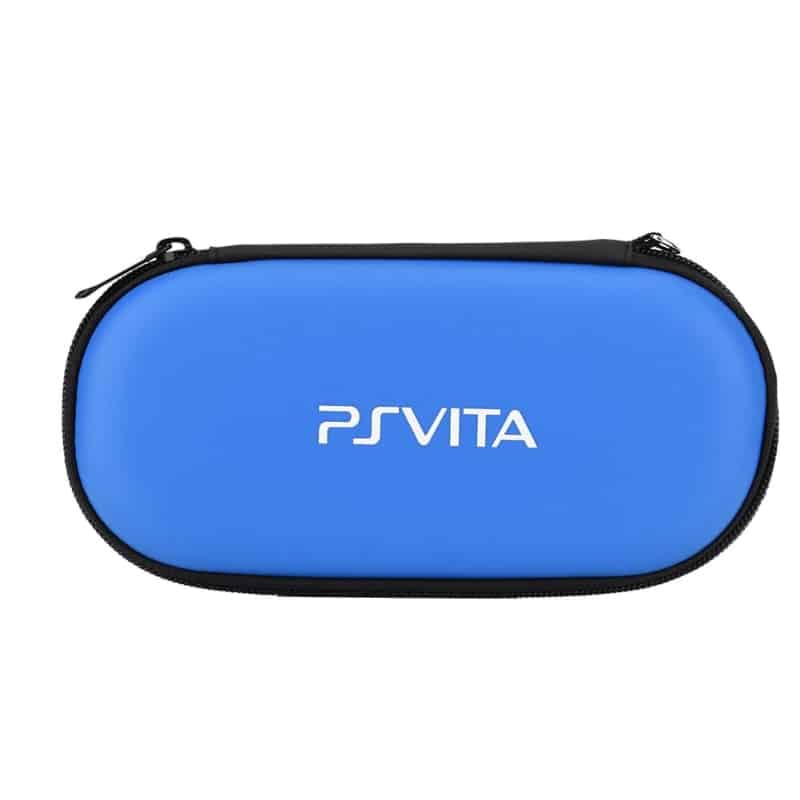 This blue-colored hard carrying cover case is a convenient portable carry organizer bag for your PlayStation and other similar items.
Specifications
Shockproof material hard case.

Blue color pouch.

Made from quality abs material.

It weighs 0.22 lb.

It measures 7.87 x 3.94 x 1.57 inches in length, width, and height, respectively. 

Compact design.
Description
This product is one of the most popular PlayStation accessories from Fosa, a famous brand in the game accessories niche. It comes with mesh pockets that work to protect gaming accessories inside- these include the likes of data transfer cable and headphones. 
You can attest to the excellent workmanship and feel of the pouch from a mere touch. It also comes with excellent and reliable waterproof and shockproof features to protect your PlayStation from adverse weather and mechanical damages that may ruin the game console and accessories. 
It is professionally designed to fit your Sony PlayStation Vita, and the inside is well-padded to guard against scratches, dust, and shock. There is adequate storage space within, and with a compact design, you can hold it even with one hand and travel anywhere you want, with ease.
The inner pockets can keep smaller items like your charger. The bag itself may come in other colors like black and red, in addition to the blue option. With 0.22lb weight, it does not add much pressure on your hand even when you carry it up and down. This product is one of the extraordinary ps vita cases you can brandish on any occasion, school, or office. It comes with a money-back manufacturer warranty.
5. Afunta 2-Pieces Protective Case Compatible Sony PlayStation Vita 2000 & Screen Protectors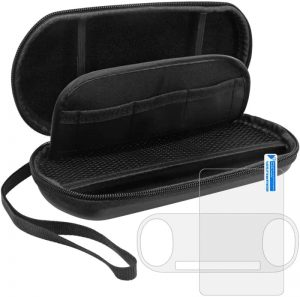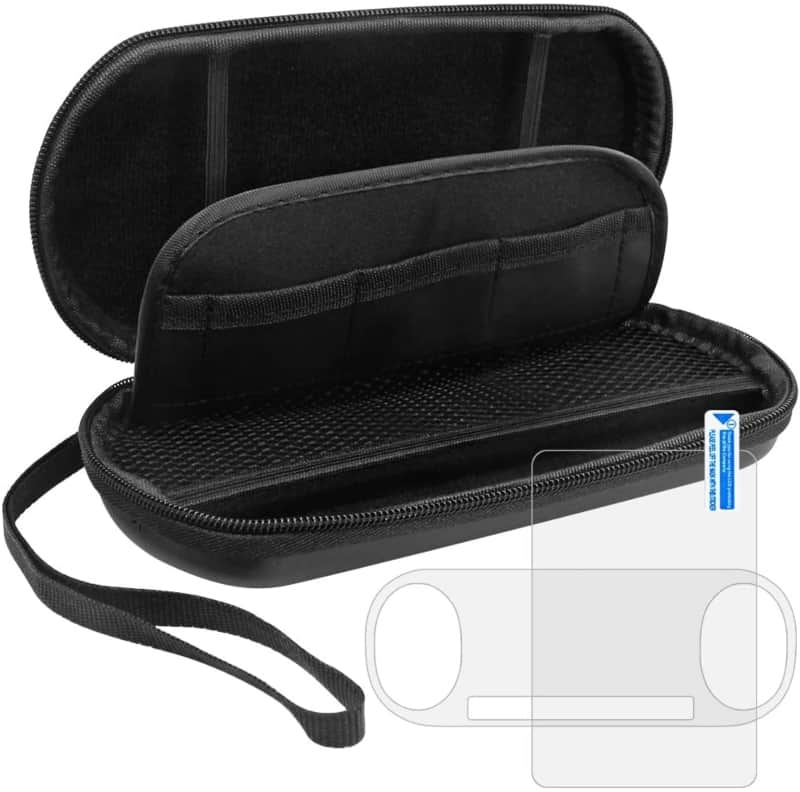 This product is one of the extraordinary ps vita cases with a class. It comes in two pieces and has tempered glass for the front screen of your PS vita console.
Specifications
Extra durable EVA case material

Compatible with Vita 2000.

It comes with screen protectors.

Pet film for the back region.

Compatible with PS Vita consoles

It measures 7.9 x 4.1 x 1.8 inches in length, width, and height, respectively.
Description
There is no doubt this case is built explicitly for PlayStation vita 2000 models; hence you should expect it to fit very well with Vota 1000 models. The screen protectors, in particular, are designed to provide both the screen and the back of the console for ultimate protection.
The screen protector is made with the extra-durable hardness glass material, which maximizes the protection of the console's screen. The screen protector comes with a perfect cutting that makes it fit snugly to the screen.
The case is made from a very durable EVA material that adds to its strength. It also adds some soft fabric interior lining to prevent bumps and scratches from affecting the PlayStation inside. There is a belt within the bottom of the case to assist in the easy removal of your console from the case.
The tempered glass comes with a 9H hardness rating, reducing the risks of damages to the screen.
The package also contains accessories such as a wet cleaning tissue, PET film for the back, a small dry-cleaning tissue, dust stickers, tempered glass for the screen, and an instructional manual.
6. Smatree P100L Carrying Case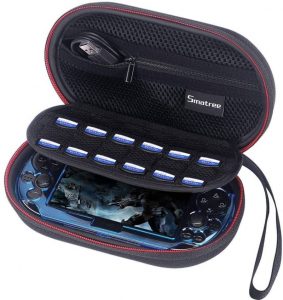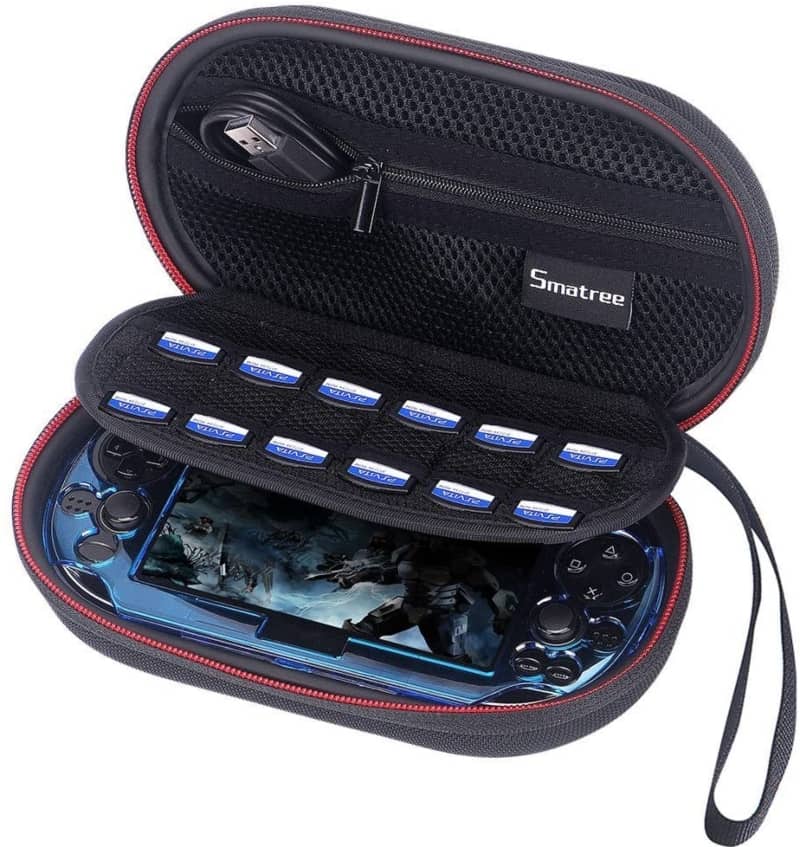 This product is a multi-layered vita PlayStation case with all compartments needed to keep your console and all accessories safe from scratches, bumps, and theft.
Specifications
Compact design

Compatible with PS Vita 1000, 2000, and PSP 3000

Crystal protective shell.

High waterproof rating

Micro-fiber interior

Unique zipper and mesh design.

Black and red color combination

It measures 8 x 4.7 x 2.7 inches in length, width, and height, respectively.
Description
Larger space has been one of the priorities for designing this carrying case for PlayStation consoles and its accessories. This device is a P100L series which is more spacious than the usual P100 series.
It is made from the safest and beautiful materials around, and this waterproof hard-shell case provides the ultimate protection indoor and outdoor. A soft microfiber interior will ensure that your console and its accessories are well-protected against scratching.
There is a combination of black and red color matches that make the case appear more sophisticated. There is a belt located within the bottom of the case to facilitate the removal of the console in an easy way.
There is a unique zippered design here, and that is a mesh pocket with a zipper to keep minor accessories like your charger in good condition. You will also have access to 12 more slots inside to keep your game cartridges and memory cards safe.
It comes with a wrist strap for easy carrying around, especially when traveling.
7. Hestia Goods Switch Case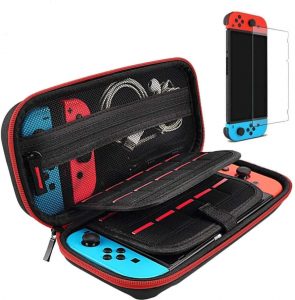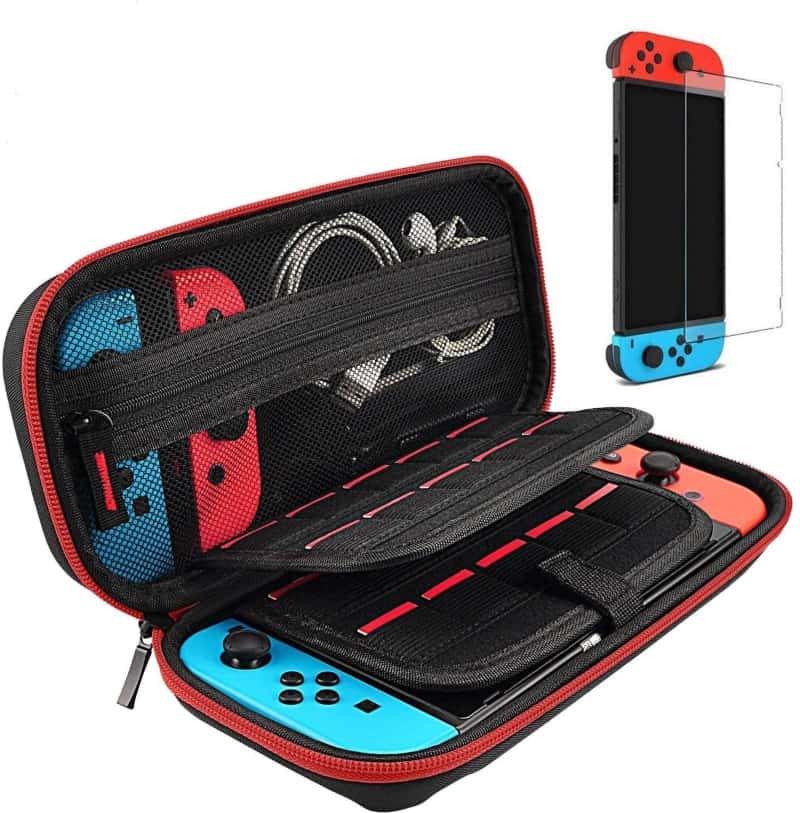 Another solid PV case with lots of compartments to store your accessories. This product offers excellent value for the cost.
Specifications
Streak red color

It comes with a tempered glass screen protector.

Made from nylon and glass materials.

It weighs 0.6 lb.

It measures 10.2 x 2 x 4.9 inches in length, width, and height, respectively.

Deluxe Hard-shell
Description
This product is a Deluxe Nintendo switch case made from the most durable hard-shell material that will protect your Nintendo Switch console from all kinds of scratches and mechanical bumps and dents. There is a hook inside that secures the switch within the case.
Two elastic straps have been replaced with a tab which is a lot easier to put in and take out, making the switch more stable and convenient, especially when traveling. Its unique zipper head design is a high-quality nylon zippered head, unlike the iron zipper head that can scratch your console. The new zipper head will ensure your console and accessories don't fall out.
More extensive storage is one of the objectives of this product, and with the sizeable zippered mesh, you can keep smaller accessories like charging cable, earbuds, smaller power banks, extra joy-cons, and other items. The case is now easier to close or carry. The 20-game cartridge slot allows you to switch from one cartridge to another to enjoy different games.
The high-quality tempered screen protector is easy to install and will allow the dock to connect easily. This product comes with 24/7 customer care support.
8. Sisma 80 Game Cartridge Holders Storage Case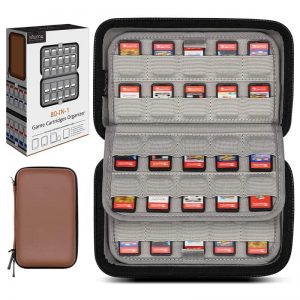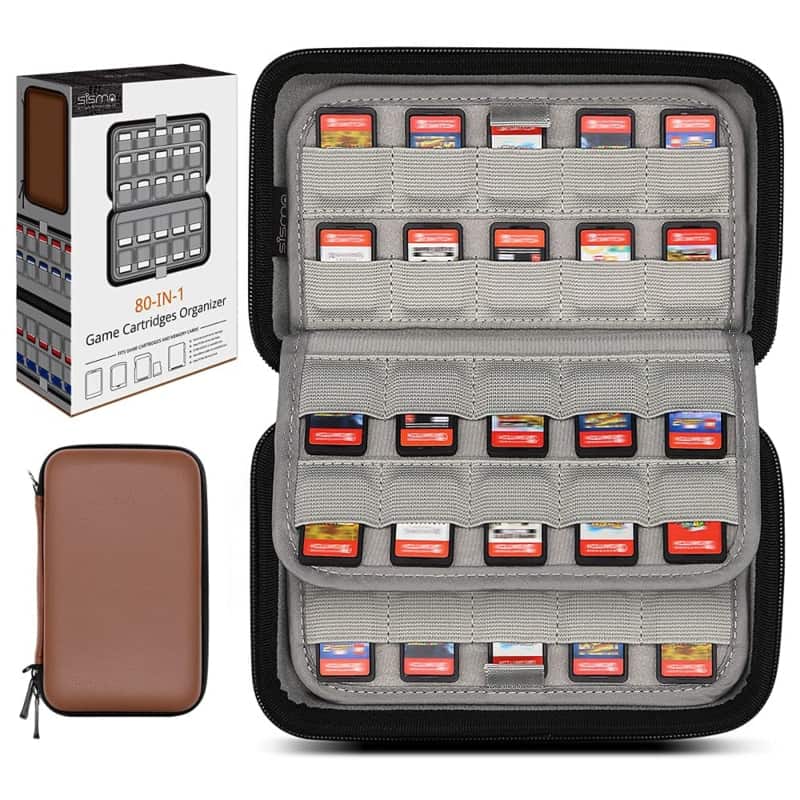 You can call this product the best ps vita case for its massive storage space.
Specifications
Brown color carry case

Compatible with PS vita 1000, 2000, and more.

Hard-shell case body

80 slots for cartridges.

It measures 7.4 x 4.9 x 2.1 inches in length, width, and height, respectively.
Description
This hard-shell case was designed to be compatible with video games cartridges and memory cards. It will also easily store your Nintendo game consoles, Sony PS Vita series games, and Micro SD cards. The organized structure ensures you don't search for accessories when you want to play your PS games. It is an excellent option for home and traveling storage.
There are four flaps on the inside that come with elastic pouches that efficiently hold up to 80 games cartridges. They can also hold other accessories like memory cards, and they are compatible with all Nintendo Switch and PS Vita series. Each cartridge will be held efficiently in the elastic slot without the fear of them falling out. The design also allows easy sliding in and retrieval of the cards.
The outer part of the case comes with shockproof EVA material alongside polyurethane leather for maximum protection. The durable semi-hard-shell case guarantees ultimate protection against mechanical and non-mechanical agents.
There is a double zip-around design, and they are easy to grasp and drag along the length of the top. The material is wear-resistant. The interior soft jersey cotton fabric helps prevent scratches on your stored items.
9. Hard Game Holders Storage Case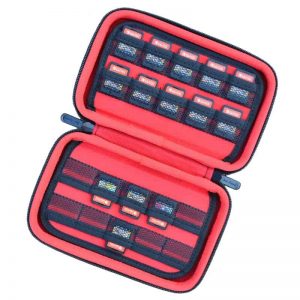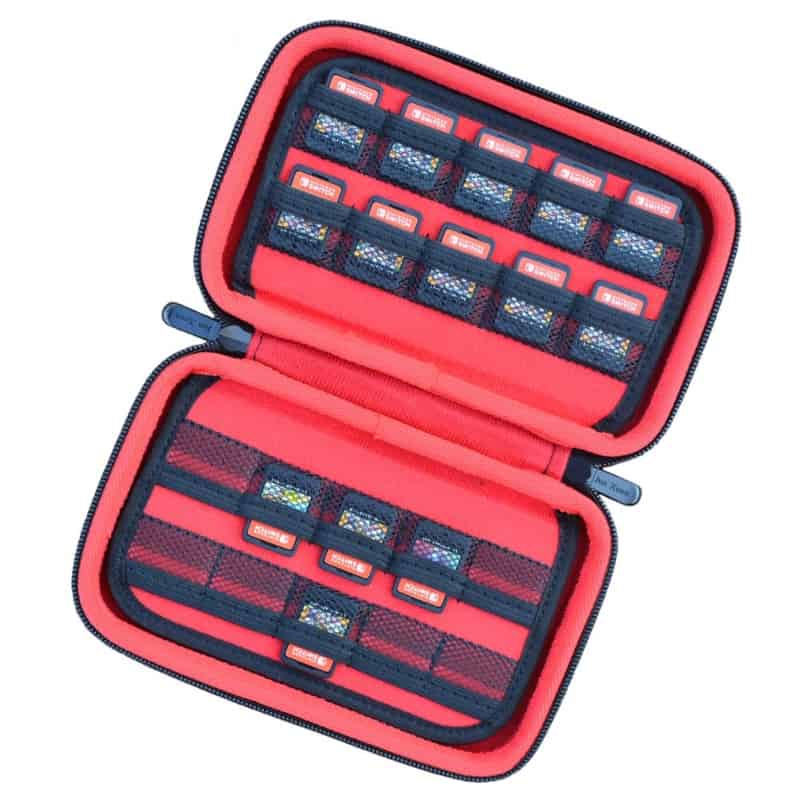 This case was built to hold and keep safe your Nintendo switch games, PS Vita, and SD Memory card. It comes in black and red colors.
Specifications
Hard- shell case

40 slots for cartridges, memory cards

Shockproofexternal material EVA

Inner fabric cover

It measures 6.69 x 4.13 x 1.38 inches in length, width, and height, respectively.
Description
This durable hard-shell case for your Nintendo Switch games, Switch Lite games, and Nintendo switch OLED games can also protect your PS vita cartridges and SD cards from damages to keep them safe all day.
Putting your games or accessories in and out of this case is effortless; hence it can be suitable for both kids and adults. Unlike the plastic PS game cases, you don't have to worry about breaking your game or case while removing your items.
The game case is large inside and outside, and it is suitable for home and travel use. Each slot within is the perfect size for any accessory. The case will hold up to 40 games or accessories like memory cards or cartridges.
The outer material is shockproof EVA material, and it also comes with a fabric cover to prevent scratches. You may call this the best ps vita slim case because of its extremely lightweight and compact composure even when loaded with items within.
The double metal zipper pullers are durable and wear-resistant, making it easy to open and close the case with ease.
Factors To Consider When Finding The Best PS Vita Cases- A Buying Guide
Finding the best ps vita cases require some research and dedication, as it can be pretty confusing to find your ideal match. To simplify the process, you need to consider certain factors and prioritize them before all other things. The primary considerations you must have when choosing the best vita cases are;
The hardness of the protective case or material of the outer case layer.

The internal design of the vita case.

The number and space of storage of the case.

Special features included

Number of cartridge slots

Ease of Usage of the case

Size and weight.

Compatibility

Other factors
1. The hardness of the protective case
Vita cases are made from diverse materials, some are plastic, and some can be a metal alloy, rubber, nylon, etc. It has been observed that hard-shell protective cases are more durable than most other types of materials when it comes to PS Vita cases. Some users may not agree with this, but the number one factor you must consider when choosing the ideal PS vita case is the durability and strength of the case itself.
Hard-shell case materials are known to provide superior protection against drops, scratches, bumps, splash, and even clouds of dust. They can also be resistant to moisture. Keep in mind that hard-shell cases that come with EVA treatments can also be shockproof, thus keeping your console and other items safe from mechanical shocks.
2. 2The Inner Design of Vita Case
The inner lining of your Vita case is as important as the external component, and you must pay attention to it too. Ideally, a vita case with a soft fabric liner is desirable because it will protect your stored PS vita console from scratches that may occur when stored components rub against each other. The inner area should also come with a groove design that should keep all items separate to avoid scratching against each other.
3. The Number and Space of Storage of the Case
Storage is a very critical factor to consider when choosing a PS vita case. It may not be essential if you play very few games and you need fewer accessories like one or two cartridges, your charger cable, and one console. If you are a heavy gamer, on the other hand, and like switching from one cartridge to another, perhaps you need more inner slots in your case.
Fortunately, you can find PS vita cases with more than 40 slots for cartridges and other accessories like memory card slots, and that is a lot of storage space for you. Also, keep in mind that the more storage compartments within a case, the higher the price. The interior grooves must also be designed, so that stored items don't rub against each other.
4. Special Features Included
This product is the point where even two similar ps vita cases seem different. There are various unique features in multiple instances; for instance, some products may come with easy-grasp double pull metal zippers to make it easier to close and open the case. Some options may come with waterproof and anti-wear external or internal case protection to make the case easy to use even in the rain and winter seasons.
Some cases come with a very easy slipping in and out design to ensure effortless keeping and retrieval of accessories like memory card slots. Special features can be beneficial even if they don't seem like they are the most important factors to consider.
Unique features like case working as a stand is also a desirable feature. Some cases can sit your game console in different angles; hence you can watch videos while doing other things.
Cases that come with tempered glass features are also significant because they offer an additional layer of protection to your gaming console within the case.
5. Number of Cartridge Slots
This may not be the most crucial factor to consider when choosing your ideal ps vita case, but you sure need sufficient cartridge slots if you are on a long journey and you don't want to miss out on any of your games. Fortunately, you will find many cases that offer multiple cartridge slots, including 20, 40, 64, and 80. The higher the number of available places, the costlier your case may get. Keep this price effect in mind when comparing your ps vita case options.
6. Ease of Usage of the Case
You don't want to choose a PS vita case that will be difficult to close or open, especially when outdoors. For this reason, the convenience of handling a case is very much essential. If possible, you should go for a case that comes with a handle strap because they are easier to carry in different ways. You can strap a case on your shoulder, for instance, if you are tired of holding the case in your hand.
Please pay attention to the all-around zipper feature because it is a lot easier for closing and opening. Such zipper design also makes retrieval and slotting in items a lot quicker and easier. Everything inside must also fit securely.
7. Size and Weight
For convenience's sake, you want a lightweight case that will be easier to carry around. The ideal case must maintain its lightweight ability even after loading it with your gaming console and other accessories. Don't go for over-size cases when you have very few items to store within.
8. Compatibility
Unfortunately, not all cases are compatible with all PS vita options. You may find out many of these cases are only compatible with PS vita 2000 and 3000, and not Vita 1000. Make sure you check the specifications properly before making your final choices.
9. Other Factors
Other factors considered secondary for consideration include prices or budget, warranty, and customer support service. Ideally, you should consider the warranty information of a ps vita case before you purchase it. Great products come with a moneyback guarantee within a specified period, and you will either get a replacement case or a full refund. A 24/7 customer support online is also a desirable feature of a product; hence you should check whether you can get any assistance on technical and non-technical issues relating to your ps vita case.
The price factor should be handled with care. You don't want to compromise quality for affordability; hence you should make your budget quite flexible. Keep in mind that the most expensive cases are not always the best options. Compare your needs with the available features and see which case comes closest to matching your requirements.
What Are The Benefits Of Using PlayStation Vita Cases?
The primary benefit of using the PlayStation vita case is that it protects your gaming consoles and accessories while on the go. With the hard-shell protective outer case that is also durable, you don't have to be afraid of knocking your gaming devices against any hard surfaces. You shouldn't worry too about accidentally dropping the case on any hard surface. The cushion fabric on the inside and excellent groove design also keeps the items safe without components scratching against each other.
Another benefit of using a ps vita case is that it gives you access to your games while on the go. It provides mobile service for all game lovers who want to access their games in the plane, public places, schools, and offices, just to name a few. Some of these cases may even work as free-stands and allow the gaming console to standalone while you watch it and do some other tasks.
PlayStation vita cases serve as means of transportation. Without these cases, it can be practically impossible to carry your game console and all accessories like memory card, charging cable, and cartridges in your hand and move around. Get all your items in one place and move freely from one point to another without stress.
PS vita cases are inexpensive. With less than 20 bucks, you can find a perfect case that will serve you very well for many years to come. This is an excellent price bargain compared to the costs of repairs for your game console or sensitive accessories.
Frequently Asked Questions And Answers On PlayStation Vita Cases
The following are answers to some of the most frequently asked questions on PlayStation vita cases;
Question 1: Can I add more than one game console in a PS Vita case?
Answer: In most cases, you can only add one PlayStation console to a PS vita case. The size of the case cannot accommodate two consoles, though there are compartments for all other accessories, including memory cards, charging cables, and cartridges.
Question 2: Is Tempered glass on ps vita cases necessary?
Answer: Yes, a tempered glass front in your PlayStation is necessary for added protection. Though not all cases come with tempered glass front, and the cases still offer great protection for all items within, having an extra layer of protection like tempered glass is desirable.
Question 3: Does PlayStation Vita Case fit Nintendo Switch games and Nintendo Switch Lite games?
Answer: No. Not all PlayStation vita case will fit Nintendo switch game console and some other PlayStation gaming consoles. Even the vita case that works for PlayStation Vita series may not be compatible with the 1000, or 2000 vita series. You need to confirm the compatibility of your preferred case with the right vita series.
Question 4: Do I need to clean my PlayStation Vita Cases?
Answer: PlayStation vita cases are designed to offer protection against mechanical and non-mechanical damages that may affect your gaming console and accessories. Except you reside in a very dusty and unclean environment, you don't have to wipe your case with water and detergent. Keep in mind that the outer part of some cases may be sensitive to water and detergent, hence they may lose their protective capability when wiped-clean excessively.
Conclusion
From the product reviews, descriptions, and buying guides explained above, it is clear that the best PlayStation vita cases are those that match individual's needs more than others. Perhaps this is the reason why you should carefully weigh your needs against available features on any case before you purchase it. It even makes sense to purchase more than one case at a time- this will help preserve the lifespan of the cases due to constant abuse. Don't get carried away by bogus claims and discounts on some cases; such could be a trap to buying imitations instead of original brands.