The TV tuner for Vizio is a component built into or externally connected to Vizio TV sets for receiving broadcasts even without a cable or satellite box. With the best tv tuners for vizio, you can stream contents directly on your Vizio TV.  This component comes with a number of other beneficial factors that will be discussed below. 
| | | | |
| --- | --- | --- | --- |
| | HAUPPAUGE 1682 WinTV-Quad HD USB Four HD ATSC Digital TV Tuners for USB 3.0 | Mediasonic ATSC Digital Converter Box with TV Tuner Function | Hauppauge 1657 WinTV-dual HD Cord-cutter Dual USB 2.0 TV Tuner |
| | | | |
| | | | |
| | | | |
| | | Windows 7, 8, 10 and Android | |
| | USB 3.0 , Hard disk 2.5" and 3.5" | USB 2.0 and Hard disk 2.5" and 3.5" | |
| | | | |
| | | | |
Product Review: The Most Suitable TV Tuners You Should Watch Out For In The Market, Now!
Whether you are looking for the best external Tuner for Vizio tv or the most affordable brands out there, you may want to consider the following options on your lists.
1. Mediasonic ATSC Digital Converter Box w/ TV Recording


This product is a USB multimedia player that comes with a TV tuner feature.
Specifications
HDMI 1080P output

Real-time and programmed time recording

Supports up to 2TB size.

USB flash supports up to 64GB of memory

Black colored body

Parental control 

Emergency alert system

MTS format video recording. 

2 AAA batteries required. 

It measures 6 x 1.6 x 8.7 inches in width, height, and length, respectively. 
This option is a tv tuner for Vizio tv that converts the over-the-air digital streaming to your analog Vizio tv. It comes with your favorite channel lists you can access easily. 
Keep in mind that the recording function of this device will require the use of their USB external drive or flash drive. The recording function will need you to use your own 3.5″ external drive or USB cable. 
This tv tuner will not work with your regular TIVO or cable company products such as Comcast, DirectTV, Dish Network, and Time Warner Cable. With the recorded feature, you can play the content back on your computer. 
This Tuner supports different resolutions under different conditions. It supports ratio 16:9 Pillar Box, 16:9 Pan G scan, ratio 4:3 Full display, and ratio 16:9 Widescreen. Keep in mind you can only get the sub-title of content recorded when the sub-title feature is turned on during recording. This product will not work with an encrypted cable signal. This product will need to be kept away from dust and other damaging external conditions to make it last longer. 
2. Mediasonic ATSC Digital Converter Box with Recording

This product is a media player with a TV tuner feature. It comes with varieties of features that enhance the user experience. The converter box instantly converts your analog signals into digital content giving you the ultimate satisfaction you deserve.
Specifications
HDMI 1080P output

Auto-tuning feature

Timing Startup and Shut down

Real-time and programmed-time recording

2TB External hard drive support

MBR format.

USB multimedia function including Playback

Electronic program guide.

5 x 4 x 1.5 inches in length, width, and height, respectively.
With this device, you can receive the over-the-air digital broadcast on top of your analog Vizio tv. It also works with a computer monitor and projector. It comes with parental control, and you can create a favorite channel list for quick access.
In addition to the HDMI 1080P output, this TV tuner also supports coaxial output, composite output, auto-tuning and closed caption. The real-time and programmed-time recordings will require you to use a USB 2.0 or 3.0 or a 2.5 or 3.5″ external drive via a USB, and these can support up to 2TB at a time.
An external antenna must connect to this converter TV tuner; hence you may need a tv tuner adapter for Vizio tv connectivity.
This product comes with a straightforward installation, and it also comes with a 12Hour AM and PM time display to help you schedule your favorite shows or check the time. Each hour of recording with this device will take up to 8GB of storage space. Keep in mind that the subtitle will be recorded if only you turn on that feature while recording.
3. EXuby Digital Converter Box for TV for Recording and Viewing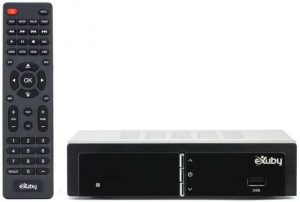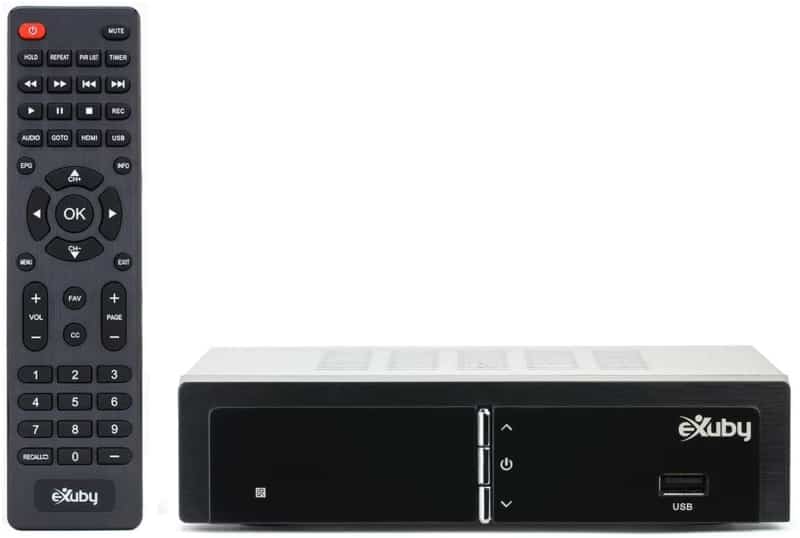 One of the best features of this TV tuner that you will appreciate is the inclusion of lots of free HD channels. It also comes with an RCA cable. This product is quite a sensitive device. Hence it would be best to keep it clean from dust and moisture to keep it working optimally for a very long time.
Specifications
Instant or scheduled recording

HDMI 1080P

7-day program guide

LCD screen

RCA cable included

It measures 6.75 x 5 x 1.75 inches in length, width, and height, respectively.

8 watts power rating

Works with HDD and USB flash drive media formats.
In addition to watching lots of free HD channels on your Vizio analog TV, this Tuner is compatible with HDTV, projector, LED, LCD, and many more. Diverse outputs supported; these include HDMI, Coaxial, components, and RCA.
With 1080p resolution, you can enjoy pure quality content, and you can also adjust the resolution to suit your needs. For instance, you can switch to the 1080i, 720p, and 576p resolutions.
For the recording capabilities, an external storage medium is required. Connect your USB flash drive or 2.5″ or 3.5″ hard drive before recording your video. The number of channels you will receive here will depend on your location and antenna strength.
With the electronic program guide feature, you will always know what is playing on the Vizio tv. This electronic program gives you program lists seven days in advance. This product was built with excellent quality, performance, and longevity in mind. The bright LCD lets you see what channel you are on. You can also create a custom channel list to reduce the time for channel browsing.
Parental control and audio signal tuning are also essential features of this Visio tuner.
4. Mediasonic ATSC Digital Converter Box with TV Tuner Function


An excellent digital converter that can also double as your ideal TV tuner for your Vizio TV. Just like other options on this list, it comes with unique features. Mediasonic being one of the most trusted brand names in TV accessories, has not failed to deliver superb service with this product.
Specifications
HDMI, RCA technology

It measures 5 x 4 x 1.5 inches in length, width, and height, respectively. 

USB multimedia function

Video playback

Music and photo format support.

12 Hour AM/PM timer display

Electronic program guide (EPG) feature

Emergency alert system.

Real time and scheduled recording

Parental control feature. 
This product is an easy-to-install device that allows you receive digital broadcasts on your analog TV. You can also get this broadcast on any projector, even your computer monitor. 
In addition to the HDMI output, this device can also produce Output in the Coaxial and composite Output. Keep in mind that the TV recording function has been disabled on this device. You can use Amazon contact seller to contact Mediasonic if you have issues with your TV tuner. The company offers a warranty. 
Since this TV tuner only works with an ATSC signal, it will only work in the USA, Canada, Mexico, Suriname, and the Dominican Republic. You must check your local TV signal before you buy this product. This product is not a replacement for your cable box; hence it wouldn't work for cable services like Comcast and DirectTV. 
5. AVerMedia AVerTV Volar Hybrid Q, USB TV Tuner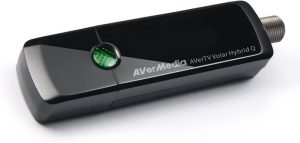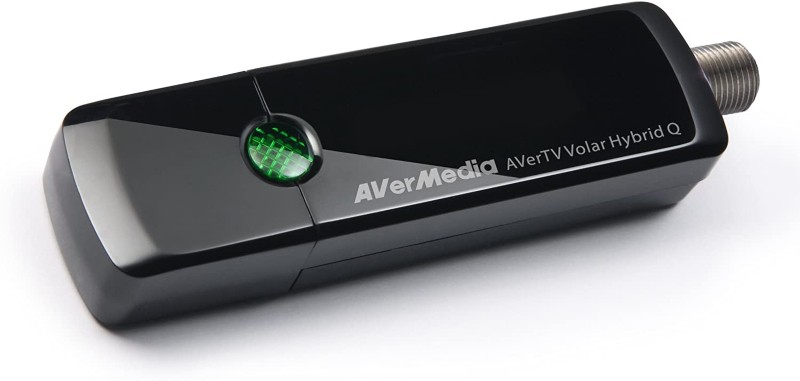 This is a feature-packed tuner for your analog TV, and it is one of the most widely compatible options out there. This device also supports Windows 7, 8.1, and 10. It comes with 4GB of RAM. Very compact but delivers great TV tuning services; perhaps this should pass as the most convenient option here.
Specifications
QAM, HDTV quality

Supports Windows and Android TV 7.0 and above

Instant share of content online.

Picture-in-picture function

smart channel grouping

Electronic program guide

smart channel grouping feature
This product is an intelligent exterior device that allows you to enjoy both digital and analog TV experience and FM radio on your Vizio TV and computer screen. With an extendable high-gain antenna, you can achieve complete TV and FM signals consistently.
Connect your analog video gadgets via the composite or S-video input and start recording your favorite videos in diverse digital formats. To make a connection with your Windows computer, connect this device to the USB port of the Windows computer and then click the other end via the RF cable to the mini antenna provided.
This product has been voted as the best-in-class with US-based customer support. The PIP- picture in picture motion feature plus intelligent channel grouping and time-shift feature enhance user experience on this device.
You can schedule your recordings and also use the closed caption feature. There is an electronic program guide you can use to tune in to your favorite programs when the time reaches. The live app for this Tuner is available on the Google Play store; make sure you check the download and installation requirements before downloading it.
It comes with a quick installation CD plus a quick installation guide.
6. Hauppauge 1657 WinTV-dual HD Cord-cutter Dual USB 2.0 TV Tuner


This TV tuner is designed explicitly for the Nvidia Shield and Windows computers. This product is one of the most robust devices you should consider on the list—an excellent option for those who don't mind its slightly bulkier design.
Specifications
2, in-built TV tuners

It comes with a WinTV V8 application.

Clear QAM digital cable TV tuner

ATSC HD TV

Compatible with Windows 7,8, 10

10 miles range from TV transmitter.

It measures 3 x 5.25 x 8 inches in height, width, and length, respectively. 
This product is a Windows and Linus compatible tv tuner with excellent reliability. With two in-built tv tuners, you can record on one channel while watching TV on the other- this is how versatile this TV tuner is. There is a Win TV v8 application for your windows platform. This feature supports picture-in-picture or two different Windows opened simultaneously. 
You can watch, pause and record two different channels for free. The easy to install device can be easily attached to your computer's USB port. It also works with a miniature remote control for the WinTV v8 app. The portable antenna works efficiently with the TV transmitter, but the range should be 10 miles or less. 
Bring the free over-the-air HD tv experience to your analog TV with this device. You need to have a Plex pass subscription to use this device. Keep in mind that the Clear QAM feature is not available on all cable networks.
7. HAUPPAUGE 1682 WinTV-Quad HD USB Four HD ATSC Digital TV Tuners for USB 3.0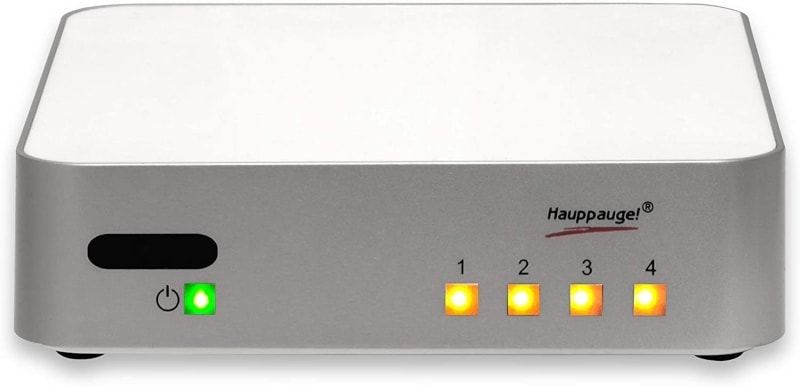 With a massive four HD ATSC digital tuners, this is one of the unique tv tuners you will find on this list. Hauppauge is another trusted brand on this list that is worth trying. It offers great value for the cost.
Specifications
USB 3.0 and 2.0 connectivity

WinTV V10 application included

In-built IR receiver

Hauppauge remote control

Compatible with Windows 7, 8 and 10

Core 2 Duo 2.93Ghz or faster processor required

In-built EPG 

Scheduled recording.

3.9 x 4.1 x 1 inch in width, length, and height, respectively. 
This product is one sure device that can help turn your computer into a DVR in moments. Plug it into a USB 3.0 port, then add your TV antenna and watch, pause and record free HDTV on your computer screen or TV. 
With the in-built electronic program guide- EPG, you can watch what is playing, see what is coming up, and also schedule a program recording at your convenience. You can do all these in the whole digital format on your analog TV. 
Keep in mind that your recordings will typically consume about 5GB of space per hour. The in-built antenna splitter will allow you to connect to the ATSC antenna and antenna while you record on the four TV tuners. 
With the downloadable Win TV v10 app, you can create a library of your favorite programs in minutes. The WinTV quad-HD relies on a USB 3.0 type C connector to ensure excellent power and speed for the live TV channels. 
.
8. UBISHENG Digital TV Converter Box, 1080P ATSC Digital Converter Box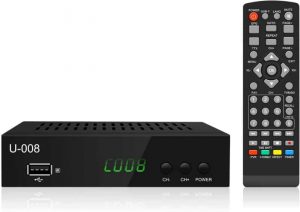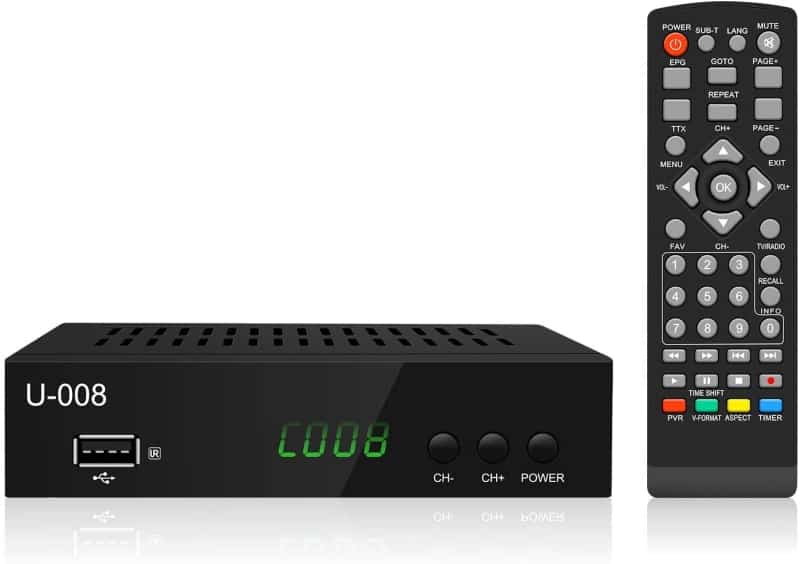 This device doubles as a TV tuner and media player; hence it is a complete entertainment package. The brand name may not be as popular as many others on this list, but it delivers an equal service, offering great value for the money.
Specifications
Full 1080P HD

Multi-media playback feature

4 different audio and video outputs

24-hour customer service

1 AV cable and a user manual included. 

It measures 7.4 x 6.38 x 2.24 inches in length, width, and height, respectively. 
This TV tuner offers a free local TV channel as a reliable ATSC digital TV converter box that receives over-the-air digital signals to your analog TV. The 1080p output resolution box will allow you record free to air content in full HD quality.
The multimedia playback feature allows you to select your photos, play your mp3 files, view movies, and record contents from the USB storage device. TV recording is made possible by the PVR, and you can record contents in your USB hard drive and play them later on your TV or computer. 
There are four different types of audio and video outputs on this device. These are; RF output, HDMI 1080P Output, coaxial Output, and composite Output. Note that this device is not a replacement cable box; it will require an external antenna to receive signals. 
It comes with remote control for easy control of functions on the TV tuner. Connectivity is mainly done through the USB 2.0 port. 
9. Huktec Digital TV Converter Box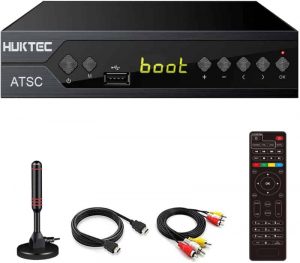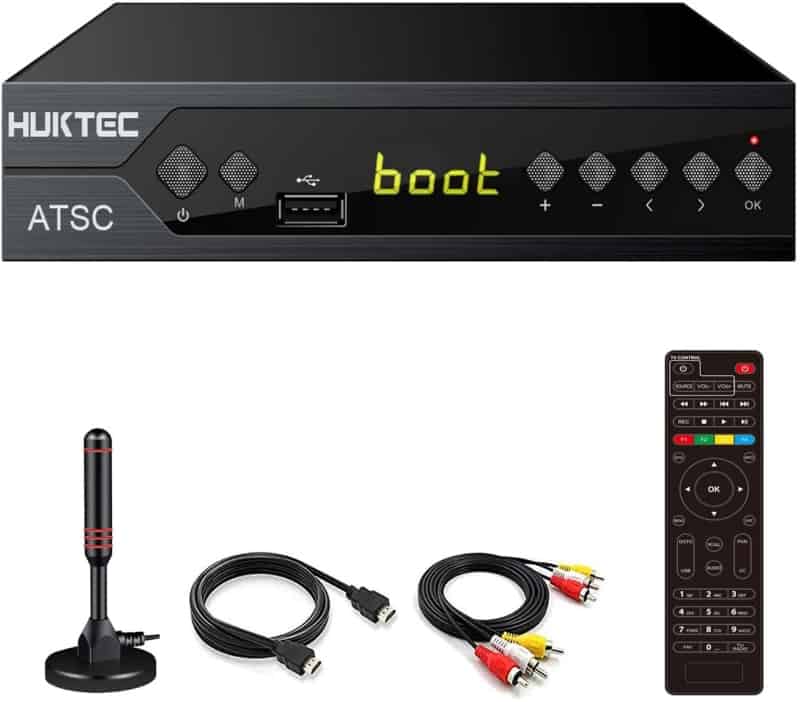 This product is a massive HDTV digital to analog converter with a tuner. Perhaps the Live pause feature is one of the significant reasons you will opt for this product. This list is incomplete without mentioning this fantastic TV tuner product that delivers great, always.
Specifications
HD 1080P

Live pause feature

Multiple TV tuners

It connects via hard drive and flash drive

Free local TV channels

Multiple ATSC features

It measures 7.83 x 7.56 x 2.13 inches in length, width, and height, respectively.
The HDTV digital converter that doubles as a tuner allow you to pause live TV and come back to watch them later. You can also play your favorite pictures, movies, and other contents from your USB drive in multiple formats supported by the Tuner.
The TV tuner supports DVR functions, especially for the instant, real-time recordings alongside scheduled recordings of selected TV channels. The multimedia playback feature ensures you don't miss out on your favorite programs.
It works with an intelligent TV projector and your regular computer. It also comes with an IR search feature. All your favorite shows can be recorded on your USB cable or external hard disk storage medium. You will also find additional features like parental control and different screen resolutions quite helpful.
What Are The Benefits Of TV Tuners For Vizio?
Aside from converting analog TV signal broadcasts into a digital version, there are a wide range of numerous other benefits you will derive from tuners for Vizio; these are highlighted below;
1. TV Tuners for Vizio Offer Contents in Different formats
TV-tuners support different formats of content for Vizio, and that is one of its main advantages. For instance, you can watch content in HD 1080P quality, 720, and sometimes 4k resolutions depending on the type of Tuner and subscription you have. With this, you can downgrade from one screen ratio to the other.
2. Diverse connectivity and Output
TV-tuners for Vizio come with diverse connectivity, and those make it easier for multiple connections. For instance, you have the 1080P HDMI output, and you also have the Coaxial Output, closed caption, and composite outputs. All of these outputs make compatibility a lot easier with different devices.
3. Lots of Added Features
TV-tuners don't just convert analog content into digital one on your Vizio, and it comes with a wide range of other features that can be helpful. The live TV recording feature allows you to record your favorite TV shows while watching them on live TV or your computer screen. Similar to the live recording feature is the live TV pause which is a feature that allows you to pause a live show and resume later.
 If the subtitle feature is on during recording, you should record the sub-titles, too, along with the contents. These tuners also allow you to watch your photos and play your favorite songs at any time.
Another feature you can have on a typical tuner is the Favorite channel list you can create to access only your preferred channels. Parental control feature will also help you restrict the contents your underage children will have access to. You can also record your contents on different storage media, and this could be your USB flash drive or hard disk storage space.
4. Internal or External Tuners
TV-tuners are either in-built or added as external tuners. Though in-built tuners tend to offer more convenience, they don't always provide the best experience for users. For external tuners, you can rely on the tv tuner adapter for the Vizio e series or any other series to get the tuners working efficiently.
5. Media Playback
The multimedia playback function of TV tuners for Vizio can be beneficial in several ways. You can adjust all media features and Playback your recorded videos, songs, and pictures on your device with this feature.
TV Tuners For Vizio- Buyer Guide
When purchasing the best external Tuner for Vizio tv, you need to consider certain factors that can contribute to your discretion. The following factors are some of the most important things you must consider;
1. Compatibility with Existing Device
While tv tuners for Vizio will work with most TV brands, the same is not the case with computers. Most TV tuners are compatible with Linux and Windows 7, 8, and 10 operating systems. This is bad news for Mac OS users, but there is a way of installing Windows OS inside specific Mac OS or, better still, look for one that is compatible with Mac OS. In addition to the operating system, you need to pay attention to your device's memory space, RAM, and processor speed before you purchase a TV tuner. Conflicting the non-compatibility of devices is the reason why many TV tuners fail on Vizio sometimes.
2. Connectivity Type
Older TV tuners will allow USB 2.0 and hard disk 2.5″ and 3.5″ connectivity only, but newer TV tuners have added a USB 3.0 USB port relatively faster than the regular USB 2.0. Luckily, many manufacturers include both USB 2.0 and 3.0 in their tuners, giving you greater flexibility. Regardless of your connectivity choice, you should check the USB ports available on your TV tuners before you settle for one.
3. Number of Tuners
Contrary to popular beliefs, there are TV tuners for Vizio with more than one Tuner, whether internal or external. You can find some devices with as many as four tuners on them, and this feature serves a great purpose. With multiple tuners, you can watch live programs and use the other to record other programs and use the multimedia feature to watch them in Playback mode. Keep in mind that devices with multiple tuners are more expensive than those with single tuners. The more tuners available, the more likely the price.
4. Extra Antenna Pays
Whether you choose an internal or external tv tuner for Vizio, having an external antenna included in a package is excellent. With an extra antenna, you can further boost reception, especially in areas where poor reception is a challenge.
5. Number of Supported Channels
Most TV tuners should receive local channels for free, but you will need some subscriptions for a wide range of international channels.
How To Set Up TV Tuner on Vizio
From the Vizio support site, it is very easy to set up your TV tuner for Vizio with the following steps;
1. Use the Input Button on Your Remote
Get your Vizio remote control and press the input button on it to view the current input sources. It would be best if you considered the TV coaxial cable option at the beginning of the setup, and it will generally appear on the screen like TV or ANT. If the TV input is not selected, press down the INPUT until the INPUT mode has been chosen.
2. Select Your Tuner Option
It would be best to open the on-screen menu from the first step before selecting the TV or the Tuner option. Keep in mind that the displayed menu will vary from one brand to the other.
3. Highlight Your Tuner Mode and Choose the Right Option
There are two options of connectivity you can choose here, and these are; The antenna and cable. If you select the antenna option, you will receive over-the-air signals from the antenna. If you choose the cable option, you will get signals directly from your wall cable TV or satellite box connected to the TV with a coaxial cable.
4. Auto-scan for Channels
The next step is to select the auto channel scan or Auto-scan. The effect of this step will vary depending on the TV tuner model. Exit to the menu once the search has reached a 100% complete scan. 
Check your available channels by pressing the channel up and channel-down buttons on the Vizio TV remote, and the available channels with be revealed.
If you are using the cable or satellite box, use the cable or satellite's channel up and channel-down buttons to search for channels.
If you have used Vizio TV before and want to re-access the settings, you must select and press "menu" on the remote control. Click on the "Guided Setup" menu, and then click on "Channel setup" and click on "Antenna."
From the Vizio manufacturer website, you can also watch video instructions on setting up the older and not-too-smart m-series and the e-series.
The Vizio manufacturer website also provides several resources on the types of compatible extras with your favorite TV tuners for Vizio.
Frequently Asked Questions To TV Tuners For Vizio
The following are answers to some of the most frequently asked questions on tv tuners for Vizio;
Question: How Can I Tell If my TV Has Digital TV Tuner?
Answer: Fortunately, all HDTVs come with digital tuners, but not all standard-definition TVs have them. You will require an ATSC tuner to receive digital signals on your analog device. You should check the back of your TV and the manual and, if necessary, your TV's manufacturer website to learn more about this. These sources will tell you what kind of tuners are on your TV. Sometimes, you may need tv tuner for the Vizio m series if that is what your TV supports. If your TV doesn't come with ATSC tuners, you will need a DTV converter box.
Question: How will my Transition to TV Tuners Affect Cable Subscription?
Answer: Many TV tuners often worry about an interruption to their regular cable subscription after acquiring a TV tuner. Cable and satellite service users shouldn't worry about the use of tv tuners with Vizio; the reason is that you can always watch your normal cable TV channels as usual without interruption from TV tuner usage. In some cases, cable service providers may migrate you to another subscription level, but you need to contact them first. You don't have to upgrade your existing service to use tv tuners for Vizio.
Question: Do I need a TV Tuner with more than One Tuner?
Answer: No, one Tuner should be enough though multiple tuners do come with great benefits. For instance, you can use a tuner to convert signals to digital versions on your analog TV while you use the other to record other playing channels. With multiple tuners, you don't need extra TV to watch your favorite show.
Conclusion
The secret to getting the most from your TV tuners for Vizio is making sure you choose the most personalized device for your situation. Don't get carried away by the affordability of some options whereby you miss out on better-quality TV tuners. Though setting out a budget is very important, just like other factors but you must be flexible with your budget to find the best product. To avoid complications when using your TV tuner with other devices like cable and satellite, please refer to your TV tuner manual or visit the manufacturer's website. Fortunately, most TV tuner manufacturers offer 24/7 online customer care service support.