If you are reading this article, you definitely are thinking of upgrading your current car speaker to a durable one that also offers quality sound. Our brains need good music with excellent audio quality. Music is therapeutic!
Today, we highly depend on cars to carry out our day-to-day activities. We drive to work, school, and even go on vacations in our cars. 
Having a great music system will undoubtedly make your drive fun. The speaker is the one upgrade that will entirely change your car music experience. 
It will help you catch up with the latest happenings, check on the weather, and listen to your favorite tunes. 
Every car owner desires the perfect car speaker in their car. However, picking the best after-market sound system for your vehicle can be a bit overwhelming. 
Worry no more; we got you covered. We've selected for you an array of options ranging from type, size, and benefits. 
The 6-inch speaker is one of the most common car speakers. It's because they are light, easy to install and fit in almost all cars. 
The speaker is big enough for the average music enthusiast. It's ideal for loud and booming music and can withstand shock from car movement and loud volume. 
This article has listed the ten best 6 inch speakers for car and a guide on selecting the right speaker. 
Best 6 Inch Car Speakers
1. Pyle PL63BL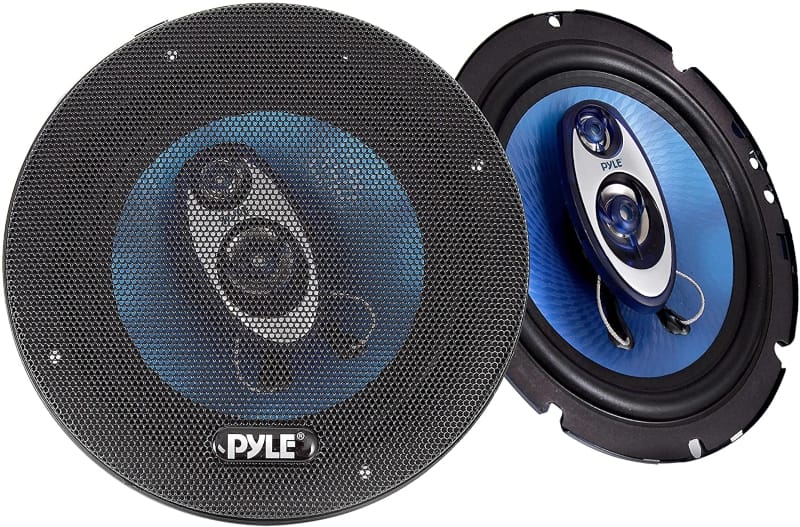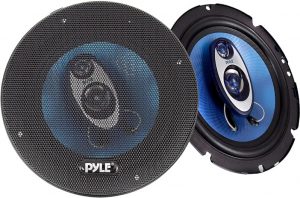 What sets It Apart?
The features that make this model stand out are the three-way sound system and the one-inch neodymium dome. The two attributes guarantee you detailed, smooth, and loud sound.
The Pyle PL63BL is one of Pyle's blue label series. This model has several excellent specifications like good sensitivity and frequency response. This makes it the perfect replacement for your car's factory speakers. 
The model has 4-ohm impedance, which compensates for the undersized wires found in most modern cars—helping you make the most out of the maximum 360 watts your car stereo can deliver. 
The Pyle PL63BL features a voice coil that can withstand extremely high temperatures and maintain the speakers' fatigue properties and strength. You'll enjoy more extended play periods with lower weights and minimum distortion, plus an open sound stage. 
Who Should Use It?
The three-way sound speaker has a 20 oz magnet structure. This means it can offer 180 watts RMS and 360 watts which is its maximum. The model can carry both low and high-end ranges of sounds.
With all the great features such as midrange tweeter, low impedance, etc., the speaker is low priced. It's affordable and best for those who want a powerful 6-inch car system at a lower budget.
Recent Buyer Confession
The Pyle PBL63BL model has several high-end features like three-way triaxial speakers and is well priced. The high-temperature ASV voice coil allows the model to function perfectly under extremely high temperatures. 
Another factor that makes the model great is its wattages 180, 240, and 300. You'll get the perfect fit for your car.   
Final note
With the Pyle PL63BL, you get value for your money. In addition to its reasonable price it has a maximum wattage of 360. The depth and quality of the sound are also good. Thanks to the three-way system. 
2. Rockford Fosgate P1462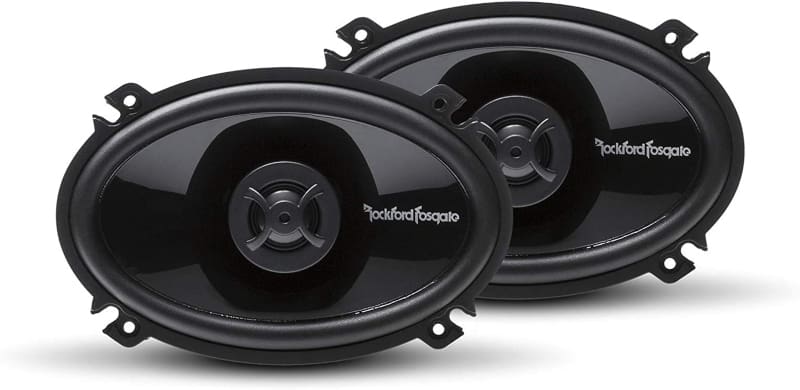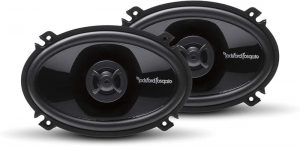 What sets it apart?
Rockford Fosgate is one of the famous brands in the car audio industry. Its P1462 model is a two-way speaker and has been rated at 35watts RMS/ 70watts max. 
The voice coil reduces the issues of overheating. This guarantees you longer music hours without worries.
The great thing about the Rockford P1462 is it's easy to install and is compatible with almost all cars. Thanks to its flex fit basket design which uses slots in place of single screw-sized holes. 
The design also allows one to make slight adjustments to the speaker when aligning it with the OEM mounting hole. This ensures a better fit and eliminates the need to mount any black boxes.  
Who should use it?
The Rockford P1462 is designed for audio fanatics who need a quality replacement for the original car factory speakers. 
The speakers are fitted with butyl midrange rubber resistant to grease, oils, oxygen, and oxidizing agent. This enhances the durability of the speakers. 
It comes with the PEI dome tweeter, which reproduces high volume output and accurate frequency. 
Suppose you need a great quality speaker with a well-regulated bass sound. The Rockford P1462 is the perfect choice for you.  
Recent Buyer Confession
The Fosgate Company is a household name in-car audio system production. The Rockford P1462 deserves absolute respect for its incredible quality. 
The quality of the material used is like the butyl midrange rubber, which is quite incredible. The material makes the speaker quite durable. So, if you do not change cars, often the Rockford P1462 is the perfect purchase.    
Final note 
The Punch P1462 is a great speaker with good quality sound. The Integrated Concealed Crossover (ICC) hides the crossover inside the basket. 
This makes the speaker look cleaner and is easy to install. Your car will always look clean and organized. 
The ICC guarantees the production of the best quality audio with maximum protection. The ICC also ensures correct frequencies are sent to proper drivers. If you love good music, this model will make your day. 
3. Boss NX654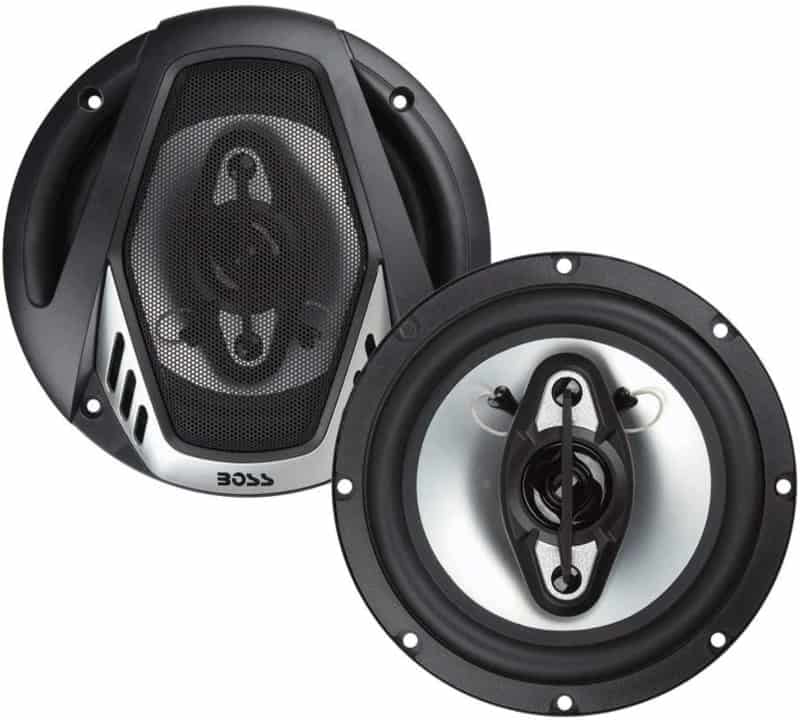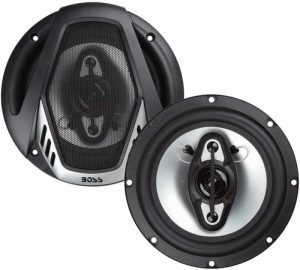 What Sets It Apart
The Boss NX654 comes in 2 pairs making it a four-way car speaker. This model is a great one and will offer all you need, from quality sound to durability.
The speaker features a voice coil, which helps the speaker to withstand high temperatures. It also maintains speaker strength and fatigue properties, and this guarantees you more extended music playtime. 
Its tweeter is dome-shaped, making Boss NX654 very powerful. Generally, the dome design is known to be more potent than the semi-dome design. The dome-shaped tweeters disperse sound on a broader pattern. In contrast, the semi-dome tweeters offer a higher frequency of directional waves. 
The wide dispersion of the sound waves offered by the dome-shaped tweeters will undoubtedly give you a sweet spot. 
Who Should Use It
The cone in Boss NX654 is made of polyurethane which is a polymer. The material is long-lasting and resilient to water. 
The cone guarantees good quality sound, durable speaker and makes it one of the best 6-inch speakers with good bass.
The speakers' surround is made of rubber. This helps the speakers to endure any punishment without showing any signs of damage. 
This complements the unique structure of the speaker, which allows constant abuse where necessary without wear and tear. 
The rubber also increases the speakers' resistance and endurance to several weather fronts. This makes Boss NX654 ideal for long-distance travelers who drive through different regions or countries with varied weathers.  
Recent Buyer Confession
Building a speaker that offers so much with a reasonable price tag isn't easy. The speaker can withstand the harshest weather conditions. Its sound quality and dispersion are excellent. Thanks to the dome-shaped tweeter. 
The Boss NX654 guarantees you a powerful platinum online dealer warranty for three years. You won't have to worry about the product in its first three years. 
However, the manufacturer encourages buyers to use professional help during the installation of the speaker. This will ensure the safe and proper functionality of the product.  
Final Note
The Boss NX654 has excellent specs like basket structure, an impedance of 4 ohms, and a frequency response of 65Hz- 20 KHz. As one of the best-rated car speakers, the one thing that sets it apart is it's long-lasting and has a great price.  
4. Kicker 43DSC4604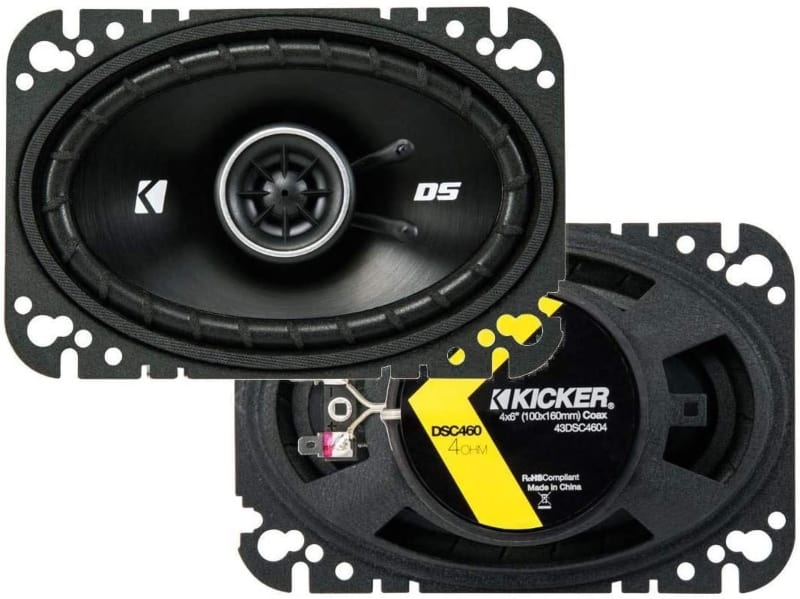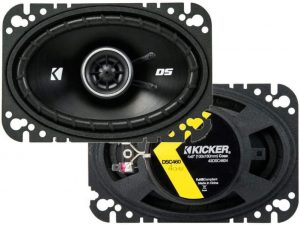 What sets it apart?
The Kicker 43DSC4604 3D speaker is two-way. It's fitted with very stiff polypropylene cones and its drivers are surrounded by UV-treated foam, which gives them the much-needed power.
It contains a zero protrusion dome-shaped tweeter which produces excellent, clean, and crisp music. You'll enjoy your favorite tunes without interfering with window mortars and factory grills.
The speaker has a sensitivity of 88 dB. The high sensitivity helps the speaker deliver increased volume, whether using the high-power Kicker amplifier or only the factory head unit.   
Who Should Use It?
The model has a perfect coaxial, which fits in almost all vehicle doors. This makes it the ideal improvement for one of the best improvements for the factory sound. 
You won't have to drill more holes in your door or make further adjustments. It's the perfect choice for those who love to keep their car parts as original. 
Recent Buyer Confession 
The speaker is complete in every way because of its remarkable features and specs. The most notable is the wattage of 30 to the peak of 120, meaning it has a nice bass. 
It has an impedance of 4 ohms, and this guarantees the efficient flow of electric signals. You'll therefore receive excellent quality sound. The mounting depth of 1-7/8 is perfect and allows it to fit almost all car doors.   
Final Note
The Kicker 43DSC4604 is a significant upgrade or replacement for your factory speakers. The great thing about the model is it's easy to install. Its feature-like dome shape makes it sound very clear at both low and high volumes. 
With its medium size, we can say it has a great quality sound. It's always so clear, smooth and the bass is better compared to many stock speakers. 
5. Pyle PLG46.3 (Pair)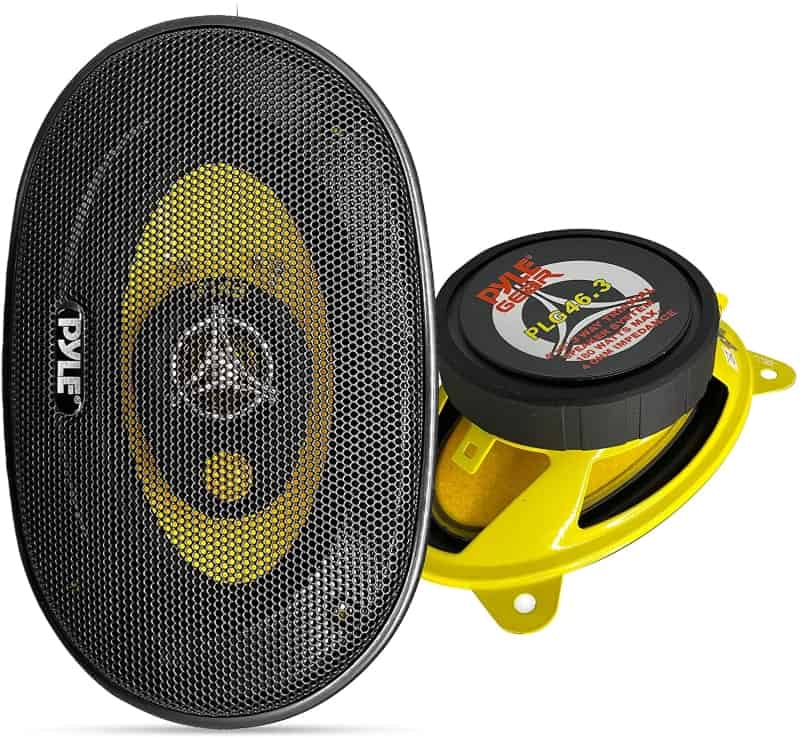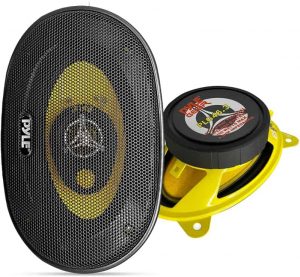 What Sets It Apart
The Pyle PLG46.3 has a powerful 30 oz. magnetic structure, which completes the speaker and makes it's a great choice. The magnet helps in the production of loud, smooth, and detailed sounds.
The speaker comes with installation hardware plus custom grills and wires for hassle-free and easy setup.
It has an impedance of 4 ohms, compensating for the undersized cables found in most modern cars. It has a strong capacitor that improves its performance.  
The speakers' surround is made of non-fatiguing butyl rubber that extends the speakers' life and keeps the speakers secure. It's supported by the voice coil, which protects the speaker against hot temperatures. 
Who Should Use It
The model is a three-way speaker and is the latest in the Pyle series. It has been engineered and designed to offer high performance and consistency. The four by 6 in has a yellow Polly injected cone, which is beautiful and eye-catching. 
Like its counterpart, the Pyle PL63BL, this model is budget-friendly. You'll get a speaker that offers both quality sound and is durable. It's suitable for anyone who wants to cut their budget cost. 
Recent Buyer Confession
The Pyle PLG46.3 is an excellent to-go option as an upgrade or replacement. It has a mounting depth of 2 inches which makes it easy to install in various cars. Once mounted, the speakers will last. Thanks to the non-fatiguing butyl rubber spec and many more.
Final Note
The speaker has a strong capacitor that boosts its performance. The capacitor comes in handy during times of peak performance. It helps supply the needed power to the speaker. 
In addition to the already mentioned great features, the yellow-coated steel basket gives the speaker a cool look. With the Pyle gear, you'll undoubtedly hear everything you were meant to hear. It's a great speaker and worth the try.
6. Rockford Fosgate PPS4-6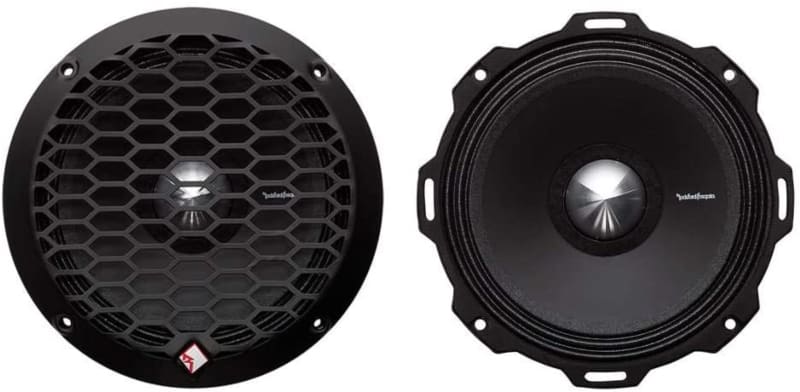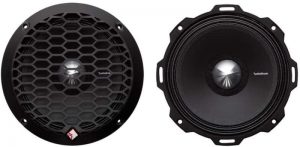 What sets it apart?
The Rockford Fosgate is a two-way speaker rated at 200 watts per speaker, 400 watts maximum per pair. It has an oversized motor structure that has a larger surface than standard four by six speakers. 
The speakers are midrange and have been specifically designed for high sound pressure levels.  
It has a high-temperature voice coil that helps the speaker to withstand high temperatures and function usually.
In addition, it's designed to fit in most cars. It's got an excellent sensitivity rate that helps to save the amount of power being used by the speaker. 
 Who should use it?
The model comes in a pair and is 6.5″.  It has an Ohm midrange loudspeaker engineered explicitly for high Sound Pressure level (SPL) conditions. This makes the speaker ideal for those who love loud music. 
The speaker also contains an oversized motor structure, treated cloth surround, and paper cone, making it highly sensitive and can handle plenty of power. 
The speaker can also be helpful to those who need speakers that can handle a lot of energy and match their amplifier.
Recent buyer confession
The dimensions of the speaker are excellent, 9.6 x 8.1 x 4.3 inches. This allows it to fit in most cars perfectly. 
It has a frequency response level of 85Hz 5 kHz, which guarantees the accurate conversion of frequencies. Meaning you'll hear the sound the way the recorder wanted you to.  
The speaker offers exceptional sound quality at a great price. It's best to go for a replacement for the factory speaker. It's midrange and features a paper cone.
Final note 
The model has a temperature voice coil plus a fiber reinforced paper cone which makes it long-lasting.  This makes the speaker a significant investment since it's so reliable. 
Music and car fanatics who need a great-sounding speaker to replace the factory garbage should try this model. They will surely benefit from the Fosgate Punch PS4-6.
7. Hertz HCX 165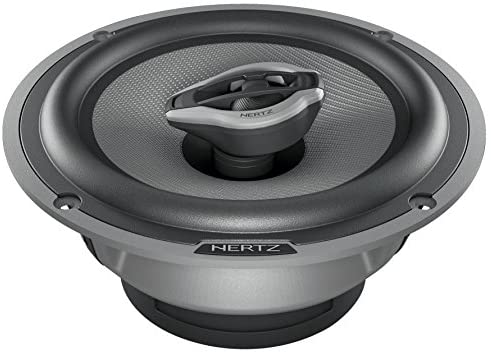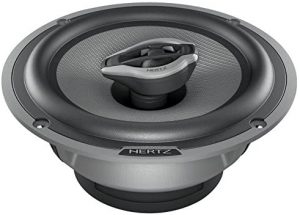 What sets it apart?
The coaxial speaker does have soft iron plates that help it dissipate high heat. This guarantees you long music hours. 
The oversized magnet produces the necessary heat that is responsible for mobile voice control.
Who Should Use It
The materials used in making the speakers are pretty great, such as pure copper voice coil, anti-vibration rubber magnetic cover, and many more. Making the speaker so durable is the best option for anyone who needs a sturdy speaker.
Recent Buyer Confession
Hertz has brought back the glory of the car speakers. Its remarkable features, such as high power handling, great mounting, and sensitivity, make it a great choice. 
Final note 
The Hi energy speakers have undergone a continuous evolution. It offers the best installation flexibility. Its features like RHFC, pure copper voice coil, and many more will ensure the long-lasting performance of the speakers in your car. 
8. Polk DB652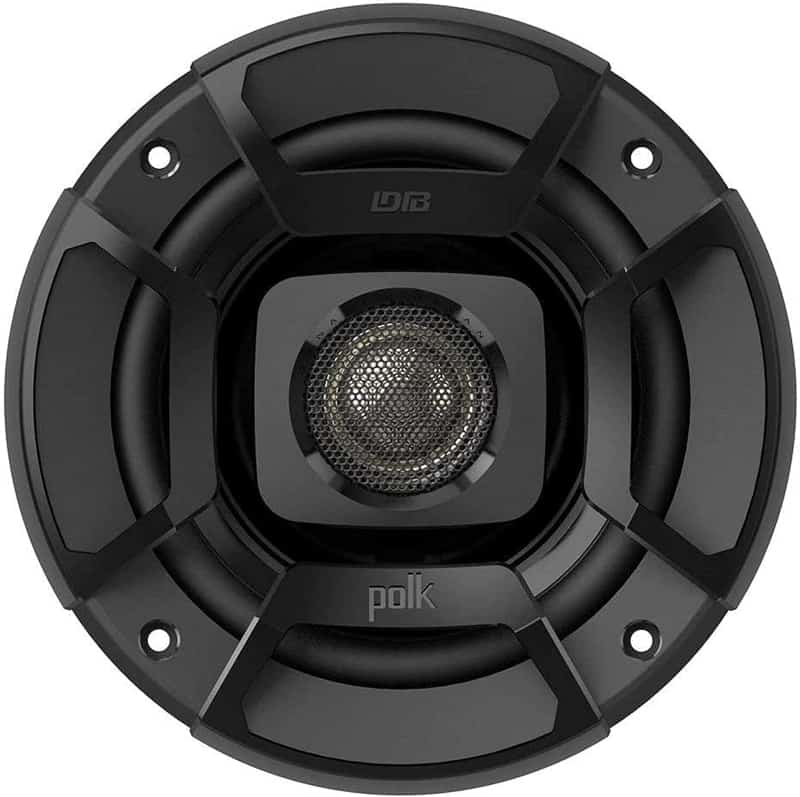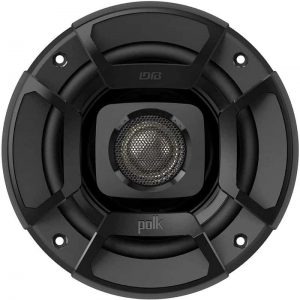 What Sets It Apart
The Polk DB652 uses a dynamic balance technology that ensures the delivery of silver technology sound. 
The covers of the speaker are made of components that are marine certified. It features a UV tolerant cone that has a waterproof surround and polypropylene. 
These materials are resistant to water and non-corrosive. They guarantee the speakers a longer life.
It has a high frequency of 40Hz to 22 kHz. The audio transitions are within the spectrum of human hearing. So the speakers offer a heavier and detailed sound.
It has a sensitivity rating of 92dB. Meaning it has the capability of creating volumes of up to 92dB. The rating makes it one of the powerful budget-friendly speakers.
The speaker has a slim mounting profile that can fit in almost all types of cars.
Who Should Use It
The speaker has an excellent power rating which allows it to reach higher volumes. It has a 100w continuous power handling rating which pushes music out past the wake. 
It's, therefore, an ideal choice for those who require a speaker with an excellent power handling capability.
Recent Buyer Confession 
The Polk DB652 car speakers are among the best available upgrades to your factory car speaker. It has an excellent power handling capability, it's durable, and can be acquired at an affordable price.
Final Note 
It's an excellent upgrade option because of its price and other unique features like sensitivity, UV tolerant cone, and many more. With its power handling, you can turn up your music experience. 
However, do not expect to get an audio quality that compares with the expensive coaxial speakers. Its audio quality is not high-end but is excellent for the price.
9. Boss CH6530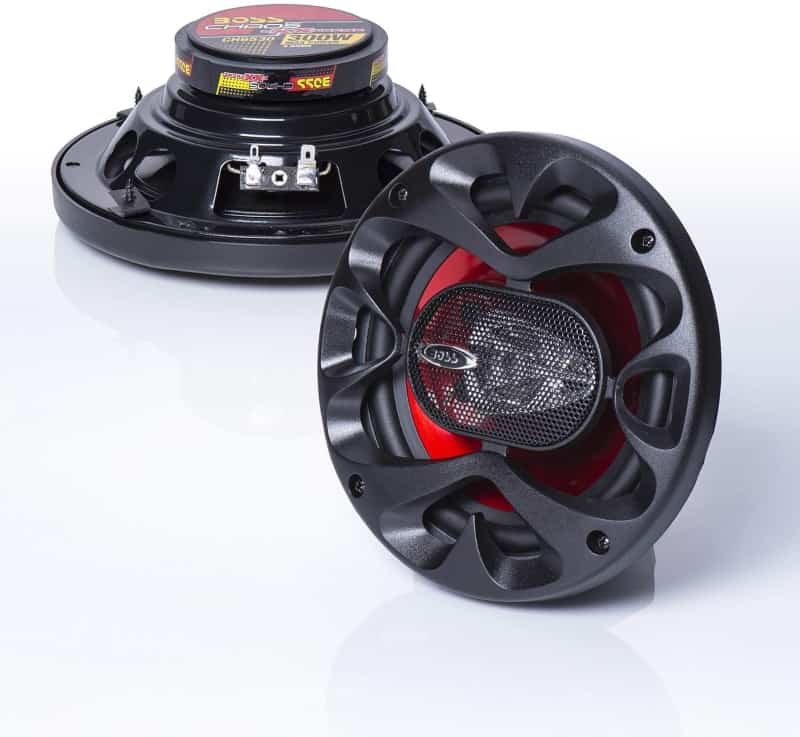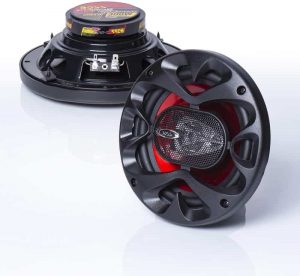 What sets it apart?
The Boss CH6530 has a voice coil that assists the speakers in tolerating high temperatures. It also ensures the strength of the speaker by regulating the fatigue properties, thus increasing the music play hours. 
Polyurethane is a very affordable and durable option for many speaker manufacturers. Its cone contains polyurethane which is a very durable and resilient material. 
It guarantees the production of great sound and makes the speaker last longer. It's probably one of the main reasons why the speaker is decently priced.
The basket is well designed to absorb back sound waves effectively. You will get a piece of clear and clean music. The surround is made of rubber which prevents water entry and endures the sound blasts.
Who Should Use It
Boss CH6530 has an intuitive design and excellent power handling capability. The speaker is surprisingly budget-friendly and has impressive specs like polyurethane cone, three-way, and many more. 
It represents the perfect opportunity for music enthusiasts looking for a good speaker that won't cost them much.
Recent Buyer Confession
The first thing that will draw you to the speaker is the price. They are incredibly affordable—a thing you can consider when on a tight budget.
Final Note
The speaker has got a very outstanding design and price as well. Its specifications, like great basket design, do make the speaker produce a clean and clear sound. 
10. Kenwood KFC – 1695PS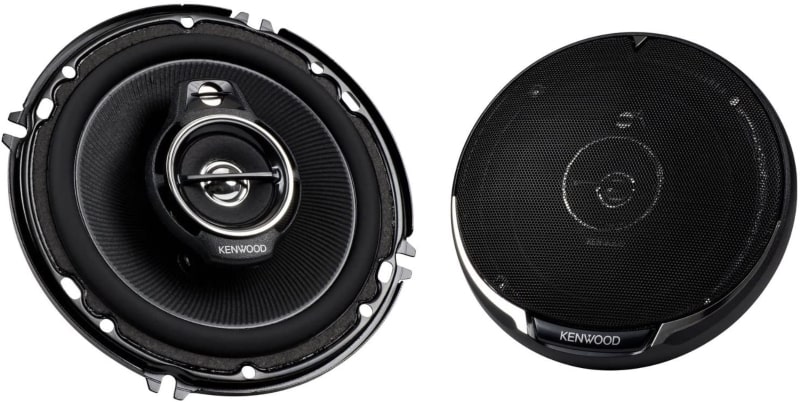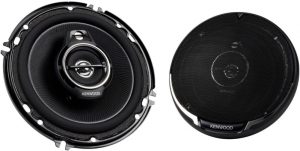 What Sets It Apart
It's a three-way coaxial speaker with a 1-9/16 paper cone with different radial rib patterns. It increases the strength of the speaker and delivers extra responsive bass making it one of the best 6 inch speakers with good bass. 
The rubber surround is another excellent addition that increases the durability levels. You'll enjoy the speaker services for years. 
The grill helps during custom installation.
Who Should Use It
The ½ super tweeter and 1/3/6 tweeters have increased the music details of the speaker. 
The acoustic sound technology has been engineered to ensure the production of a smoother listening experience. This makes the speaker the best choice for those who love soft and detailed music. 
Recent Buyer Confession
The speaker contains a great design like paper cone tweeters which gives you clean vocals. With the latest technologies such as acoustic sound, you'll get the best sonic bang for your money. 
Final Note 
This three-way speaker by Kenwood KFC has several properties like a super ceramic tweeter which looks excellent. Other features like paper cone tweeters help the speaker to duce excellent quality sound.
Factors To Consider When Choosing The Best 6 Inch Speakers For Car
This section of the article contains a comprehensive guide on selecting the best 6 inch speakers. Shopping for car speakers can be daunting. There are two crucial factors that you have to consider when choosing car speakers. 
It's whether you need a full range (coaxial speakers) or component speakers. So let's take a look at the factors that you should check before making the purchase. 
Car speakers are an investment plus entertaining you and your family, friends, and even strangers. I'm sure it's the one thing that you'll never wish to go wrong with your car. 
1. Full range vs. Component speakers 
Full-range speakers are so standard in cars. It's because the speakers are budget-friendly and easy to install. 
With full-range speakers, you can typically find an after-market product that directly replaces the factory speakers. This means you can find a full-range speaker with the exact dimensions of the OEM units. 
The 6-inch component speakers are famous for their excellent sound quality. However, they are pretty expensive.
Suppose you love the excellent quality sound and do not mind spending some extra bucks. Get the component speaker. 
They'll impress you with their smooth and detailed sounds. In addition, they have well regulated bass.
Suppose you are budget tight and need to spend less or save some cash. Go for the full-range speakers. 
There are several full-range speaker systems out there that do provide excellent sound. Some of them have been mentioned in the article. 
Another great thing about the full-range speakers is that they are easy to install. More so if you're planning for a DIY installation but do not have much experience. 
2. Speaker Size and Configuration
Before purchasing a new speaker, you should be particular about the speaker size and configuration. It will save you from frustrations during installation. 
If your car came with a full-range factory speaker, you might want to replace it with an after-market full-range speaker. 
Knowing the size and configuration will prove to be so valuable. In most cases, one should buy something that can just be dropped into the existing speaker receptacles. 
The best way to find out the size and configuration is by removing and measuring the factory speakers. This will be very useful if you are buying the speaker from an online retailer. 
However, if you were purchasing it from your local shop, you can leave the struggle to the shop attendants. They are well-trained and experienced and will help select the right speakers for your car. 
3. Power Handling
The car speakers need to efficiently handle power from either the external amplifier or car head unit.
Power handling is the amount of energy that the speaker can deliver without having distortion. It's measured in watts. The commonly used measurement is the Root-Mean-Square (RMS). 
When selecting a car speaker, you should focus more on the RMS power rating instead of the Peak power handling rating. 
RMS refers to the endless amount of power that a speaker can handle. At the same time, the peak value is the highest or maximum amount of energy a speaker can offer in short bursts.
In addition, if you want to buy a head unit. Make sure the power levels do not exceed what the alternator can deliver. 
4. Speaker Build Quality 
Ensure the materials used in making the speakers are great. Many cheaply priced speakers are made of relatively low-quality materials. '
They degrade quickly over time, so when selecting car speakers, don't focus on the superiority of sound quality alone. The quality of the material used will certainly guarantee how long your car speaker will last. 
Here are some of the crucial tips that will guide you when it comes to materials quality. 
A speaker with a rubber coat is more superior in quality compared to one with cloth or foam. 

The stiff and lightweight materials such as polypropylene with metal-coated fabric last longer and have better bass quality. 

Other materials like polypropylene, silk, and metal are for aesthetic value. 
5. Speaker Basket 
Generally, it's the frame of a cone-type speaker. Many think its sole purpose is to hold the cone in place, but it has some additional useful functions. 
Like other components of the speaker, the material and design of the basket hugely affect the quality of sound.
6. Material
The material used should be rigid enough to withstand regular operations without adding needless frequencies or deformations. Mostly such issues can be due to the resonant properties of the material.
Car speakers with cast aluminum and magnesium are expensive but perform better than steel baskets. Steel baskets have thermal properties and dissipate heat that is generated during the speakers' operations.
The cast materials like magnesium and aluminum do not bend. However, they do break, but it's pretty rare. The breakage of cast materials can only be caused by excessive pressure or stress.
Today many manufactures use polymer composite to baskets. The material is cheaper and easier to produce. In addition, it is lighter, rigid and reduces the general cost of production.
7. Design
The design is an essential aspect of wave management. I'm sure you are aware that sounds do travel in waves. During operation, the speaker produces both front and back sound waves.
The back waves do add unwanted frequencies and cancel the desired sound waves. This negatively affects the overall sound quality of the speaker.
A well-designed basket plays the role of diffusing the back wave. It does this by allowing the waves to escape without interfering with the sound of the speakers.
8. Speaker Sensitivity 
Sensitivity is the amount of power a speaker needs to put out a particular volume.
If your factory stereo system is anemic, you should select a speaker with high sensitivity level. Speakers with high sensitivity levels require less power to function. 
However, speakers with less sensitivity tend to work perfectly with high high-powered amps. 
Determining the sensitivity level that you need in a speaker is not that tricky. You'll have to determine the amount of power drawn by the external amplifier and head unit. 
9. Maneuverability
It's an essential factor that can refer to two things that should be put into consideration. So let's find out how maneuverability is crucial and why it should influence your choice when buying a speaker. 
Firstly, entertaining your passengers is a great thing. If you are not that talkative, good music will undoubtedly cover for you. 
During such a time, you may welcome the idea of adjusting the speakers so that sound reaches your passenger from different directions. 
It will be much easier when using a speaker that has pivoting tweeters. Speakers with pivoting tweeters are also easy to install in difficult-to-reach places like corners or limited space.
Secondly, you may have more than one car and transfer speakers or easily remove the speakers when you purchase a new auto. Owning a component speaker will make this easier. 
However, you can also find full-range speakers with detachable tweeters, which are easy to install in several modular systems.
10. Frequency Range
This refers to the musical tone that the car speaker reproduces. The measurement unit of audio frequency is Hertz (Hz).
Humans hear frequencies of 20Hz, the lowest bass tone tone0KHz, which is the highest treble tone.
When buying a speaker, select one that has a broader frequency range. A speaker with a broader frequency range efficiently produces more sound.
11. Impedance 
It's the amount of electrical resistance that the speaker delivers to the amplifier. Like power rating, the speaker impedance is a complicated aspect. When playing music, the impedance tends to fluctuate constantly.
Most speakers have been given single nominal impedance, making it easy to compare the impedance of various models.
You should note that speakers with a low impedance of 4 ohms do cause problems. It occurs when used with amplifiers or receivers that aren't designed to offer numerous amounts of continuous current.
12. Cost 
The various types of high-performance speakers have varying prices. The simple car replacement speakers are budget-friendly. The high-performance and high-tech speakers are expensive. 
You can decide your speaker budget before shopping. Then when looking at the different features, you can adjust it in favor of the speaker with more feature capacity.
Frequently Asked Questions
1. How Much Should I Spend On Car Speakers?
The cost of car speakers varies according to the type of speaker and scope of work. However, there are speakers for almost all budgets. 
You can still get a high-quality budget-friendly speaker. It all depends on how, when, and where you look for the speaker.
2. Why Do My Speakers Distort?
Distortion of speakers' sound is a common but very annoying issue. It mostly happens when you are using an amplifier. The common cause of damage or distortion in speakers is underpowering. 
You'll most likely experience distortion when you increase your speaker's volume. An increase in volume requires more power. If the amplifier is unable to provide enough capacity, the speakers will distort.
3. How Do I Upgrade My Stereo to Bluetooth? 
The only probable solution is changing the stereo unit. Install a new stereo unit that has Bluetooth or offers an adapter that allows you to add it. 
The Bluetooth feature is quite helpful because it allows you to control many of your smartphone functions while streaming from your stereo.
4. Will Replacing the Car Speaker Make a Difference?
Yes, however, this solely depends on the type of speaker you buy. A well-chosen after-market speaker will have a considerable difference to your music experience. 
Many famous audio car brands produce speakers that offer more precise, dynamic, and more detailed sounds. 
In addition, the bass quality in most after-market speakers is good; you'll hear both lighter and more profound bass of all frequencies.
5. Which Is Best Between 2 Way and 3 Way Speakers?
The two-way speakers include two drivers, which are tweeter and woofer. The sound offered by this type of speaker is clear compared to a single driver speaker. Though, they do not produce deep-sounding bass.
The three-way speakers include tweeter, midrange, and woofer. They are also referred to as three-way coaxial speaker systems. 
However, sincerely speaking, they do not outmatch the two-way speakers. However, the three-way speakers do make a considerable difference in 6 inch component car speakers. 
6. Do Expensive Speakers Provide Better Sound?
Generally, expensive speakers offer quality sound compared to budget speakers. Because they are made of high-end materials and superb technology, you should select a speaker depending on your needs instead of focusing on the price.
Conclusion
New speakers will add new life to your car's music. Purchasing new 6 inch round speakers is the fastest and most effective way of upgrading your audio experience.
In this article, we've tried to make the process of selecting the right speaker for your car as straightforward as possible.
There's everything for you, whether you want to upgrade or install a new amplifier that needs a speaker that can handle a lot of power.