Line output converters are an essential part, especially when designing a car system with subwoofers. If you have a factory radio, a four or five-channel, you will require a line-out converter. 
This converter will help convert the output from your speaker to an RCA signal for preamps to make for better sound integration in your system. 
The output RCA signal can then be pushed into an amplifier which you will connect to your subwoofers.
Selecting a suitable amplifier and a line-out converter are two crucial factors that any system owner should consider. If you don't know what option to go with, here are the best converters available in the market.
Best Line Out Converter
1. Magic source High To Low Converter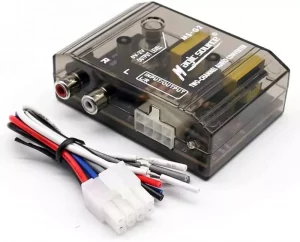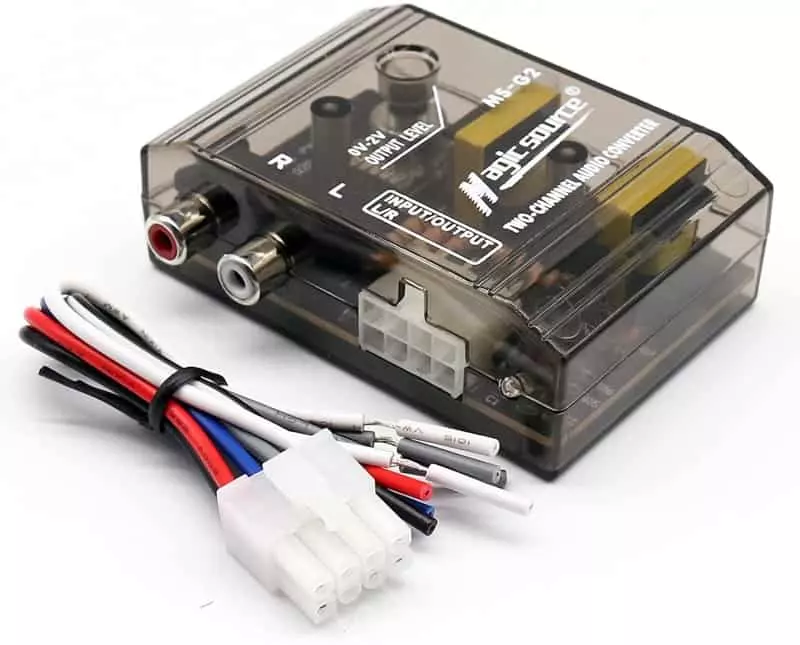 The first product on our list is a well-rated converter that works well for cars stereos to lower the signal for amps to pick it up and use. 
Specifications
Features
The magic source converter is a high-quality device that changes the high speaker signals to lower RCA signals for your amp.
It has a maximum power output of 50 Watt, making it more than capable of working with many amplifiers currently in the market. 
It also has a maximum output current of 1A and 0-2 RCA output which are low enough for most standard amplifiers to work with.
It supports frequencies between 20 Hz and 20 kHz. This wide range increases the number of input and output devices; this converter can be used, making it easier for the user to install.
The ports and wires on this converter are distinctly colored and labeled universally. This will make it easy for you to connect it to your system since all you need to do is match the colors.
It is made of a high-quality transparent PVC cover that keeps the unit secure while giving the user a peek inside, making for pleasing aesthetics in your car.
This device comes at an affordable price and with an OFC cable for the primary connections to your system. This addition will save you the added expense of buying separate cables to use in your setup.
2. Kicker 46KISLOC 2- Series Converter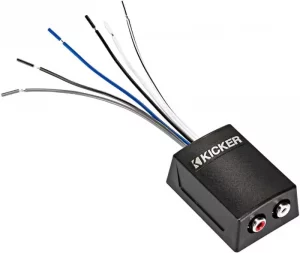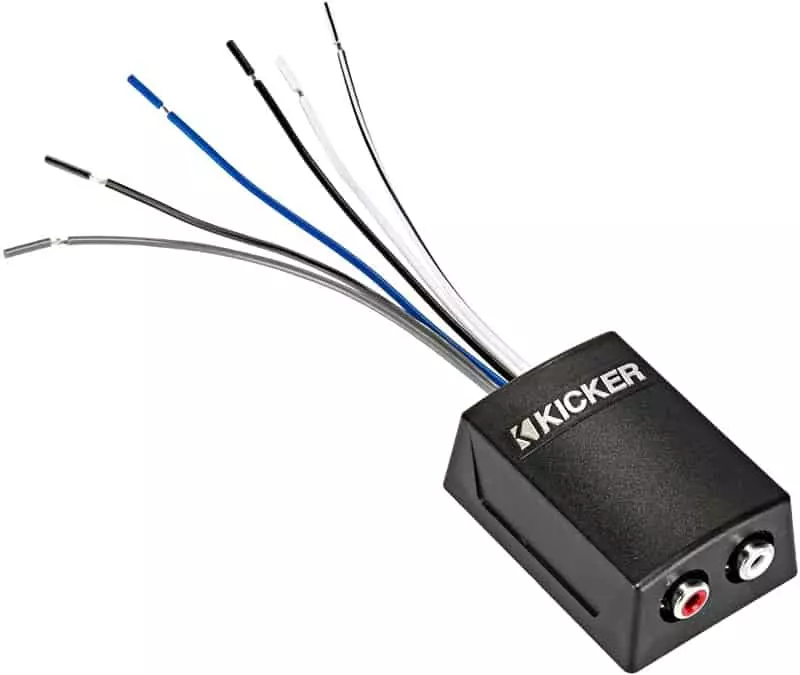 The Kicker 46KISLOC is a fantastic stereo line-out converter from a company with a good reputation in the music device industry, so it is guaranteed to give good performance.
Specifications
Brand: Kicker

Weight: 3.04 ounces

Type: Passive

Number of channels: 2
Features
It has a clean and straightforward design that steps down your signal level to an RCA without messing with its quality; thus, the output is as good as the input. 
With this product, all you need is the speaker input and a connection to the amp. You don't need an external power source; this is convenient since it will reduce the power used in your car and the number of cables you need.
It has no inductors by design to ensure a flat frequency response at all volumes, ensuring the sound is well balanced, and there are no issues at very low or high volumes.
It has a DC offset feature to produce a 12V, 100 milliamp signal, powerful enough to work with any amplifier you can fit in a car. An LED indicator on this offset helps you know when the device is on and working correctly.
It has a maximum output voltage of 8V, which is sufficient input voltage for most car amplifiers. It can work with the most delicate amplifiers, and you would never be risking any damage.
This line-out converter has a maximum input volt of 16V, and most car radios have an output of about 10V. 
This range keeps it clear of any damage and connects to nearly all car radios, both analog and digital.
3. Audio Control LC2i Line Out Converter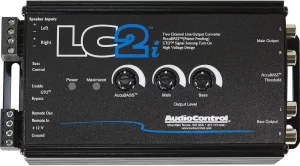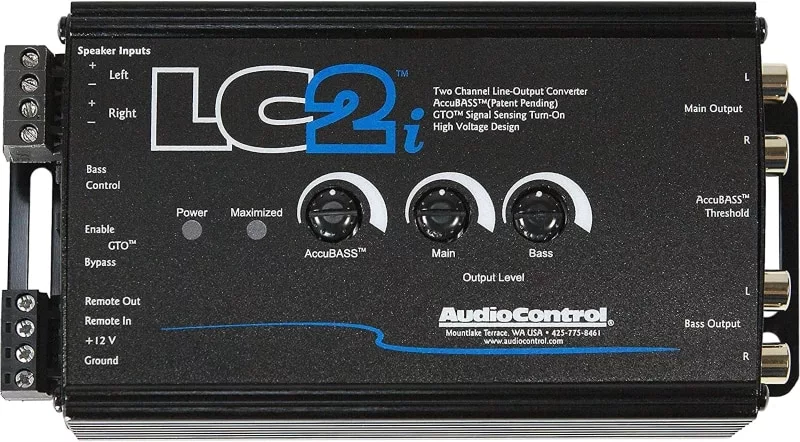 This product is the best converter with bass control for use in a car, and it is made of high-quality materials to ensure high performance, energy efficiency, and durability.
Specifications
Brand: Audio Control

Weight: 15.8 Ounces

Type: Active

Number of channels: 2
Features
It has two channel inputs which allow it to meet the needs of most car radio users since this is the primary channel number for car stereos.
Each channel has maximum input support of 400 Watts; this high power tolerance allows this converter to use robust sound systems in big vehicles.
There are four output ports on the unit; a button allows you to choose which ports you want to use since each port works independently. 
This selection means you could connect two amplifiers simultaneously and shift between them as it suits you.
This line-out converter supports AccuBASS processing which is vital for bass roll-off correction. This feature will be noticeable when you hear how nicely your speakers pass sound with bass.
Considering all the features it has to offer, this converter is relatively small and an ideal size to install in your car. 
It can fit in most tiny spaces or glove compartments, so you shouldn't worry about the space in your vehicle.
It also has a GTO signal sensing feature with the input signal to help control the signal, especially bass and keep it at the correct level for the amp.
You could connect to the device via Bluetooth to wirelessly access the settings, which means you can cram it deep in the car and still use it.
4. PAC SNI-35 Variable LOC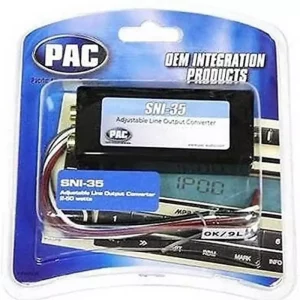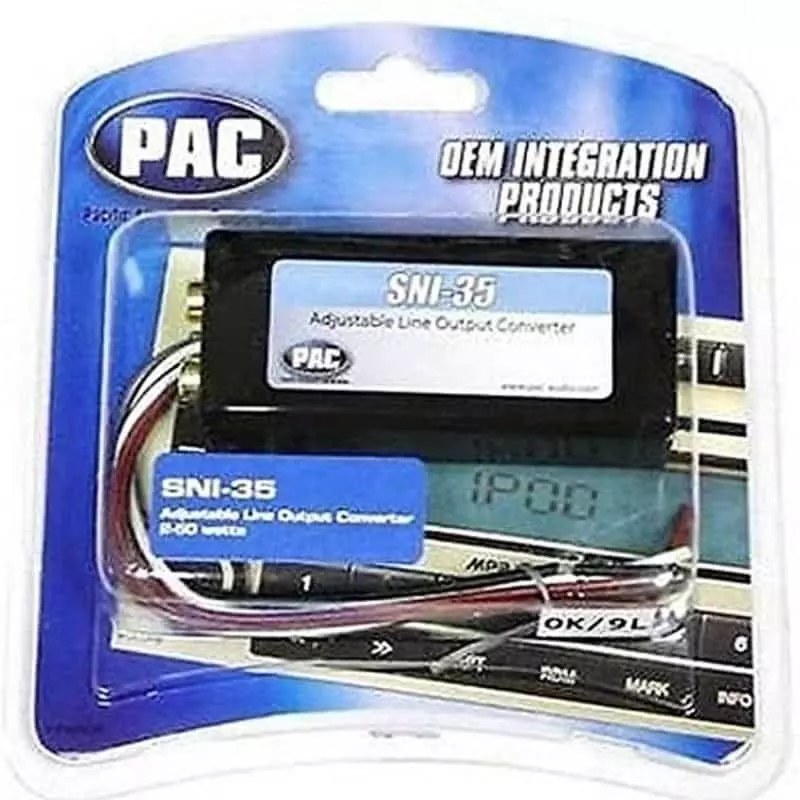 This is a fantastic product that holds up well in use, it is easy to use, and it comes at a low price that makes it stand out from other similar products.
Specifications
Brand: PAC

Weight: 3.2 Ounces

Type: Active

Number of channels: 2
Features
This is an adjustable converter that works well for many car stereos and amps. You could tweak the settings and make it work with almost any device. It is a good choice for lowering the signal level while maintaining the high quality of a video.
It has an inbuilt transformer designed to aid with noise cancellation. This is an important feature that ensures the signal that comes into the converter does not get distorted.
Compatibility with a wide range of both analog and digital radios is another big part of this product. 
The two channels on the line-out converter have a maximum power input of 50 Watts each. This wattage allows the converter to work with all car radios comfortably. 
It has a feature that allows phased adjustment within it; this ensures a balance between all frequencies of the input and output signals to prevent bottoming out or erroneous output.
As an assurance of quality, this product comes with a 1-year-warranty. If used correctly, this converter will stay in your car for years without breaking down. 
5. Audio Control LC2i 2-Channel Converter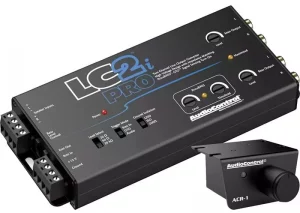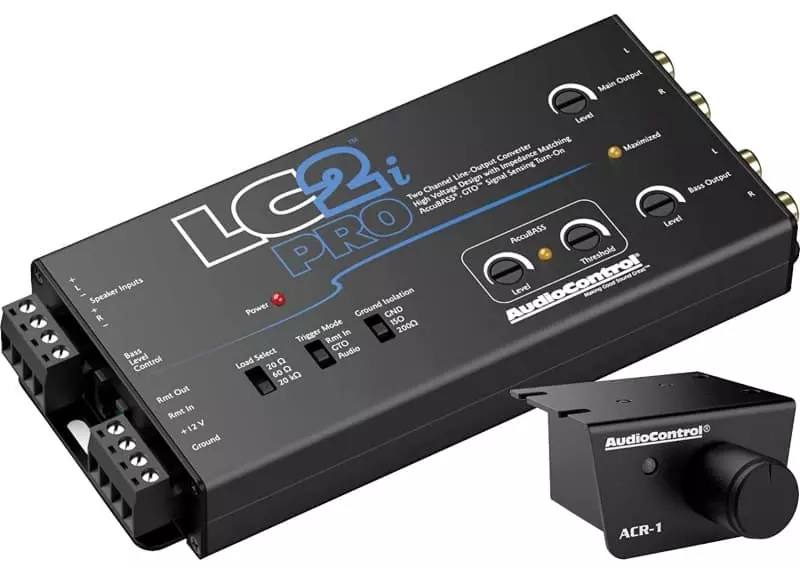 This is a high-quality product created by a reputable manufacturer, and it will offer users flexibility and freedom of use in a lot of areas. 
Specifications
Brand: Audio Control

Weight: 12 Ounces

Type: Active 

Number of channels: 2
Features
You will like this converter because it comes with a universal Audio Control dash remote. With the remote, you will be able to control the converter even when it's far, a convenient feature for a driver.
It supports input of up to 40V, around the standard output voltage for most car radios, making this a good choice for you.
This line-out converter is designed to have a slim, compact casing attached to a mounting bracket. 
All these make it easy to install and secure since it fits in the car spaces, and you can use the frame to secure it.
The impedance matching feature this product showcases is another significant advantage it will give you. 
This feature will balance all the resistance in your input and output to ensure no gaps in the signal; thus, you will get consistently high quality.
The iconic AccuBASS feature used by Audio Control is also included in this product. It will correct all bass signals coming into it to ensure the output is consistent and high quality to give better audio from the speakers.
It has several trigger modes and settings for the user to choose from. This allows you to dictate how your music gets processed, so you get a personalized output.
It has a load selection switch which is not included in most converters. This switch will ensure that there is always a connection with the amp and speakers since a missing link means there is no music and potential damage.
6. PAC LP7-2 LOC Pro Series Converter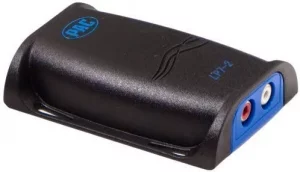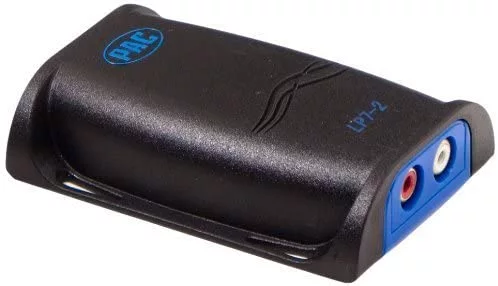 This is another PAC product with a simple design, but it is built to last if in the correct use and environment.
Specifications
Brand: PAC

Weight: 4 Ounces

Type: Active

Number of channels: 2
Features 
This is a high-quality professional series converter that can work with highly powered stereos and radios.
It achieves high-quality audio output by balancing the audio levels between the input speakers and the amplifiers. 
In the end, a stable signal goes onto the amplifier, and it will come out clean and flawless in the speakers.
The stereo gain controls on this device allow the user to adjust the level gain to suit his other devices better. This feature will help reach the full potential of your amps and subwoofers.
It is small, making it convenient to use in a car, especially small ones that don't have space for larger converters. 
In addition to all these, it has a remote turn-on feature that allows you to use it without getting to it.
 It has a frequency response feature that comes in handy to correct all incoming frequencies to produce better quality output than the input signal.
It needs a 12V power source to work, and you can use the amp to provide this power if you want to limit the number of cables in your car wiring.
7. SCOSCHE LOC80 Car Stereo Converter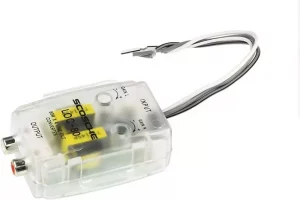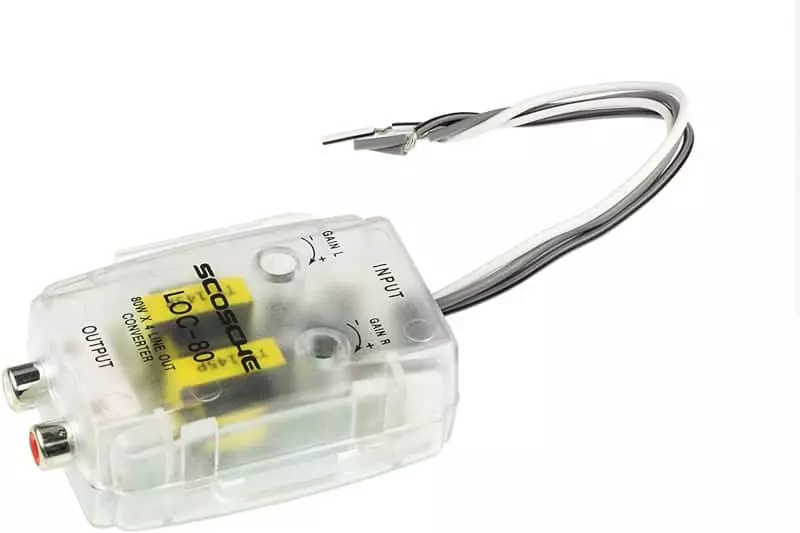 This product was created by an American-based company and was specifically meant for use with subwoofers, the most common speakers used in cars.
Specifications
Brand: Scosche

Weight: 2.4 Ounces

Type: Passive

Number of channels: 2
Features
This product was designed to work with high-powered car systems since each channel can support up to 80 Watts, more than most stereos can deliver.
The manufacturer meant all the aspects of this converter to make it easy for you to install. It comes with a 3M double-sided tape that allows you to put it on almost any part of your car without struggling with screws.
It comes with a remote, which allows you to turn the system on and off without touching the converter. This would be convenient if you had it placed someplace you can't get to.
The converter's small size is also an advantage since it can fit under the seats, in the glove compartment, or any other space you could spare in your car.
It has two additional channels, which allows you to expand and use a system with four channels. It will merge all the channels and give one steady output to the amplifier for the best subwoofer performance.
This product has a limited lifetime warranty, which speaks to its quality. Provided you connect and use it properly, you will get a replacement should it stop working or start malfunctioning. 
8. Audio Control LOC 6-Channel Converter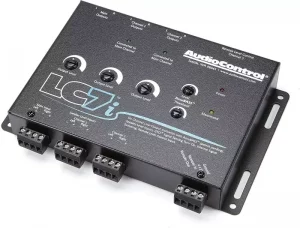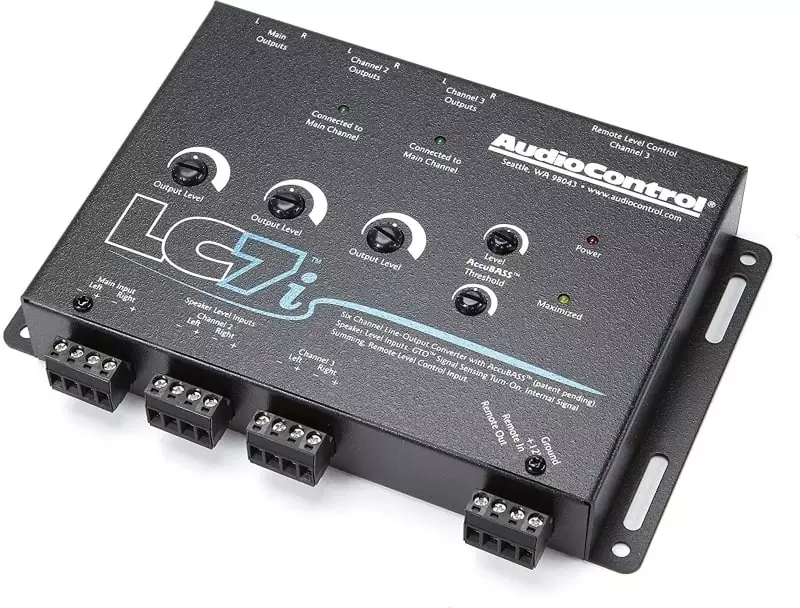 Audio Control is a famous brand in the US, and this is another product they manufactured that has proved to be of high quality and performance. 
Specifications
Brand: Audio Control

Weight: 8 Ounces

Type: Active

Number of channels: 6
Features
This converter is Bluetooth enabled, which means you can control the settings and input wirelessly. 
This is a significant advantage since it makes it possible to hide the converter anywhere in the car and operate it comfortably.
It supports six channels of input which makes it a good choice for most high-end vehicles. Such vehicles have separate channels for tweeters bass and subwoofers; thus, it makes it the best option.
Each channel can support input of 400 watts, making it suitable for robust systems.
The schematics of this model make it flexible so it can be connected to any car radio, analog or digital. This aspect you will find helpful since it is guaranteed to work well with any radio.
Additionally, the unit comes with a dash remote to make it easier to control your music while driving, and you can keep the converter hidden.
This low-out converter stands out because it allows a user to control the low output. You can calibrate it to output a signal that works best for your amp to perform the best it can.
9. Gravity GR-DBE 2 Channel LOC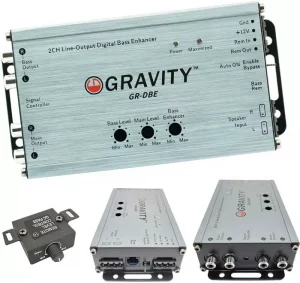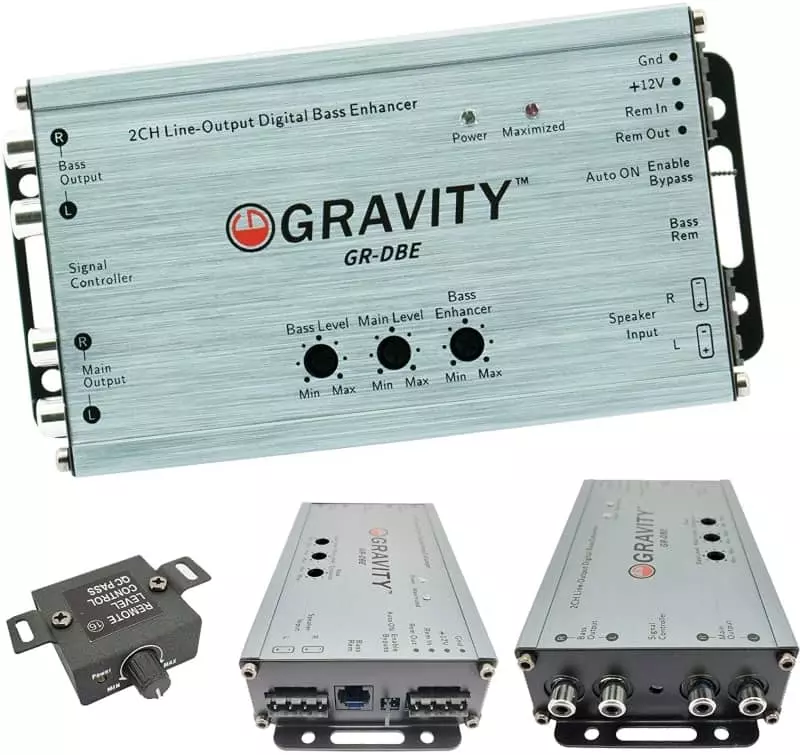 The Gravity GR is a high-tech converter with many features that come together to boost its performance. 
Specifications 
Brand: Gravity

Weight: 22.4 Ounces

Type: Active

Number of channels:2
Features
This converter has two 400 watt channels that can receive input from a wide range of car radios and step it down to an RCA signal.
It is integrated with a digital bass enhancer that checks bass roll-off to ensure you get excellent, consistent output.
It has signal output level control to give the user more output options for proper calibration with the receiving amp. 
This line-out converter also has a fixed and variable output which makes an addition to its flexibility.
It comes with an installation grid to make it easier to install in the car. You can hold it down with screws or fit it however it best suits you. It comes with a remote so you can install it anywhere you need to and still use it.
This is a dual amplifier; therefore, it can drive two speakers if you don't have an amp. If you have an amp, you can connect it to the amp, and it will still work well for you.
It also comes with a remote that you can have on your dash; this way, you could install the converter deep inside the car, and you would still be able to use it. A remote is essential since this product is relatively big and might mess up your décor.
What Are Line Output Converters 
You could have bought new subwoofers and an amplifier, but you don't know how you can connect them to your car's stereo. You will need a line-out converter to help you get around this problem and enjoy your music better. 
To get you all sorted, we need to know what a line-out converter is, what they do in your system, and how to install it. Let us get into the specifics to ensure you have all the information you need;
A line-out converter converts high-level signals from your stereo to low-level signals that you can feed into an amplifier. 
This is necessary since most radios don't have a low-level RCA output, so you cannot connect an amplifier directly to it.
Most radios have some inbuilt amp to make them work with the factory speakers. In most, you will have 4 or 6 wires coming from the radio to the speakers, with some cars having an inbuilt amplifier.
This means that you have to convert the speaker level outputs to one an amplifier can use. This will allow you to connect more subwoofers that will give better sound. Figure out how many outputs your radio has and pick the best high low converter. 
So how do line-out converters work? They have a reduction transformer; they have a difference in the number of windings from the incoming signal to the outgoing signal, like a step-down transformer with electricity.
This process steps the high speaker level output to a lower RCA signal that can go into an amp. The Signals from the stereo are amplified and can't be used as input for an amplifier, so you need a line-out converter.
However, not all aftermarket amplifiers will require a converter. Some amps accept anything from 2 to 14 volts input; depending on your amp, you might be able to connect it directly to the speaker lines and amplify the signal.
While you might choose not to use a line-out converter, you should do it for the sake of your amp and speakers. 
If you have a high-quality converter with bass control, you will enjoy easier upgrades and better sound quality.
Most aftermarket line-out converters have a flutter frequency response, and some have a load circuit. Load circuits will be vital in a system that does not use any factory amplification.
This will prevent the speakers from popping since the factory radio or amp doesn't see the speakers.  Having a load circuit will keep your speakers safe and performing at their best at all times.
You need to get a line-out converter that supports a full-range output. This way, you can amplify any signal with your amplifier using its internal crossovers. If you are connecting subwoofers, your only concern will be the base frequencies. 
However, if you are connecting a 4-channel amplifier, you also need the midrange and high-level frequencies. 
This requires that you have a consistent and full-range output supplying your amp to give the best results. 
A connection will get more challenging when dealing with multi-channel systems with amplifiers that go into separate tweeters and subwoofers. 
Such systems could have up to 8 channels, and you will need to join them for your connection to work.
The connection for a line output converter is relatively simple despite how complicated it sounds. 
You only need to make sure the signal goes through the converter before getting to the amp. As soon as you know what wires go into what ports, you are good to go.
Connect the speaker output from your stereo to the input on your line-out converter, then connect the output from the converter to your amp's input. You might need to cut into the wires to connect the devices if the radio doesn't have ports. 
Factors To Consider When Getting A Line out Converter
Getting a line-out converter is as crucial as choosing subwoofers or amplifiers for your car since it will affect how they both work. 
The market is flooded with products, and it might be challenging to select the product you need. 
With online shopping, you can order the converter online and get it in a few days. Before placing your order, here are some critical factors you should look into to make sure you are satisfied by the outcome; 
1. Number of channels in your system
Some stereos are simple and easy to work with since they are only single or dual channeled. A simple line-out converter can be used in such a situation, transferring the signal to the amp.
The problem comes when 6 or 8 channels from a factory amp separate the subwoofer signals from tweeters. In such a case, you need an audio control line out converter such as an LC7i.
Such products will support multi-channel input to make connections easier on you. Some high-end line-out converters will do summing and equalization to produce a well-balanced signal that is clean and combined for an external amplifier.
2. Your Amplifier's Power Rating
Amplifiers have different input requirements in terms of signal and power rating. You have to account for this difference when selecting a line-out converter since getting the correct input for your input is the basic need.
For your amplifier, you need to think about the signal and power. If the line-out converter doesn't have enough power output, it will be unable to support the amp, so you will not get as much quality and performance as you'd expect from your amplifier.
You need to get a line-out converter that matches your amp when it comes to the signal. This will ensure the output is not too low so that you reduce the risk of your speakers bottoming out when they get signals they can't process.
A good choice would be to get a line-out converter with full-range output and calibration options. 
This will allow you to change the settings appropriately to get the converter to work well with your amplifier at different settings.
3. Type Of Converter
There are two types of line-out converters, active and passive, and you can tell the difference since active converters have power connections while passive LOCs do not. Each of these options could work for you, depending on your radio.
Most people prefer active line out converters because they have an external power source to give a stronger output signal and voltage. This means that you get a cleaner signal and better sound from your speakers.
Passive LOCs are more like adapters; they do not affect the signal other than stepping it down. This might lead to a drop in sound quality and issues with the amp bottoming out since the converter cannot control its signal.
Active line-out converters will offer you more functionalities and perks that can help you manage your sound better. 
It will give a clean signal making it easy even for low-end amps to work and produce high-quality sound.
A passive LOC will work if you have a powerful radio and advanced amp that can deal with any issues on signal quality. 
A lousy amp will only worsen the situation since it will amplify low-quality signals to give erroneous output.
4. Added Functionalities
All line-out converters can give an output, but what more can they do for you? All passive converters are disqualified when looking at added functionalities since they don't do anything other than step down the incoming signal. 
Active converters, on the other hand, will offer you a long list of benefits. You could get a converter that has a broad spectrum of output options that you can choose from. This will allow you to use it with different amplifiers that differ in power rating. 
You need additional functionalities to balance the sound, merge the signals and clean the input to produce high-quality sound. You should have diodes to control every aspect of your setup to give you a more personalized feel.
The number of input channels offered by a converter is also essential. If your radio has six channels output, you need to get a converter that will take in all the inputs to utilize your radio's capabilities fully.
Having many input channels will allow the line-out converter to take in all the signals for speakers and tweeters. 
The LOC will then mix up the signals to give a single output that your amplifier can efficiently work on.
5. Ease of connection and Use
This is an issue if you intend to connect the line-out converter yourself. If you don't have any experience with electronics, it would be wise to use a converter that is easy to connect and use to ensure you don't get stressed out trying. 
In such a case, a passive converter will be a solid choice since its connection is simple. There are ports for you to plug in the wires; the ports are labeled and marked with colors, so you know what goes where. 
When it comes to active converters, chances are, it gets more complicated depending on the functionalities it offers. If it supports many channels, then a dozen input ports might be labeled for professionals.
If you are dealing with a system you are unfamiliar with, you need to get a professional to make the connection for you. It is better to spend extra money on installation to ensure your devices are safe for future use.
The price will depend on the features, type, and size of the line-out converter. It should therefore come after you have thought of everything else you need from the converter. It is better to spend a lot of money once and get satisfied for a long time.
Cheap products tend to be of low quality, and you might get forced to replace them after a few months. 
Considering that the connections might be complex, this will be messy and expensive for you, so it is best to assess quality and performance ahead of anything else.
Conclusion
You need a line-out converter when making a connection between your car radio and an external amplifier. 
The best line out converter for subwoofer will balance the signals and make them easier for an amp to handle, so you get high-quality sound. 
There are passive converters that don't alter the signal in any way other than stepping it down. You would be better off using an active converter that can change the signal appropriately to merge several channels and produce clean and complete output.