Today there are many professional gamers and gaming enthusiasts. They do spend long hours playing games from either the console device or computer. 
Sitting for long hours without proper support will undoubtedly lead to back pains and poor posture. Back pain is a common issue that everyday gamers experience sooner or later. 
Today many gaming chair manufacturers have come up with chair designs that offer proper support to prevent neck and back pain. Gamers love spending money on high-end gaming equipment like gaming PC and consoles. 
It's also fair that you give the gaming chair as much attention. Meaning you should equally invest in a high-quality gaming chair. 
The gaming chairs do have various ergonomic features like adjustable arm, recline back, adjustable headrest, lumbar pillow, and many more. You will have to consider other factors when selecting the best gaming chair for your back pain. 
It includes things such as heights and the weight it can accommodate. It would be best if you were sure that it accommodates your needs before selecting it. 
So, if you are looking for the best gaming chair for your back, then we've got you covered. In this article, you will find the eight best gaming chairs for your back pain. Plus, they have been meticulously vetted. 
Comparison Table
In this article, we have listed the eight best gaming chairs for back pain. We have chosen them because of their outstanding features and efficiency. However, here are our top three best picks that you will not wish to miss. 
Top 8 Best Gaming Chairs For Back Pain
1. DXRacer Computer Gaming Chair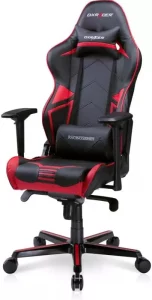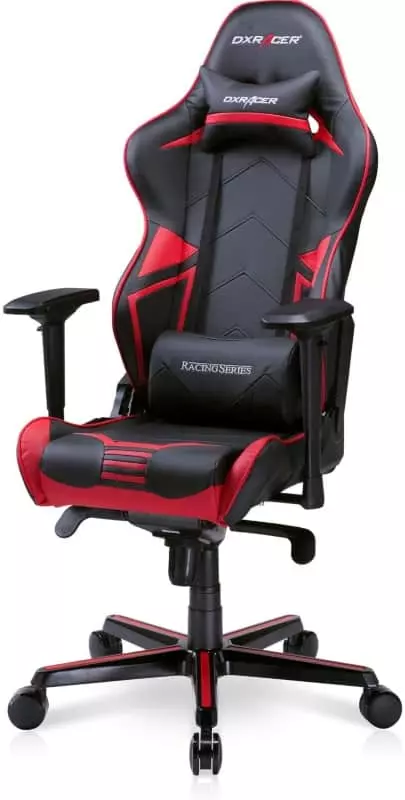 The DXRacer has a great history. It's the first company to produce the modern gaming chair and has been in production for over 19 years.
 It is a trendy and leading brand when it comes to premium gaming chairs. This model is exceptionally comfortable has excellent neck/back support. It's the perfect choice for those who need a great chair that is simple to assemble. 
Specifications
Product Weight: 58.9 Pounds

Weight Capacity: 225 Pounds Limit

Seat Type: Racing style

Recline: 135 Degrees

Warranty: 2 years on parts, lifetime warranty on frame
Features
The DXRacer is among the top gaming chairs in the gaming chair industry right now. It offers the gamers comfort and quality. Because of its racing style model, the chair is popularly used by pro esports teams. 
The chair cover is made of high-quality material. Its high density and offers a mold shaping foam. It has metal frames that ensure the chair has maximum sturdiness and stability. 
It also has another component like the class 4 gas. They have been certified by BIFMA/ANSI, LGA, and many more for durability and safety.  
The gaming chair has a fully adjustable lumbar, headrest pillow, and 4D armrests that offer extra support to gamers. The builders of this gaming chair had the ergonomics in mind. It provides the best rig for streamers and gamers. 
The fully adjustable arms, adjustable seat heights, tilt mechanism, and other great features give the users total mobility. Users can comfortably use it in a meeting, working, and gaming. 
2. GTRacing Gaming Chair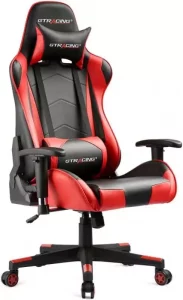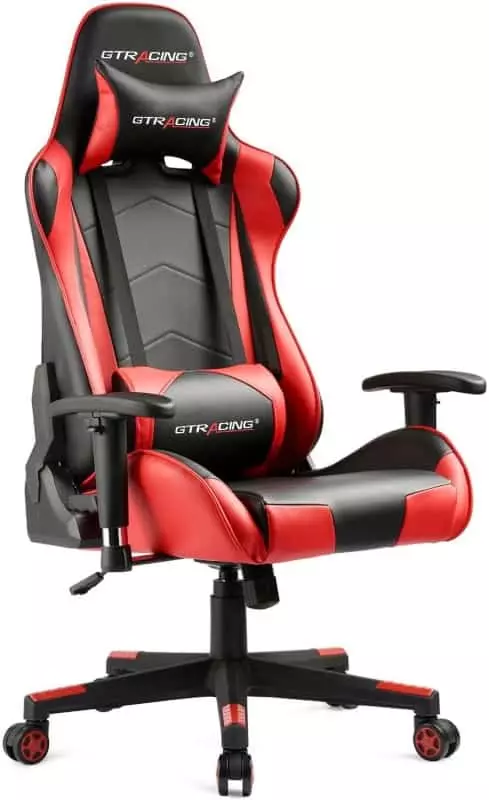 The tracing gaming chair has almost all the features that you would get from high-end gaming chairs. 
The chair comes at half the price of the premier brands. In case you need a great gaming chair that does not break the bank. I vouch for the GTRacing gaming chair for you. 
Specifications 
Item weight: 50 Pounds

Weight capacity: 300 lbs.

Seat Type: Racing style

Recline: 90 – 160 Degrees
Features
With only a few dollars, half of the high-end seat cost, you can get plenty of ergonomic features with the GT racing. 
The features include adjustable seat height, recliner, armrest, padded seating, retractable footrest, and many more. 
The best feature in the GTRacing gaming chair is its robust backrest which is excellent for back pain. 
Another thing about the GTRacing that fascinates many is the deep recliner. It can recline up to 160 degrees which allows you to take a nap. 
At this highest recline angle, you can indeed continue to enjoy the backrest. It offers your back constant micro-movements, and this helps reduce pressure on the sensitive tailbone. 
The footrests will help reduce fatigue on your feet, thighs, ankles, and knees, plus aligning with your posture. 
The gaming chair has a thick padded back and seat that offers you comfort for long hours. This feature makes it the perfect gaming chair for lower back pain.
The leather material on the seat is bonded, and this is a cheaper alternative to genuine leather. It's actually among the factors that make the GTRacing chair more affordable. 
It looks like an executive office chair because of its consistent and sleek texture. It is height adjustable and has a headrest and a lumbar pillow. The lumbar pillow allows you to adjust where you need extra support and also position it precisely. 
3. Herman Miller Aeron Ergonomic Chair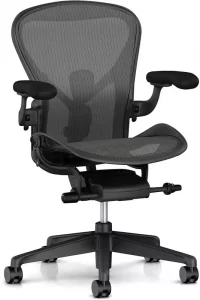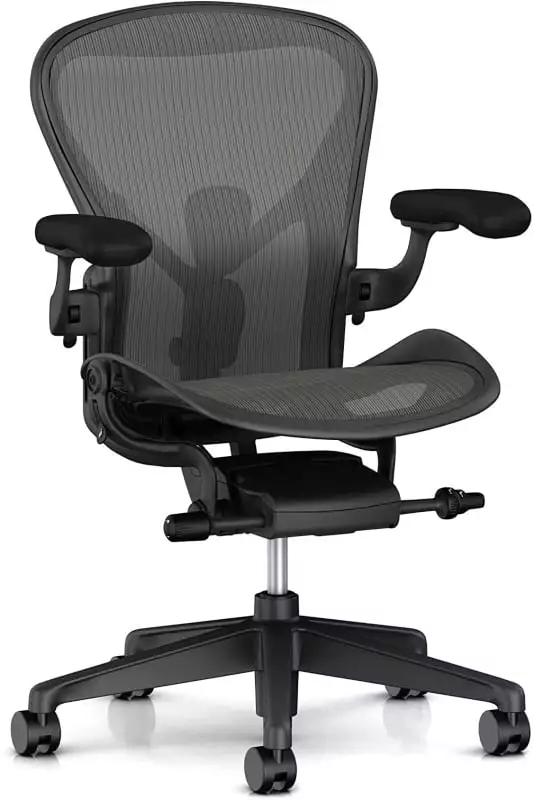 Check Price On Amazon
The chair is among the most iconic ergonomic gaming and office chairs ever made. 
The chair is high-end with outstanding quality, comfort, and adjustability. This makes it perfect for both gaming and office setup. 
Specifications 
Item weight: 41 Pounds

Weight capacity: 300 Pounds

Warranty: 12 Years

Product Height: 16 Inches
Features 
The Herman Miller Aeron is among the best mesh back chairs. However, it's pretty heavy on pricing. It has the Posture Fit SL mechanism, which is a unique feature. 
The mechanism fits the natural S shape of the back, thus promoting a healthy posture. Its lumbar support is made of high-density material and is inbuilt. 
This helps put your spine in a comfortable position and offers support to your lower back. 
The mesh material is another great feature of the Herman Miller Aeron. It allows for proper air circulation. Therefore pressure and heat will not build up. 
Good air circulation will undoubtedly increase the amount of oxygen in your brain. Meaning your concentration and focus level will also increase. 
If you are a professional gamer, you will be able to perform better. There is a way that the pellicle material is woven to give support to eight specific tension points. In return, it does relax your back. 
4. Autofill Gaming Chair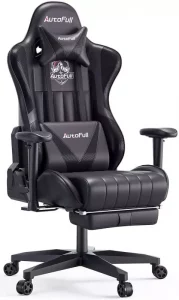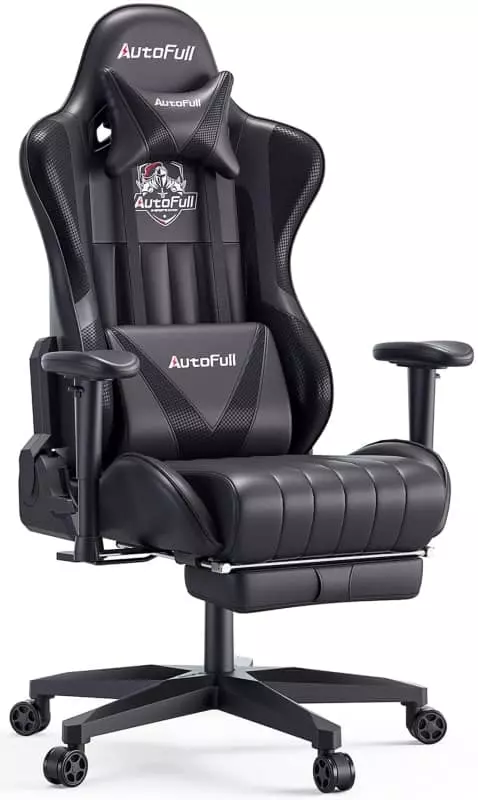 In case you always recline on the backrest of the gaming chair to either watch, nap, or read. Then you need one with a kick-out footrest. 
For this kind of chair, go for Autofill gaming chair. It is well built and has a reasonable price tag.
Specification
Item weight: 47 Pounds

Weight capacity: 350 lbs.

Recline: 155 degrees

Product Dimensions: 27.6 by 20.9 by 5.8 inches
Features 
The Autofill has a retractable footrest that offers support to your lower limbs. You will therefore have proper circulation of blood when reclined. It's better for people with sciatica. 
Through the periodic elevation of their legs, the symptoms will be relieved. To make it more comfortable, Autofill has a great seat cushion of 13cm and is anti-collapse. 
The density of this seat cushion is 50% higher than the average sponge in most gaming chairs. With this gaming chair, you won't worry about tipping over when you recline fully. 
It's because the chair has a steady balance and has been made much more robust and stable with the level 4 gas lift cylinder and sturdy metal frame. 
It has a lumbar pillow and adjustable head that are soft and comfortable. They give you the perfect place to relax your waist and head. 
The 7 cm lift up and down adjustable armrest that can rotate at 45 degrees left and right allows you to position your elbow in the most comfortable position. 
5. Respawn RSP-900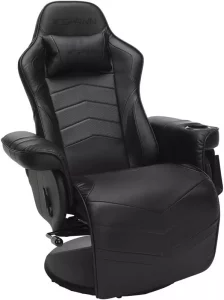 The Respawn RSP 900 is among the high-end racing-style gaming chairs. The gaming chair is best for relaxed or hardcore gamers because of its reclining design.
Specification
Weight: 48.5 Pounds

Weight capacity: 275 lbs.

Seat Type: Racing style

Recline: 135 degrees

Warranty: 5 years 
Features 
If you love console gaming, respawn can do the work for your back and is the best gaming chair for a bad back. However, this gaming chair doesn't have all the adjustments in a high-end PC gaming chair. 
But it has several padding on its backrest, seat cushion, and armrest. For additional comfort, the chair has segmented padding and a plush headrest pillow. The design of the segmented padding allows you to contour your body. 
Through this, it's able to adjust to your body movements. Taking breaks when watching or gaming is essential for your body. With the recline option of up to 135 degrees, you can comfortably and be secure. 
At this reclined position, you can also swivel the chair to 360 degrees. Plus, the chair has an extendable footrest, allowing you to relieve pressure from your feet and legs. 
Another great feature of this gaming chair is the built-in cup holder and a side pouch. You can comfortably keep your drink, snacks, and other small items. 
6. Giantex 360 Degree Swivel Gaming Chair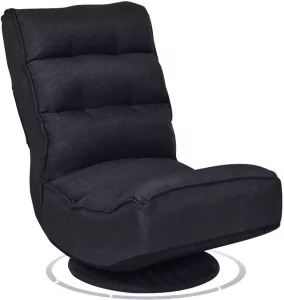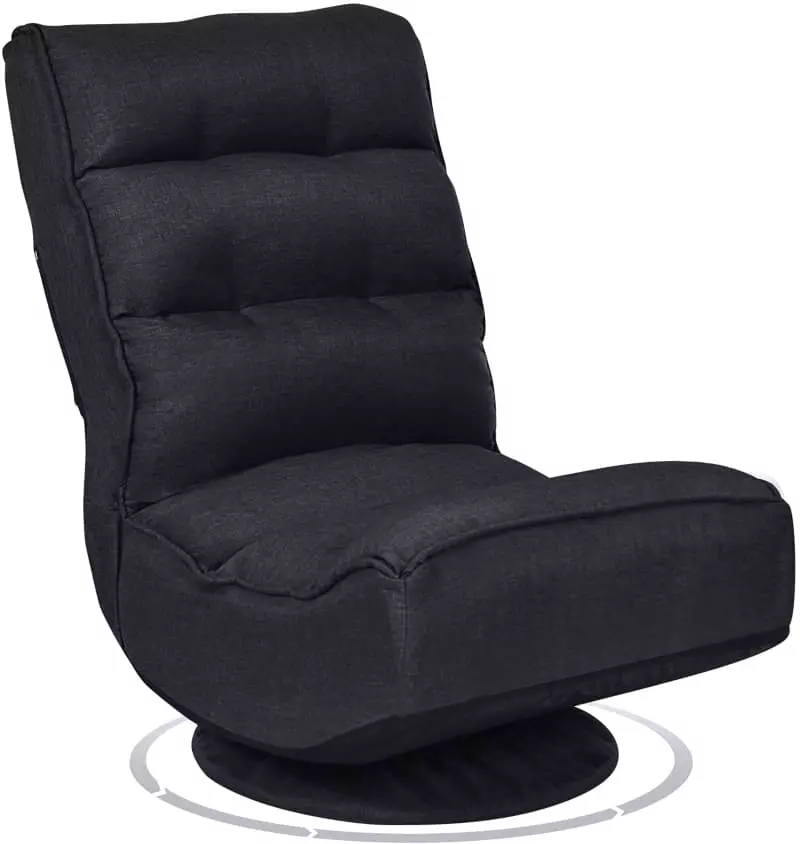 The Giantex is another unique invention. The Giantex backrest is about 25 inches from the seat to the top. Therefore it's not high and perfect for shorter gamers with a height of fewer than 5'8 feet. 
Specification 
Weight: 20 Pounds

Weight capacity: 300 pounds

Seat Type: Lazy sofa chair

Recline: Four recline positions
Features 
The Giantex gaming chair can be used in the living room for reading or casual gaming. The chair is ultra-comfy and quite affordable. It does offer great support to your back when you compare it to the traditional sofa. 
Unlike other gaming chairs, this one is much of a basic floor gaming chair. It's because it does not have a vibration, audio system and does not rock. But when it comes to comfort, the Giantex gaming chair carries the day. 
It has a great combination of high-density springs and a fluffy, thick sponge that makes the sitting experience great. Gaming is more convenient and fun because of its reasonably broad base. 
Its upholstery is of superior linen, making it quite durable and great for gamers with sensitive skins. Another great thing is that the base is also covered with fabric. 
So whenever you drag the gaming chair across the room, you won't have to worry about scratches on the floor. Again the base cover is easy to remove. 
You can take it off anytime it gets dirty. This is one user-friendly design that helps make cleaning easier. Plus, the fabric used is linen and won't get torn easily because of washing. 
The Giantex is fully foldable, and this makes it easy to store. Plus, if you want to clear up some space in your room for work and other activities. You can fold it. 
The crucial feature missing on this gaming chair is the lumbar pillow which gives our backs better support. 
Plus, it also does not have arms, and the swivel does not lock. Therefore getting of the chair can be pretty tricky. 
Overall, it's a great chair and a solid pick for both non-gamers and gamers. In addition to the mentioned features, the chair is space-saving, lightweight, and compact.
7. X Rocker Pro Floor Gaming Chair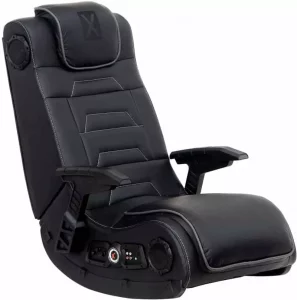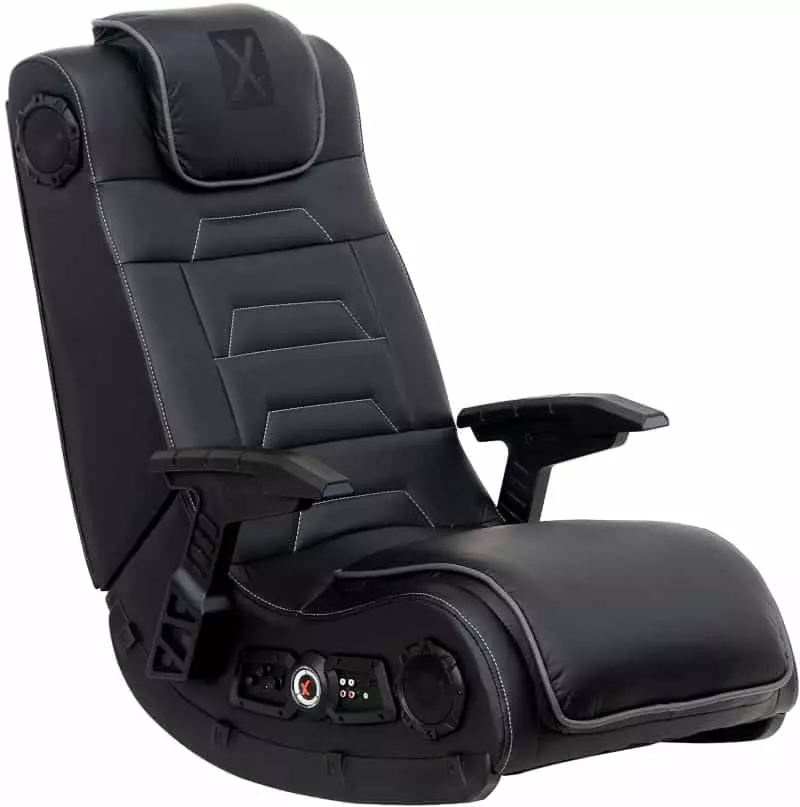 The X Rocker Pro is highly popular because it's healthier for the back and offers an enjoyable gaming experience. 
It's ideal for gamers who need an all-purpose gaming chair. You can use it to read, listen to music, relax, watch movies, and play video games.
Specifications 
Items Weight: 17.34 Pounds

Weight capacity: 275 Pounds

Recline: 20 Degrees

Backrest height: 27 inches
Features 
Suppose you sit on the couch or floor when gaming on your console. You will not have proper back support. The X pro backrest is padded and has an integrated head pillow that supports your entire back. 
The armrests also help reduce any kind of muscle tension in your back, shoulder, and neck. Another thing is that you can certainly rock your heart's content with this gaming chair. It's because it does decompress the pressure on the spinal cord. 
Other than the mentioned health benefits, the gaming chair does provide a great gaming experience. You can set it up with your gaming system for audio. 
It has a quality sound system that is powerful and has excellent vibrations. You will undoubtedly enjoy the punchy bass tones while playing certain games like Fortnite. 
The one issue about the X Pro is its PU leather, which is not of excellent quality. If you use it regularly for a year, you will notice that it starts peeling. 
However, the X Rocker has many incredible benefits, and this makes it a good buy. In addition to gaming, you can also use the chair for other purposes such as watching television and reading. 
8. Respawn RSP-110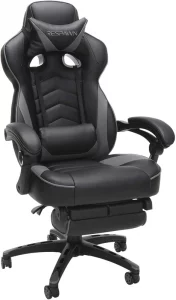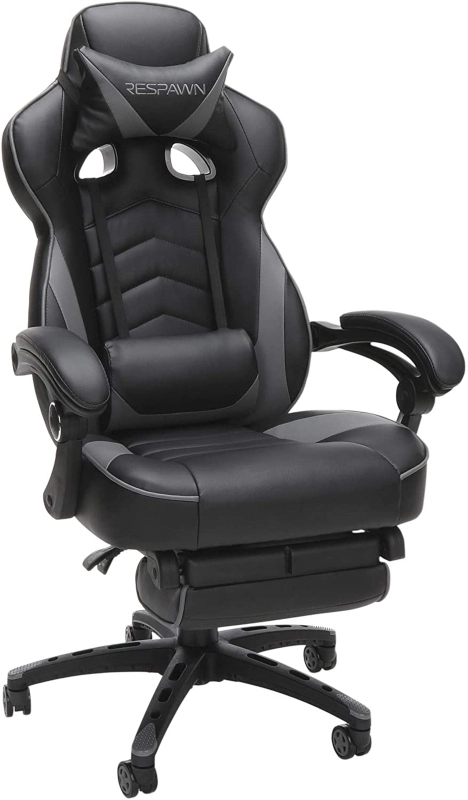 In case you need a racing-style seat that has a footrest, then you should select the Respawn. It is among the best options because of its outstanding quality and is affordable. 
Specifications
Weight: 46.5 pounds

Weight capacity: 275 pounds

Seat Type: Racing style

Recline: 90 – 155 degrees

Warranty: 5 years limited
Features 
This gaming chair is among the best value chairs. With its price, I'm confident you did expect to get a chair that has lower quality, but that is not the case. The RSP-110 does come in nine different colors. 
Therefore you will indeed find the right color for your space. The colors do uphold a very sleek look but are contrasting and bold.  Another great thing is that the chair has a retractable footrest with thick paddling. 
This will give your feet and legs a chance to relax. The backrest of this sit does have segmented padding the offers back support. 
It also has a lumbar pillow and padded headrest, which increases comfort, plus both heights are adjustable. 
You will be able to utilize the cushion in a place that requires more support. It does have 4D adjustable armrests with padding on them. 
The ability of the armrests to adjust ensures you stay in a comfortable position and reduces the strain on your neck and shoulder.  
Choosing The Best Gaming Chairs For Back Pain 
Today, many people buy gaming chairs that prevent or reduce back pains if you watch the popular Twitch streamers, esports, and much more gaming content. 
Then I'm sure you have seen the gaming chairs and know how they look like. A quick guess, you are reading this article because you want or wish to buy a good gaming chair. 
The gaming chairs types or styles are many and from different manufacturers. However, with the explosion of options choosing the right chair can be tricky. 
I hope this guide will make your purchasing decision more straightforward. It has given insights into some of the significant and unique factors you need to consider when selecting a gaming chair. So let's go to the main details. I'm sure you will find all the information you need here. 
A Gaming Chair
It is a type of chair that has been designed to offer specific needs and comfort to gamers. The gaming chairs are always designed after thorough analysis. 
The designers take a month to observe the gamers; how they sit and move in a chair. After this, they do create a chair that fits the needs of these gamers. 
However, the gaming chairs are not specifically for gamers. Other professionals can also use it because it has excellent benefits. So if you are in any of the categories, then the gaming chair can also be helpful to you. 
You suffer from acute or chronic back pain

If You need extra comfort 

Work from home and spend most of the hours seated

Work from home and office and want to increase productivity. 
Types Of Gaming Chairs
In gaming, we have four unique types of gaming chairs. Let take a quick look at them to help you have a better understanding of the gaming chairs. 
Console Gaming Chair
From its name, this gaming chair is made for console gamers. The console gaming chairs are more versatile than other gaming chairs and are available in various shapes and sizes. 
However, the console gaming chairs are not suitable to use on desks. It's because they are less ergonomic than the also popular PC gaming chairs. 
It's advisable that you only purchase a console gaming chair to enjoy your console comfortably. Most console chairs come with extra features like surround speakers, which you can integrate with the console and USB ports.
Racing Simulator Gaming Chairs
The racing simulator gaming chairs are the most advanced of all the gaming chairs. The seats are meant explicitly for gamers that play racing games. 
The racing simulator gaming chairs are often attached to a frame or cockpit. Therefore, you can mount any of your accessories like wheels, gear sticks, pedals, and many more on the frame. 
Serious racing gamers and professional racing drivers usually go for high-end racing simulator gaming chairs. The high-end ones are pretty expensive, costing tens of thousands of dollars. 
The casual gamers can also go for this gaming chair. But be sure to spend a good fortune. However, if you are on a tight budget or just looking for a chair that you can use for other purposes, do not go for this one. It will be costly for nothing.
Bean Bag Chairs  
Many gamers do not consider the bean bag chair to be a gaming chair. However, some gamers do prefer them because they are soft and comfortable. 
They are large sacks that contain foam. Usually, they are upholstered in suede or microfiber. They are not particularly ergonomic or supportive. 
The great thing about them is they can accommodate various postures and body positions. Another good thing about them is that they are cheaper than all other gaming chairs. 
PC Gaming Chairs 
Let's say it's the most popular gaming chair around. When people hear about a gaming chair, they always think of the PC gaming chair. 
The PC gaming chairs are the best to use behind a desk. If you need a chair that can act as a work or office chair, I vouch for this gaming chair. 
It will undoubtedly be an excellent option for you. The PC gaming chair has a pedestal wheel that mounts on a five-star, mobile wheelbase. 
The chair can swivel, and this means that you can freely move around your desk. The back, neck, and armrest support are also high, and this offers you better support when gaming. 
If you need a chair that will help reduce neck and back straining while using your screen, then it's the best choice for you. 
In addition, the model of the PC gaming seats is similar to that of the car seats. That's why you will hear some people referring to it as "Racing gaming chair."
What To Look For In A Gaming Chair?
There are many gaming chairs with back support in the market. Above I have mentioned the different types of gaming chairs. 
Each manufacturer wants their product selling in the market and therefore works to make a great product. Because of the various options, it's up to the users to select the gaming chair suitable for their different needs. 
Every type of gaming chair has something unique to offer. Therefore you need to pay attention to some factors before making a purchase. Let's look at the various factors: "What to look for in a gaming chair?"
Price
The gaming chair market is booming. The manufacturers know this and are producing models that fit the entire price spectrum. Therefore depending on your budget, you will surely get a gaming seat. 
In the spirit of pure and healthy competition, the famous brands are trying to include great features in that competitor-beating price. However, the rule is that high-end chairs use high-quality materials and are expensive. 
There are other cheap brands like DX racer, which use inexpensive materials like PU leather and aluminum. Such midrange gaming chairs are budget-friendly. 
The midrange gaming chairs usually have several features that do not add to the functionality but aesthetics. For example, there is the winged back and bucket design which are not as helpful. 
It just mimics the grand design of the racing car seat. The great thing is that the midrange chairs still offer some valuable features like standard adjustments of the seat height, headrest pillow, reclining angle, etc.
However, with high-end brands such as Herman Miller, you will get sophisticated ergonomic features. The manufacturers of high-end gaming seats pay attention to all the details. 
For example, Herman Miller uses woven mesh material. It increases flexibility and ensures there are no pressure points in your back. These seats also come with an internal lumbar system that makes you more comfortable. 
Overall, the gaming chair you select depends on your budget and individual needs. The high-end chairs are pretty expensive, but they will offer your ergonomics, durability, and more custom features.
Ergonomics
It is an essential factor that ensures comfortability and prevents any potential health issues. The health issues can be from sitting down for long hours. 
Ergonomics vary according to the different types of gaming chairs. The PC gaming chair has been made to ensure the gamer is sitting in an upright position. 
Therefore if you are not used to sitting in an upright position, you will be uncomfortable and feel unnatural at times. 
On the other hand, the console gaming chairs lean toward the back and have a rocking feature. It's because sitting next to the floor does encourage your body to lean forward. 
The ability of the console chair to lean behind helps to control this. There are several types of ergonomic features on gaming chairs. One of them is a fixed headrest with a high back. 
During gaming, the gamers sit for long hours. In the process, they bend their neck forward and slump their shoulders. 
The headrest pillow and high back do offer proper support for your neck, head, and shoulder. This design provides better support and comfort, something that most office chairs do not. 
Overall, discussing ergonomics in gaming chairs means designing a chair to increase comfort and ensure physical wellness. 
Other than the mentioned, several other ergonomic features like lumbar support, adjustable armrest, and many more. These features will offer you ideal comfort and perfect posture if you sit for long stretches.
Adjustability 
All the gaming chairs can be adjusted in various ways, and proper adjustments make you are sitting more comfortable. If your chair is too high, you will strain your neck to see the computer screen. 
Therefore you have to adjust the seat to the position that reduces this straining. In a gaming chair, there are various parts that you can adjust, like the seat angle, width depth, headrest height, and many more. 
Before buying the gaming chair, you should check the seat height. It will undoubtedly be the first thing you must adjust to make your head leveled with the computer screen. 
The proper sitting position on the gaming chair is your feet should be flat on the floor. Then the hips position should be higher than the knees. 
The desk and the armrest should be in the same position. If you observe proper sitting position, you will reduce pressure on the upper body parts like the neck, shoulder, and upper back. 
Good positioning of the armrests offers your wrists a break. You will not have to bend towards any angle to use the keyboard. 
On armrests, some words are used by the manufacturers, such as 2D or 3D. I know you have come across the initial in some parts of the article. 
I felt that it was worth mentioning them to help you understand the gaming chairs better. The "D" in the "2D" and "4D" does stand for Directional. 
Comfort 
Many things make the chair comfortable. It includes items such as an armrest, backrest, and seat cushion. The chair with more padding is usually the most comfortable. 
It's not advisable to go for soft and plush chairs since they are not great for your health. For example, the sofa is usually so soft and also comfortable to sit on. However, they are not great for your back. 
It would be best to always go for a chair that offers an outstanding balance between support and comfort. 
The gaming chairs usually come with either a bucket or waterfall cushion that contains thick padding. The different designs have different benefits. 
The waterfall design does slope slightly downwards. This helps reduce the amount of pressure on the thighs and back. Plus, it also allows proper circulation of blood to the lower limbs. 
If the blood does not flow well in your legs, it might lead to numbness, and in severe cases, it might cause numbness or soreness. Gaming chairs usually have cold cure foam or high-density memory foam seat cushions. 
The density of the cold cure foam is twice the size of the regular foam. Therefore it offers much support, plus the foam does soften each time pressure is put on it. This way, it's able to give maximum comfort. 
When it comes to the backrest, the gaming chair has got you covered. The backrests of the gaming chairs are made of fabric materials, vinyl, mesh, padding, and many more. 
The PU material and padding are similar in characteristics. Both are soft and smooth therefore offering an excellent rest place. 
However, when you sit on them for long hours, heating may build up, leading to sweating and discomfort. 
Gaming chairs made from mesh material allow proper ventilation. The seat will keep you cool and dry for hours and hours. 
Another great thing about the mesh material is that it's pretty adjustable and great to work with. It will certainly offer you a lot of wiggle room to adjust and move the support. 
Quality
For a product to sell well, it must be of excellent quality. Therefore manufacturers ensure that they produce gaming chairs with outstanding quality to last long. 
However, there are cheap gaming chairs in the market. Such gaming chairs use very light materials such as aluminum or aluminium alloy. 
The materials cannot hold much weight like the steel gaming chairs. You should also not buy chairs that have frames made of board. 
They do break down quickly. If you purchase products made of cheap material, ensure it has a great warranty. The warranty period should not be less than two years. 
Style 
It's great to look for a gaming chair that is sturdy and comfortable. However, style is also another significant factor to consider. The chair you select should be able to gel well with your aesthetics. 
There are many gaming chair styles out here. The most popular and loved gaming chair style is the racing style. 
Also, consider the color of your gaming chair it should match that of your space and the PC, console, or TV. These are some of the minor factors that will make your gaming fun and increase productivity. 
Frequently Asked Questions 
Are Gaming Chairs Worth It?
A great gaming chair will particularly aluminum complete your gaming setup. Meaning it will keep you healthy by giving you the support you need. 
You will be able to sit in front of your machine for hours. In addition, the gaming chair will also add to your aesthetics. 
Are Gaming Chairs Great For Posture? 
Primarily the role of the gaming chair is to ensure your back is safe. However, when it comes to selecting the right design, always consider the lumbar support. 
When buying a gaming chair, you should find out whether it has inbuilt support. The inbuilt support will help you maintain proper posture. 
Other features like the upholstery, adjustable armrests can also be great for your posture. However, gaming chairs with these features are not cheap. 
Is a Hard Chair Good For Your Back?
Yes, a chair that is more firm will provide your back with better support. The chairs that feel soft like a marshmallow are undoubtedly comfortable. 
You will always feel good sitting on them, but it will promote lousy posture.  The wooden chairs offer enough support that gives your back a natural curve. The firm chairs reduce stress and strain on your lower back, and this promotes healthy posture. 
Conclusion 
Finally, this is the end to the pursuit of the best gaming chairs for back pain. I hope that the article has given you a better and detailed overview of the gaming chairs that offer great support to the back. 
Sure, gamers usually overlook and see no importance of the gaming chairs. However, the truth is it can surely save your health. 
Having back pains can be pretty troubling, more so for the young professional gamers. Having a great gaming chair can help you to avoid this. 
The article lists the nine best gaming chairs and is an excellent guide on selecting the perfect gaming chair for your back.