Listening to great music while driving is something we all enjoy. Owning a great set of speakers will undoubtedly guarantee you great sound. 
But not at all times, because the system constantly overloads the car battery causing sound distortion and dimming of lights. That's where the capacitor comes in handy. 
The capacitor is an essential component that helps boost your music system. A capacitor stores power from the car battery and releases it to your amplifier during peak demand for extra and consistent bass. 
Buying a suitable capacitor for your car can be pretty tricky. It's because most e-commerce websites do not offer enough information about audio capacitors. 
This will force you to browse through different websites for hours or even days. So, if you are looking for the best audio capacitor, you are reading the right article. 
I have done intensive research about audio capacitors, and here are the eight best capacitors available. 
Before we go to essential details, look at the comparison table for our best three picks. Do not miss out on these three perfect audio capacitors. 
| | | | |
| --- | --- | --- | --- |
| | | 5.0 Farad Digital Power Capacitor | |
| | | | |
| | | | |
| | | | |
| | | | ExpensivA3.5- Farad Capacitor Plus Digital Display (Black Finish)e |
| | | | |
| | | | |
Top Eight Best Audio Capacitors
1. Planet Audio PCBLK2.0-2

Planet Audio PCBLK2.0-2 is one of the best audio capacitors. It's excellent for a car system that dims the car's lights due to a powerful audio system.
It's also ideal for any car owner who has a powerful car stereo. However, consider the fact that it's a bit expensive. 
Specifications 
Product Dimensions: 3*3*10.3 inches

Item Weight: 3.3 pounds

Other Important Display Features: Wireless

Item Manufacturer: Planet Audio
Features
The Planet Audio PCBLK2.0-2 has a three-digit red digital LED voltage display light that is bright. The brightness allows you to read the details without straining comfortably. 
It also has an audible warning tone for low battery voltage, voltage overload, and reverse polarity. This feature keeps you alert at all times. 
It also comes with a one year warranty; you won't have any repair worries for the first year. You should, however, handle the product well not to void the warranty. 
It has a working voltage rating of 20VDC, which is excellent for your music system and car battery. 
Its packaging includes a resistor, screws, mounting bracket, and wire crimps. With Planet Audio PCBLK2.0-2, you are guaranteed consistently strong bass. 
2. 5.0 Farad Digital Power Capacitor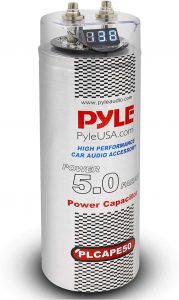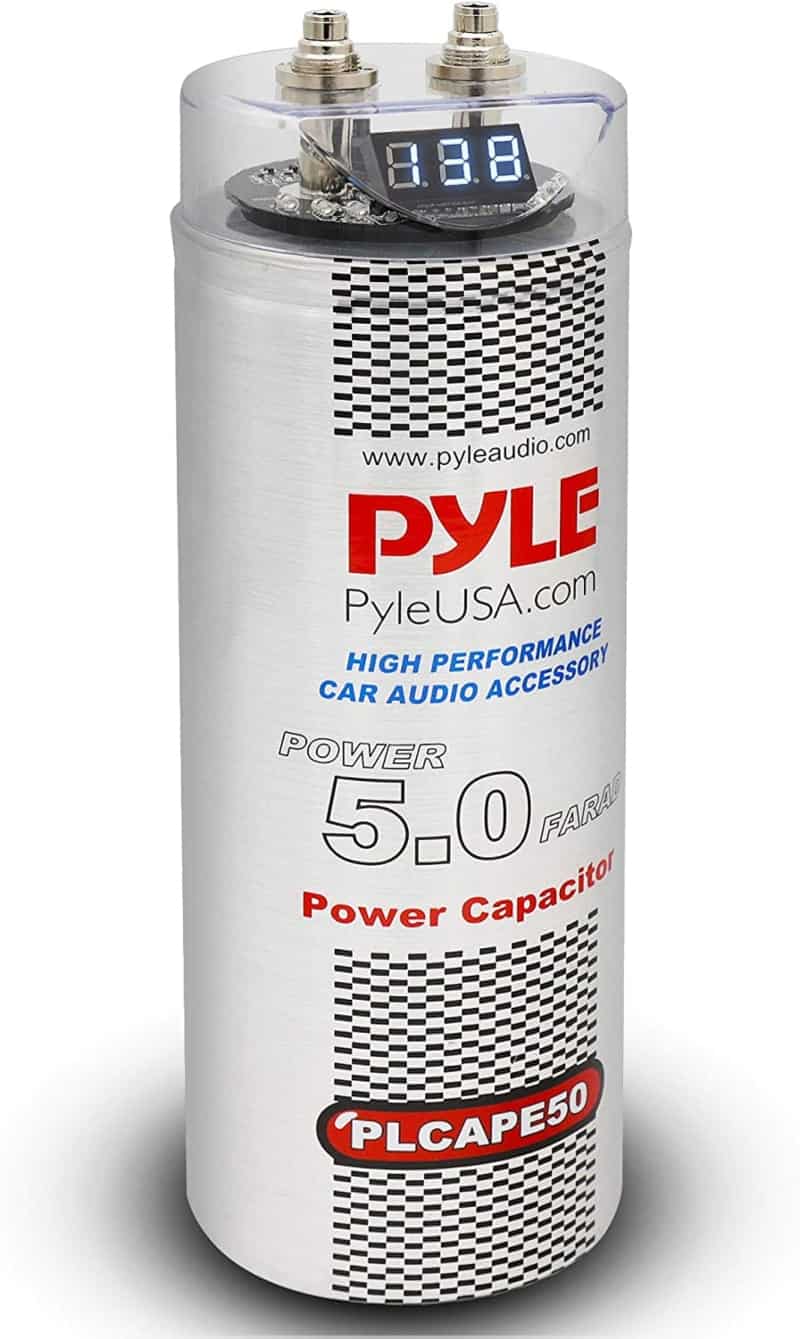 To have that perfect sound system, you need an excellent capacitor. The 5.0 Farad Digital Power Capacitor is best for anyone who needs a beautiful capacitor that offers power for soaring highs and booming bass. 
Specifications 
Product Dimensions: 4*10.5*14.5 inches

Other Important Display Features: It is Wireless

The Item Weight: 0.16 ounces

Included Components: One Pyle Branded Product
Features 
The 5.0 Farad Pyle capacitor has some great features. Ones you'll love. First, it does support the car audio system by providing the right amount of power. 
It has a blue digital display which enables you to read out how much power is available comfortably. The blue lighting also gives the brushed aluminum case a great look.  
It features a twenty to twenty-four-volt surge, capacitance +5%, which offers safety measures. This ensures maximum reliability and performance. 
It has mounting hardware that makes installation better and easy. The installation hardware includes chrome-plated post kits, mounting charging hardware, and one pair of clear brackets. 


The Sound Storm C352 model is another big thing in the capacitor industry. The capacitor comes with a great installation guide which makes it easy to install. 
It is the best capacitor for anyone who needs a capacitor with great instructions and is stress-free to install. 
Specifications 
The Product Dimensions: 4*4*11.8 inches

Additional Important Display Features: It is Wireless

Item Weight: 4.4 pounds

Other Included Components: 3.5- Farad Capacitor, Plus a Digital Display with Black Finish
Features
It has a super bright three-digit red LED voltage meter that displays information. The voltage meter saves you from the hustle of checking out the capacitor voltage using special voltage measuring tools.  The chrome-plated posts give it a beautiful look and are more durable. 
Its working voltage range and surge voltage are 16 VDC and 24V, respectively. The voltage ratings are excellent for the system and battery of the car. 
Again high working voltage means that it will certainly work perfectly under high voltages. The surge voltage of 24 V means the capacitor is well protected from high voltages. 
It also has mounting brackets plus hardware and an excellent manual which makes installation stress-free. Thus you will not put any extra money on other mounting supplies. 
With the product, you are guaranteed a one-year contract. Meaning you won't have any repair issues during the first year of purchase. 
4. Audiopipe ACAP-6000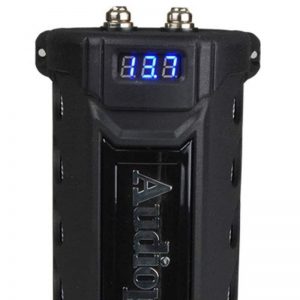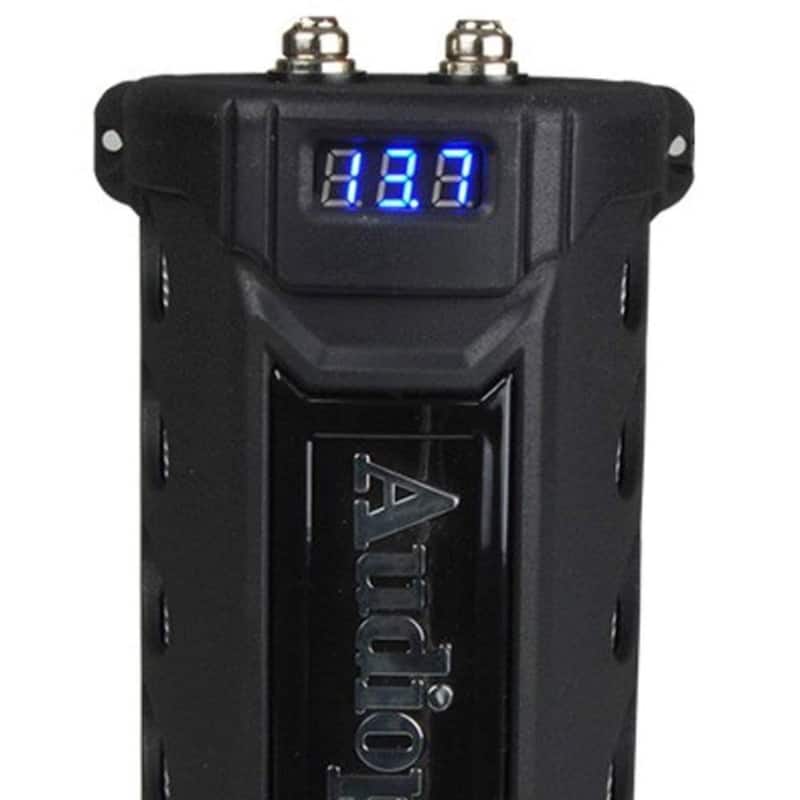 The Audiopipe ACAP-6000 Car Audio 6 Farad appears on the list because it is pretty great. It will undoubtedly allow you to get the maximum potential from your car audio. If you need a powerful capacitor, I vouch for this model for you. 
Specifications 
Brand Name: Audiopipe

Item Model Number: ACAP-6000

Item Color: It is Black

The Item Weight: 3.60 Pounds
Features 
The Audiopipe capacitor has a digital display that clearly shows information. It has a black finish and has electronic protection. 
It also has a high input voltage level of twenty-four volts plus a low voltage input of twenty volts. This item will make your car system operate more powerfully and efficiently. 
5. Stinger Select SSCAP5M 


The stinger capacitor offers instant power to your amplifiers that use a high amount of energy during peak demand. A drop-in system voltage affects the quality of the sound, and the output power suffers. 
The Stinger Select does stabilize the voltage and ensures peak performance. This audio capacitor is perfect for car systems of up to 2000 watts. 
Again in case you need an audio capacitor that is inexpensive but reliable, go for the Stinger Select. 
Specifications 
Product Dimensions: 58*53*36.5 Inches

The Item Weight: 16 Ounces

Other Important Display Features: It is Wireless

Included Components: Capacitors
Features
It has an integrated digital display that features a three-digital display. With the display, you will be able to view the current capacitor charge. 
Plus, the red digits are much more visible at night; therefore, you will not strain your eyes.  The brushed aluminum body enhances the strength, resilience, and durability of the Stinger Select.  
The Stinger Select capacity operates at a capacitance of 2 farads, allowing it to charge quickly. The capacitor will always be ready to fulfill the needs of your car audio amplifier. 
The Stinger Select has reverse polarity alerts, which is one of the best features of this capacitor. 
The feature offers alerts in the case of reverse polarity that is mainly caused by improper wire connections. 
The satin finish is excellent since it does not allow you to see flaws on the terminals. It's because you will not see the gauges on the terminals. 
6. Power Acoustik PCX-5F
 
This capacitor provides immense amounts of power to your amplifier instantly. This guarantees you a much defined and cleaner sound.
 The capacitor looks nice and does not require a remote wire which most capacitors use. It's the best choice for those who find the remote wire to be annoying. 
Another great thing is that the capacitor price range is excellent. If your car amplifier does not have high power demand, this capacitor will do perfectly. 
Specifications 
Product Dimensions: 13 x 7 x 3.25 inches

Other Important Display Features: It is Wireless

Included Components: The Product and Manual

The Item Weight: 3.7 pounds
Features 
The Power Acoustik has a digital voltage meter that tests and troubleshoots any issues in the system. Its operation volt is at 12-16 DC, which is excellent for the car battery and system. 
The LED accent lighting adds on its satin finish giving it a great look. The satin finishing gives it a decorative look and is also resistant to corrosion and resilient. 
The polarity and voltage protection alert indicator ensure the Power Acoustik capacitor is functioning efficiently and effectively.  The last great feature is the single mounting post which makes installation easy and fast. 
The Power Acoustik is easy to handle. It weighs only 3.7 pounds. You can quickly move it from one car to another without any struggles. 
In addition, its weight and size allow it to fit nicely under almost all car seats. This is the best and secure location to place the audio capacitor. 
7. Rockford RFC10HB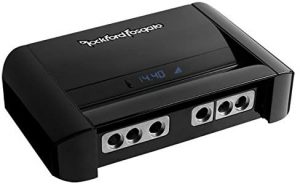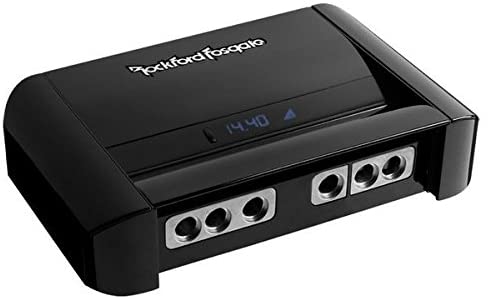 Rockford is a household name when it comes to car audio. For that, it could not miss the list of best audio capacitors. Rockford is still a global leader in audio innovation. 
They did not disappoint. Rockford is quite different and has a different style from many others. I recommend Rockford for anyone who loves something unique and extraordinary. 
In addition, it's also ideal for anyone that needs a capacitor that charges fast and can work perfectly under extremely high temperatures. However, the capacitor is a bit expensive but has excellent quality.
Specifications
Product Dimensions: 12.5*8.5*4 inches

Item Weight: Five  pounds

Other display features: Wireless

Product Manufacturer: Rockford Fosgate
Features
The Fosgate is an excellent audio capacitor and easy to install. It has a voltage meter that displays the performance and efficiency of the system. You should note that the voltage meter turns on and off periodically. 
The capacitor has an excellent power storage battery that fulfills all your audio power needs. It saves your battery from struggling to satisfy the requirements of the power-intensive 2000w amplifier. 
The platinum plate makes the audio capacitor more durable and can resist most surface damages. Meaning you will be able to use this capacitor for years. 
It has a low ESR; the low ESR is great because your capacitor will not overheat quickly despite the hours of operation. 
It has an excellent color finishing, with black being the secondary color and silver being the primary color. This gives it a great look and makes it blend perfectly with most car interiors. 
The Rockford has a low capacitance of 1-farads which allows it to change rapidly. The last great feature is the solid brass top which adds to the capacitor strength and durability. 
Solid brass is known for being resistant to corrosion and also tolerates high temperatures. This allows the capacitor to work efficiently. 
8. SoundBox SCAP2D, 2.5 Farad Digital Capacitor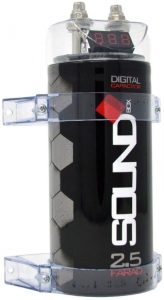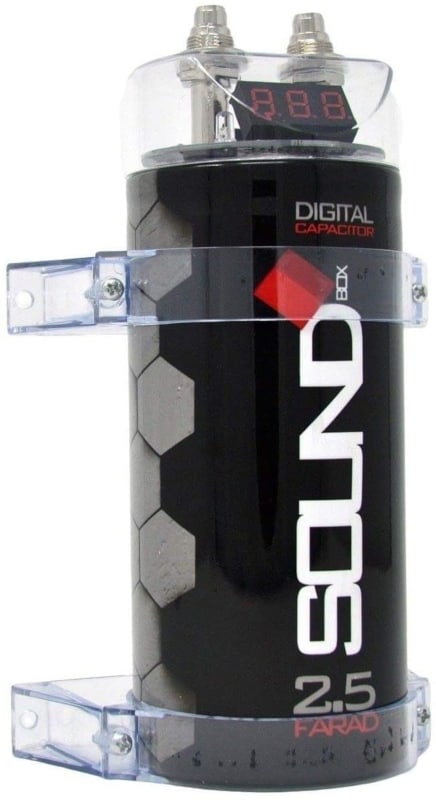 The Soundbox is also on our list. It has got some exceptional features.  The capacitor is best for a system that requires maximum handling of 2500 watts. 
Specifications 
Manufacturer: Sound Box

Item Weight: 2.99 pounds

Package Dimensions: 13.7*8.86*3.9 inches

Item Model Number: SCAP2D
Features
The SoundBox has a high-strength cylindrical aluminum housing that ensures durability. The product will be at your service for years. 
It has a maximum handling power of 2500W, meaning it can supply the power to your power intense amplifier. The notification safety sound alert keeps you alert at all times. 
The bright charging status LED makes it easy to know your system performance without really stressing your eyes. 
The automatic on and off power sensor and digital over-voltage protection system ensure better performance. The Soundbox has many other great features such as a digital display, capacitance: 2.5 Farad, one year warranty. 
How To Choose The Best Audio Capacitors
Buying capacitors can be pretty tricky at times. Price is not the only thing to consider when selecting an audio capacitor. The price value might be correct, but if you choose a capacitor with the wrong specification. 
There's a good chance it might not work or might work but incorrectly. However, if you choose a suitable audio capacitor, you will enjoy your music, plus other car components will be efficient and effective. 
So, before you purchase an audio capacitor, you need to check out some hints and tips first. The most important, however, is the capacitor specification. 
Take a careful look at the specifications and other minor factors. So let's find out how to choose the best audio capacitors for your car amplifier. Here is the most common specification that you should look at.
Durability
Durability is one of the factors that many people consider when purchasing any product. I'm sure you also want something that can last for several years. 
Let's say like ten years or so. The same applies to audio capacitors. To know that the capacitor is durable, you need to look at different things, such as the finishing and material. 
They should be strong enough to resist weather elements and corrosion. Another part you should check is the end terminals. 
They should be made of solid materials that can undoubtedly resist abrasion. If you are after durability, go for a strong capacitor with hard top casing and plates that are corrosion resistant. You can also enhance the cap's durability. 
The Value Rating of the Capacitance
It's the most important thing to look at first. The value rating of the capacitor is undoubtedly the amount of charge that the capacitor can store. 
The Farad represents the capacitance value. So let me explain to you how capacitance is the most important thing to look at. 
When it comes to the capacitor, the higher the capacitance value, the more powerful the audio capacitor is. 
However, before purchasing the capacitor, you have to confirm and consider the power of your car amplifier.
If the amplifier is rated below 2000 watts, the capacitor value should be between one and two farads.
 If the amplifier is more powerful, you need to go for a powerful capacitor for better performance. 
The Voltage Overload and Low Voltage Protection
The capacitors have been made in such a way it has a maximum voltage. If you exceed its maximum voltage, the capacitor will certainly damage. 
So when buying a capacitor, you should check out the low voltage protection and the voltage overload. Having a capacitor with excellent ratings will increase the chances of you using it for several years. 
Again I would advise that you go for a capacitor that has an automatic shut-off. It will be at your service for years. 
Ease of Installation and Charging
Charging is another factor that you should consider before buying a capacitor. I'm confident you wouldn't want to invest in a capacitor that takes several hours to charge fully. 
Its because it will not fulfill the power needs of your power amplifier effectively. The capacitor should also be easy to install. 
It's one thing to have an excellent audio capacitor and another thing to install it right without much struggle. Today many manufacturers include installation instructions in the packaging. 
Plus, some installation components like screws, mounting brackets, and many more. If possible, always go for audio capacitors that come with an instruction manual and other installation components. 
The installation instructions will be more helpful if you have experience with capacitors. You will also save some dollars since you won't have to pay a professional to do it for you.  
Another factor to consider under installation is the weight of the capacitor. An extensive and heavy capacitor will be challenging to move from place to place and install. 
Audible Alerts
Driving and checking the capacitor charge level information is not good. You won't be able to concentrate on the road entirely. To be safe on the road, you should consider going for a capacitor that gives audible alerts. 
The alerts may be for over-voltage or low voltage. You can also go for a capacitor that offers alerts for polarity alerts.   It will save you a lot. 
Price 
The great thing about pricing is that you will always get something that's within your budget range. Today there are different brands with different qualities. 
It's your budget that will determine the type of capacitor you buy. The most pricy ones tend to be more durable and have several great features. However, this does not mean that the affordable audio capacitors are not excellent. 
There are several budget-friendly audio capacitors with great features like audio alerts and are so efficient and effective. 
However, do not purchase a capacitor because it's cheap. You need to consider other things like quality. Make sure you balance the quality and price. 
Do not compromise the quality of the capacitor because of its price. Instead, you should go for one with all the features you need and is within your budget. 
The Voltage Rating and Surge Voltage of The capacitor
The different capacitors have varying voltage ratings. You should know that most car alternators and batteries do voltages of twelve to fifteen volt DC. 
When buying an audio alternator, you should go for one that can handle up to sixteen volt DC. The surge protector voltage rating should be higher. 
Go for one that has a rating of about 20V DC. With such, you can be confident that your capacitor won't get damaged in the case of a sudden surge in voltage.
Terminals 
Just like the amplifier, the different types of capacitors come with various terminals and connections. 
The larger audio capacitors, such as the hybrid, come with several terminals, while the small ones like electrolytic capacitors have one to two plug-ins. You can buy several audio capacitors for your car's music system if it's too powerful for one. 
Such a connection will adequately power the system, and you won't lose any power when driving and listening to music. But this is only probable if your music system has several terminals. 
What Does A Capacitor Do For Car Audio?
I have already mentioned the function of the capacitor in the car audio. However, the explanation was not that detailed. In this section, I want to talk about the audio capacitor extensively. 
The information will help you understand how it functions and when to look for it. So let's find out the function of the audio capacitor. 
During specific times while driving and listening to music in your car, you will notice the headlights dim when the bass kicks in. 
The reason behind this is that your audio system takes more power. This mostly happens when the song that plays has a strong bass. To fix this issue, you will need an audio capacitor. 
The capacitor does store extra power from the battery. So, when listening to music with solid bass causes a power dip, the capacitor kicks in. 
It instantly discharges power to cover that dip and ensure the car system functions efficiently and effectively. 
The capacitor will guarantee you clean and smooth music without affecting the quality of your headlights and dash lights. 
Dimming when you are listening to music and driving can be so distractive. The audio capacitor will ensure there is a steady supply of power to the car amplifier. 
When Do You Need An Audio Capacitor?
If you own a large amplifier that is power-intensive, then your car will benefit from the audio capacitor. 
Again, if you love listening to intense bass music, you should certainly go for an audio capacitor. Lastly, a capacitor will be helpful if your car's electrical system lacks any additional reserve capacity. 
Types Of Audio Capacitors
Hybrid capacitor
The hybrid capacitor is simply a blend of carbon and electric capacitors. The hybrid capacitors do come at a higher cost. This capacitor is excellent if you need something that will work as a second battery. 
Electric capacitor
This type of capacitor is faster and excellent at power recharge. However, it does not provide reserve power well. Electric capacitors are so popular and look like round canisters. They do use one Farad for one thousand watts of power. 
Carbon capacitor
They are known for their ability to store power. The carbon capacitor does store power better than other types of capacitors. On the downside, the carbon capacitor does recharge slowly. 
Safety Precautions When Working With an Audio Capacitor
Today the audio capacitors are pretty popular. Many car owners are choosing them because of their great benefits. 
However, despite much glory, the capacitors have a few coins. It would be best if you, therefore, were so careful when handling them. 
So here are some of the things that you should consider when using it to prevent harming yourself and spoiling the capacitor. 
First, you should avoid using the capacitor under very high voltages. Under such circumstances, the capacitors tend to overheat and can explode. 
Before buying a capacitor, you should be sure that it matches the needs of your audio system. Choosing a suitable capacitor will help you avoid such incidences. 
When handling the capacitor, you might experience shock. It does not the only shock while still connected to the system. The capacitor can still shock you when it's even disconnected. It's because it still has power stored in it. 
How To Charge A Car Capacitor?
The capacitor should be well connected for it to start charging. Connecting the capacitor is not that tricky. First, you have to connect the positive of the capacitor to the positive terminal of your car battery. 
To make the connections, you'll need the following: a power wire (the wire size should be similar to that of the car audio system), pliers, wire crimpers, and a memory saver. 
An updated capacitor has a charging device. The device is made up of a charging plate that has four wires and a resistor. 
You will have to connect one wire to the capacitor's positive terminal and the other to its negative. 
The capacitor positive terminal connects to the positive terminal of the battery. You should then connect the other wire to the chassis ground wire. Never connect the battery's negative terminal to the capacitor's ground terminal. 
How to Charge the Capacitor
The first thing you will need to do is park your car. After parking, you have to activate the parking brake mechanism. 
You then need to install the memory saver. The device will be so helpful because it saves all the settings of your car audio. 
These include the car audio settings that will allow your radio to function well after you are done with everything. 
If you do not use the memory saver, then you have to know the code. In such a situation, you will be required to put your car radio code on your radio to function normally. But if you are using a battery and a capacitor, I advise using a memory saver. 
The next thing to do is removing the ground and negative wire from the battery. When removing the positive wire, you will undoubtedly experience a short. 
Use the wire that connects to the battery's positive terminal, but you should ensure it does not have any fuse. 
If it has a fuse, I can guarantee that it will blow after completing the whole connection. It's because the connection is energy-intensive. 
You then install the connectors to the wires. You will have to start by connecting the positive of the capacitor to your car's audio system. 
After fixing this, you mount the device on your car. Finally, you have to connect the capacitor's negative wire to the ground. However, you should avoid making the connections near the amplifier. 
Now the capacitor is successfully connected to the battery. The amount of time the capacitor takes to charge is dependent on the type and size of the capacitor. However, it will be fully charged after several minutes. 
How To Discharge A Capacitor?
There are several ways in which you can discharge the capacitor. The most practical and easy way to discharge the capacitor is by using the 12V test light. 
 You should wear protective clothing like gear because the test lights can get extremely hot and pop at certain times. 
Another way of discharging the capacitor is by removing the main fuse on the wire close to the batter. The wire connects the amplifier and the capacitor. 
After disconnecting the car battery, the capacitor will act as the battery. To ensure that the capacitor is fully discharged, you should play the music until the amplifier goes off.
How To Tell If Your Audio Capacitor Is Bad 
The capacitor is an electrical component, and like all other electrical components, the audio capacitors can also become impaired. I can guarantee you that once the capacitor becomes bad, it won't meet your various needs. 
Like the capacitor will not be able to stabilize the voltage of your car. You will also notice that specific electrical issues you thought you solved, like dimming lighting, now occur more frequently. 
Many people ask why the audio capacitor fails. Well, the capacitor can undoubtedly serve you for several years. Most capacitors are made of ceramics, aluminum, and other components. 
These materials can withstand harsh weather conditions and vibration. However, a capacitor that has been used for long, like ten years or so, is prone to fail. Things such as extreme weather conditions and mechanical stress can lead to early failure. 
Another thing that leads to the failure of the capacitor is by overworking it. All the capacitors do have a working voltage, and it's standard in many. If the capacitor exceeds its value at any time, then it will soon fail. 
Other supercapacitors have been built to last. These capacitors can indeed last longer, but they do not due to exposure to certain elements. 
However, the experts say that the number of charges and discharges determines the failure rate of the capacitor. 
That might be from one hundred to a million charge cycles. However, you can undoubtedly know when your capacitor is failing. 
There are several symptoms of a bad capacitor. But at the time, all you might need to do is charge it. Here are some of the common signs of a faulty capacitor. 
You will notice that the headlights start to flicker even though you have installed the capacitor. The headlight might even fail when you need them the most, like during the night. 
Or the headlights can only work when you start the car engine but fail later when you are listening to music. 
Although various things can cause headlights dimming, you should consider a faulty capacitor if you have one installed.
To know if it's the capacitor, you should listen to your speaker. If you notice that the sound is not excellent, then the capacitor might be the issue. 
Again you should check the other electrical components like the car TV, amplifier, and other devices. They should be functioning correctly. If not, then check out the capacitor. 
You might notice such symptoms but do not understand how the capacitor works or how to fix it. In such circumstances, you should seek professional help. 
I advise that you go for capacitors that have excellent quality components and should not be so cheap. For installation, it'll be better if you call a professional.  
Frequently Asked Questions 
What Size Capacitor Should I get?
There is one thing that you should do to select the correct type of capacitance. Always go for 1 farad for every 1000 watts. 
But you can go for any capacitor that has a more considerable value. You can also go for those with two to three farads per 1000 words. 
My Capacitor Does Have the Third Terminal. What Is Its Use?
Most capacitors do have a built-in meter. It displays the voltage. If the displays could stay on consistently, then the car battery would be drained more often. 
Therefore the capacitors that have meters do have a remote turn-on lead connection. Like the amplifier, the meter also turns off with the meter. That terminal is for the in-built meter.
How Long Do Audio Capacitors Last?
The car audio capacitors can last for a period of two to twenty years. However, the lifespan is dependent on the make of your capacitor, the quality of materials used, and the environment from where you operate. 
Do not compare the lifespan of the capacitor and the car battery. They do perform two very different functions. The capacitor will last for a few years, but this is dependent on how you use it. 
What will a Bad Capacitor Sound Like?
It's easy to know when you are dealing with a bad capacitor. A lousy capacitor would sound and midrange even if it were a high-end type. 
The other sign of a bad capacitor is an audio speaker that is not functioning well as it usually does.
Should You Use a Capacitor For Your Car Audio? 
The capacitors are prevalent in any electronic circuit. Primarily, they are used to block direct currents but do allow the alternating currents to pass. 
When you use the capacitor in an analog system, it will improve the output of the device's power supply.
Conclusion 
In conclusion, buying the audio capacitor is not that easy. However, your final decision should be dependent on your budget, features, and quality. 
You should always avoid choosing an audio capacitor because it's cheap, looks attractive, and more.  
You should go for a capacitor that has all the features you need, and it should also be within your budget frame. 
In this article, I have listed the eight best capacitors available. I guess you have read through their excellent specifications and features, plus the cons and pros. Make sure to select a powerful capacitor to meet the various needs of your car's music system.